Director Simon was recently invited to stay at the Hotel Puerto Valle in the Ibera Wetlands for a couple of nights while on a trip to Argentina. Here is his account of his stay at this traditional eco-retreat – the top luxury hotel in the region:
The Ibera Wetlands is perhaps not an area that we suggest often enough to clients when travelling on a luxury holiday to Argentina. Whilst the wetlands are exceptionally impressive, this eco-tourism destination often gets shifted to the bottom of the destinations wish-list by more well-known regions such as Mendoza, Iguassu Falls and Patagonia. The vast expanse of marshy wetlands is often considered to be like a smaller version of the Pantanal, a part of Brazil which I have regularly visited, so I was keen to see if the comparisons were accurate.
Accessing the Ibera Wetlands is often seen as one of the key reasons why it gets fewer visitors than its Brazilian equivalent. Many of the lodges are situated deep in the wetlands and fairly hard to reach. This is not so much the case with Hotel Puerto Valle, which is what makes it such an attractive choice. A 90-minute flight from Buenos Aires inner-city airport takes you to the town of Posadas on the banks of the mighty Parana River and here, upon arrival, I was met by a guide from the hotel. Any other guests arriving on the same flight are usually transferred to the lodge all together however, a private transfer can be arranged too. The journey to the Hotel Puerto Valle is very straightforward and involves only a further 40-minute drive along a good, asphalt road. As we arrived a tropical storm had hit, and the rains were heavily coming down – the well-maintained road into the lodge meant that not even challenging tropical conditions could come between us and our refreshing welcome drink!
Upon arrival we headed into the main reception building, where the restaurant is also located and were assigned our rooms. The hotel divides rooms up into two types, Casco rooms and Deluxe rooms.  There are 4 Casco rooms which are located next to the main reception. These are in the old 'Casco' on the farm and bear all the hallmarks of the ranch's history. Each room is around 45 sq. metres and is traditionally designed with high ceilings and exposed beams. The rooms have a veranda at the front with views to the river and a patio at the back with view of the lush green meadows. I was given a Deluxe room, of which there are 8 in total. This part of the hotel is composed of four separate buildings in total, each containing two rooms, all of which can interconnect if there are families staying as guests. The Deluxe rooms are much newer and slightly larger too with roughly 60 sq. metres of space. The rooms are lighter and located slightly closer to the river with a private terrace. Both room types were well designed and come complete with large, king size beds, walk in showers, twin sinks, a safe, a fridge, as well as tea and coffee making facilities (often a much sought-after amenity by British travellers!) Each room also came with a mate set enabling you to make your own cup of this famous Argentine drink. There are no TVs in the room but the uninterrupted view of the great outdoors more than makes up for that. For the colder months, there is also a wood burner in the room.
There's also a family suite, next to and above the restaurant area with one bedroom and one living room space.
Day One
We arrived late, so dinner was a light buffet and we were told about our experiences for the next few days by our guides in the library. This room is also the only one in the hotel to have a TV. At the hotel, all your meals and activities are included, although alcoholic beverages are subject to an additional charge. After a cracking nights sleep in a very large, comfortable bed, we were up around 8 o'clock for breakfast. All meals are generally served in the main restaurant. Breakfast was a good mix of breads, cheese, ham, pastries and granola plus the option to have eggs or bacon which are cooked to order.
Day Two
Our first activity of our stay was a short walk through the forest. We were told to wear long sleeves and long trousers as there were lots of mosquitoes – a piece of advice I cannot recommend following highly enough. Mosquitoes fizzed around the forest on a scale to resemble some form of biblical plague. Despite bad luck with some rain and some bugs, we were able to spot a caiman, and our guide did inform us that such an infestation of creepy crawlies was unusual! For the nervous wildlife-traveller, even though there were plenty of them, the mosquitoes in this region do not carry any diseases, which is comforting.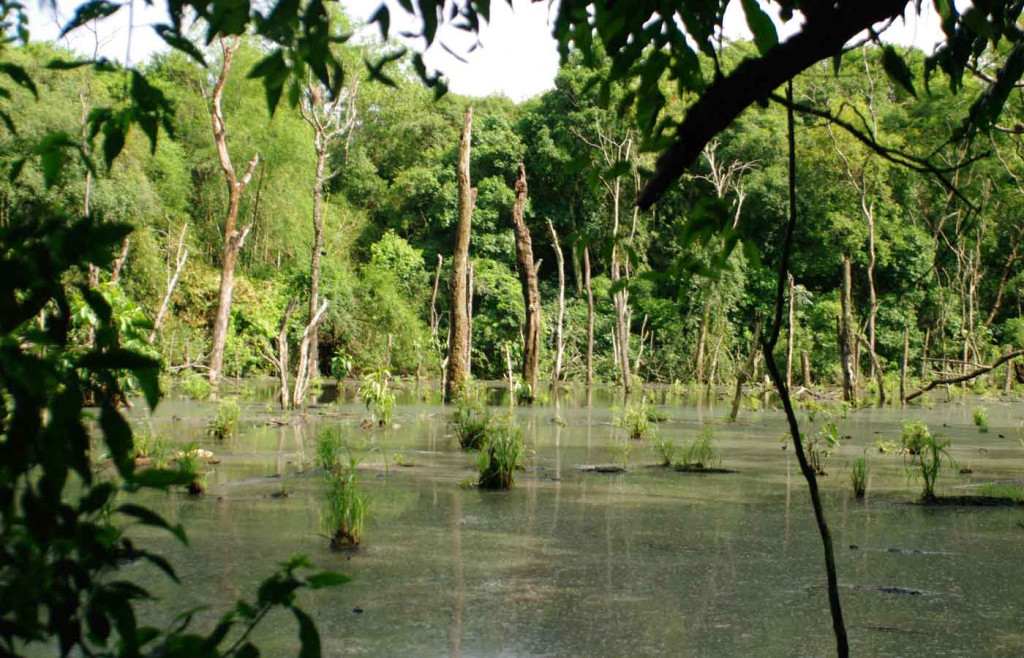 Our next activity started shortly afterwards as a small group of us headed to the shore of the Parana River to get into two-person sea kayaks. The river was calm which makes for easy kayaking and we followed the shoreline round to a first inlet, leading around into a flooded forest area which was very beautiful.  There were a number of wading birds in the area, plus vultures and even a woodpecker which we spotted. We also spotted a baby caiman which was a highlight. Our kayaking experience was slightly more time limited as we were trying to pack a lot into a 2-night stay, whereas for clients with more time, there are much longer kayaking experiences available if the inclination exists. The recommended time to stay at the lodge is for at least 3-nights. Lunch was a buffet of salads, quiche, cheeses and meats, followed by a fabulously fruity pavlova!
In the afternoon we set off for the main reason visitors come to this area, the Esteros del Ibera: the Ibera Wetlands. In groups of four, we boarded 4×4 vehicles, each with a guide, and drove into a private reserve owned by the Hotel Puerto Valle. We followed a dirt track through fields which were home to cattle and horses, always keeping an eye out for more interesting wildlife too. During our drive we managed to see a grey fox, a caracara, and a few ñandu (or rhea, an ostrich-like bird native to South America). We were driving to reach the beginning of the wetlands where we boarded boats to venture into the esteros. As we arrived at the boats, there was a large caiman basking in the sun by the boat which quickly dived into the river, plus two capybaras which were dipping in and out of the water.
Our boat journey took us slowly through the wetlands and we slowed down regularly when we spotted a caiman although none of them were willing to pose for a decent photo! As we came to the end of a channel, a large lake emerged, one of many large lakes in the Esteros del Ibera. The water was choppy as our boat sped over the small waves and we made our way over to the other side of the lake. Here we encountered several caimans, lazing in the sun as well as more capybaras, a number of wading birds plus a hard-to-spot marsh deer. The light was perfect throughout our journey in this dramatic scenery and this made for excellent photo opportunities. After about an hour on the lake we headed back to the small dock where the guides had set up a small picnic with chairs, snacks and beers. From here, we relaxed for about 30 minutes as the sun made a spectacular descent and lit up the sky. We all agreed it had been a great afternoon.
Dinner on this night was served away from the restaurant, in the Quincho. The chefs had been preparing an asado (a traditional Argentine barbecue) where lamb and beef had been slowly cooking for over four hours over an open fire pit. The meats were perfectly cooked and served with a delicious Malbec.
Day Three
On the final day of our stay in the wetlands, we had the option to go horse-riding, more kayaking or take a speedboat into the mangroves along the Parana river. For those looking for additional relaxation between activities then there is a good-sized swimming pool, with various loungers as well as a library which doubles as a TV room if you want to watch a DVD. The hotel has several bicycles which guests are free to use to explore the property on their own. A good time to do this is in the evening when the local armadillos tend to come out of hiding and are easily visible. When the sad time comes to leave, a hotel representative will transfer you to the airport for your onward travel.
I was quite surprised by how good I consider the Hotel Puerto Valle to be and it is an excellent addition to any luxury holiday to Argentina. I suspect we will recommend a stay here increasingly to clients looking for a premium wildlife, nature and relaxation experience in a region of spectacular natural beauty. Coupled with the culture of Buenos Aires and the rugged wildernesses of Patagonia, the wetlands provide an interesting and complimentary tropical counterpoint. If you are seeking something more off-the-beaten track for your trip – we cannot recommend Puerto Valle enough!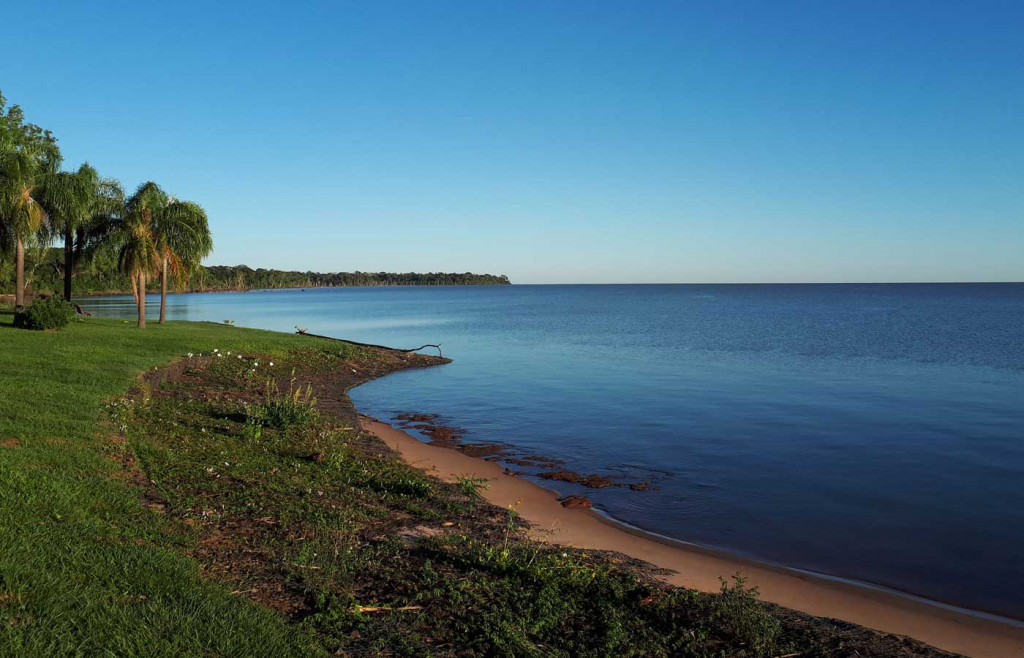 Are you planning a trip to Argentina? Contact us today to speak to one of our travel specialists about your tailor-made luxury itinerary. Read more about Argentina here and click here to learn more about the Ibera Wetlands and Puerto Valle.