Cambodia
Discover Cambodia, from ancient temples to beautiful rainforest, from a charming capital city surrounded by poignant history and stunning tropical beaches to the vibrant Mekong River, this is a country with something for everyone.  
The first place that springs to mind when thinking of Cambodia is Angkor Wat and the astounding ruins here and visiting these temples is certainly one for the bucket list. Take time to explore the ruins, intertwined with the surrounding jungle and marvel at these incredible structures. Visit at sunrise or sunset for some beautiful and atmospheric views. Not all of Cambodia's history is so charming and no trip to this country is complete without some understanding of the Khmer Rouge and their terrifying regime.
The capital city of Phnom Penh is a delightful mix of the historical and the modern. Enjoy French colonial architecture and cuisine that combines traditional Khmer and French flavours. Siem Reap, the gateway to the complex of temples at Angkor is also known for its vibrant food scene. Explore delightful street food stalls right up to fine dining restaurants.
For nature lovers, Cambodia has much to offer. The Mekong River starts to form the Mekong Delta in Cambodia and a cruise along these iconic waterways is the perfect way to explore. Experience bucolic Cambodia in all its glory with charming riverside villages, fishing boats and rice paddies. If you prefer to venture inland, Cambodia is home to some spectacular rainforest and the Cardamom Mountain range, one of the largest ranges in Southeast Asia. Discover crashing waterfalls, deep jungle and a variety of birds and wildlife.
Cambodia is not famous for its beaches, but this misplaced reputation is soon forgotten once you experience the coastline. Think tropical white sands, pristine beaches and relatively few visitors. Without doubt our favourite spot is the Koh Rong Archipelago and Song Saa Private Island. Enjoy all that this stunning resort has to offer with luxurious accommodation in a tropical paradise and a strong focus on community and the environment.
Whether you visit Cambodia on its own or easily combine it with one or two other surrounding countries, you will not forget your trip to this captivating, vibrant country.
SAMPLE LUXURY HOLIDAYS TO CAMBODIA
Below are 3 sample itineraries of what you could do on holiday to Cambodia.
Contact us to create your own luxury holiday.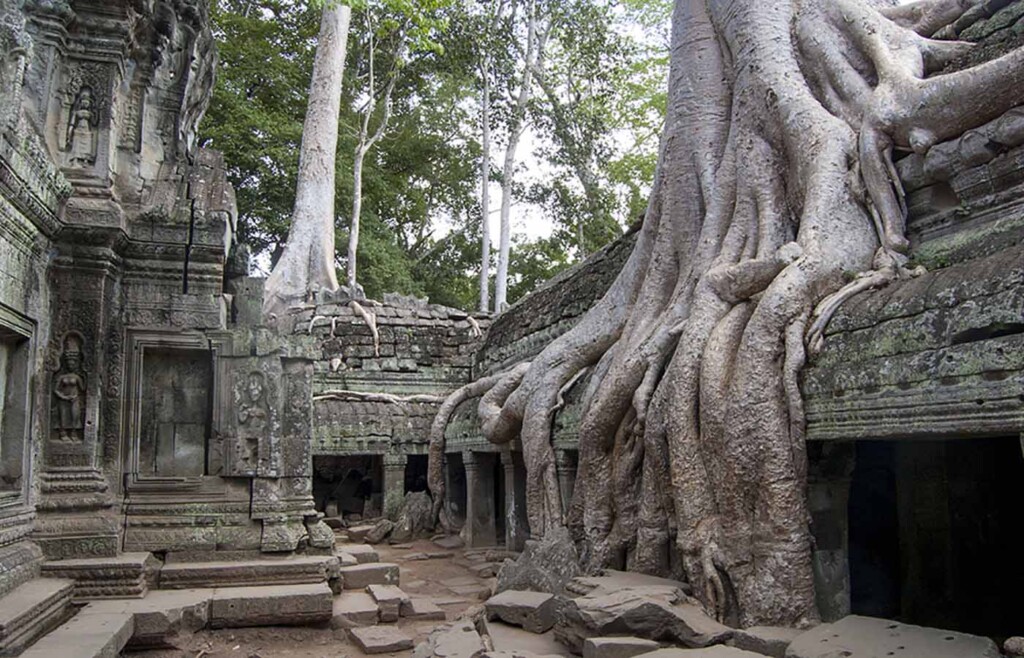 CLASSIC CAMBODIA
A 10-day itinerary including the classic sights of Cambodia with luxurious accommodation throughout.
CAMBODIA IN DEPTH
A two-week trip allowing you to really get to know Cambodia, with luxury hotels & fascinating tours.
| | | |
| --- | --- | --- |
| | Currency | US Dollar / Cambodian Riel |
| | Time Zone | GMT+7 |
| | Language | Khmer |
| | | |
| --- | --- | --- |
| | Flight Time | 13 hours from London Heathrow |
| | Capital City | Phnom Penh |
|   | National Dish | Amok |