Antarctica
The 'White Continent' is a photogenic dream, and the last frontier for intrepid explorers.
Enter a frozen world where seals lazily watch the ships go by, and stark white icebergs stand out vividly against the deep blue sea. A once-in-a-life-time adventure awaits for anyone making this voyage across the sea. Despite the harsh conditions, Antarctica holds a remarkable concentration of wildlife, much of which has evolved to survive in this extreme environment. The deep guttural calls of penguins in their thousands are carried across the landscape on fierce winds. With their swagger-like walk and comical habits, penguins are a firm favourite with visitors. Species that can be seen include Adelie, Chinstrap, Macaroni's, Gentoo and Rockhopper. Look to the skies and petrels, skuas and albatross glide overhead. Mammoth cetaceans including humpback, southern right and minke whales are at home in the freezing waters below, and Antarctica also boasts a large population of Orca.
Wildlife, photography and a love of the extraordinary are what draw most people to visit this remarkable place, but a little further afield there is also a historic side. Cook, Scott and Shackleton are names all closely associated with Antarctica, and for good reason. Their explorations of this vast and icy continent are legendary, and many people are interested to see the conditions through which they battled many years ago.
Cruise ships now commonly combine journeys to Antarctica with the surrounding islands including South Georgia and the Falkland Isles. These remote and barren specks of land in the middle of the ocean are beautiful in their own right. Although they are missing the magnificent pure white landscapes, what they do have is dramatic snowcapped peaks, sweeping valleys and coves, and an astounding concentration of bird life. Hundreds upon thousands of king penguin nest on South Georgia, alongside Gentoo, chinstrap and Macaroni penguins. In addition, there are 4 different albatross species, plus skua, shearwater and petrel among others. The Falkland Isles boast similar wildlife populations, with five penguin species, and many types of whale and dolphin in the surrounding waters. During a cruise to these fascinating and rarely-visited islands, it is also possible to visit abandoned whaling stations, Shackleton's grave, historic churches and war memorials.
SAMPLE HOLIDAYS
Below are 3 sample itineraries of what you could do on holiday to Antarctica.
Contact us to create your own luxury holiday.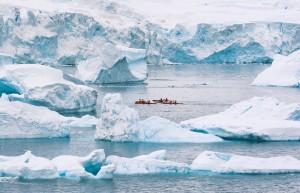 CLASSIC ANTARCTICA
Classic Antarctica is a luxury 2 week trip to the Antarctic Peninsula to experience the best of the White Continent.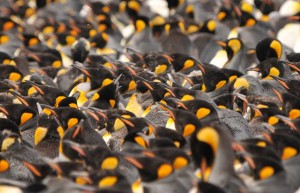 FALKLANDS, SOUTH GEORGIA & ANTARCTICA EXPLORER
This 3-week holiday showcases the best of Antarctica from aboard a luxury boat.
| | | |
| --- | --- | --- |
| | Currency | Dollar |
| | Time Zone | GMT-3 |
| | Language | English |
| | | |
| --- | --- | --- |
| | Flight Time | 21 hours from London Heathrow |
| | Capital City | None |
|   | National Dish | Fish! |
November is the beginning of the travel season in Antarctica and signals the arrival of the first few boats. It's the middle of spring, the penguin rookeries are bursting with activity, and the presence of fast ice gives you the opportunity of walking on sea ice.
The penguin population in the rookeries are growing at a rapid pace and the birds are busy courting and building nests.
Sea ice is still prevalent and at its most impressive, providing the rare chance to walk on the ocean.
Extensive snow covers Antarctica in an unspoiled whiteness, providing fantastic photo opportunities.
In South Georgia, rowdy Elephant seals are fighting

to determine who will be deemed the dominant male

.
Albatross, marine fulmars and petrels fly the Drake Passage while Blue-eyed shags return to mainland Antarctica.
In December, Antarctic travel is becoming more popular as the temperatures begin to rise and the days start to get longer. Wildlife numbers are increasing, hungry humpback whales start arriving and the first penguin chicks are starting to hatch.
With the summer months bringing up to 22 hours of daylight a day, there is more time for exploring.
The density of wildlife is increasing. Penguin rookeries are at full capacity, and seal and whale sightings are becoming more common.
The hungry humpback whales arrival back in Antarctic waters after their long migration journey.
Penguin chicks are beginning to hatch in the Falklands from the beginning of the month, and then towards the end of December on the Peninsula.
Access to the landing sites becomes easier in December and breakup of ice allows wider exploration.
In January you can get face-to-face with newborn wildlife, who are now curious and playful. As the temperatures rise and ice melts, new areas become accessible and voyages down to the Polar Circle are now possible.
It is the height of summer on the Peninsula with warm temperatures and generally stable weather.
The opening up of the ice allows the season's first voyages to reach the Polar Circle.
Penguin chicks are at their fluffiest and making strong demands on their parents for food.
Humpback whales are actively seen at the surface gorging on krill.
The ice in the Ross Sea opens up allowing access the historic huts of Shackleton & Scott.
February is Antarctica's most active month for wildlife with penguins, seals, whales and birds at their highest numbers. The melting and breaking of the ice allows for the maximum exploration of the region.
February is peak whale watching season as all migrating pods have now made it down to Antarctica's rich waters.
The penguin chicks are now very active and inquisitive, and are learning to swim in the shallows now that they are developping wing feathers.
The moulting stage begins for the adult penguins, making them look rather silly at times.
It's the perfect month to explore the Polar Circle, now that the ice has receded to its maximum.
The full-up whales are now beginning to explore and play, approaching boats and breaching the water.
Whale season is in full swing proving great chances of sighting the different types of whale. The juvenile penguins are busy learning to swim and catch fish themselves. With fewer boats about now the season is coming to an end, prices are generally lower with good cabin availability.
With fewer boats around, it feels like you have Antarctica all to yourself.
On South Georgia, the King penguin rookeries are at their most impressive and Macaroni penguins are in their greatest numbers.
There are great whale watching opportunities.
The penguin chicks are starting to successfully catch their own fish and approach visitors when walking on the mainland.
With the sun now lower in the sky, there are wonderful sunsets and sunrises, making march the perfect month for photographers.
FAQs
When do I need to book?
In short, it's a case of 'the earlier the better'. To be confident of securing your first choice you need to be booking at least 10 – 18 months in advance; this is doubly important for the most popular trips and during peak times like the Festive Season. Being organised and booking ahead also means you may be able to take advantages of any early booking incentives.
However, we know that many people aren't used to planning holidays or simply aren't able to commit to set dates this far ahead and it's perfectly possible to book an Antarctic trip only 3 – 6 months before you go. But expect to have less choice if you do due to restricted cabin availability.
Ready to start planning? Get in touch and start the conversation with one of our experienced Travel Specialists who can help guide you to exactly the right trip for you.
How do I get to Antarctica?
The easiest way to get to Antarctica is from Chile and Argentina. Both countries have southern hubs from where most ships and cruises depart. Punta Arenas is wherevmost ships leave from Chile and Ushuaia is where the leave from Argentina. To get to those places, there are several daily direct flights from their respective capitals. When booking your Antarctic cruise with us, we can sort out your transportation right from your home country.
While sailing from southern Chile and Argentina to Antarctica is the traditional route, and remains the most common, for those time-short travellers or anxious sailors, flights to Antarctica are becoming increasingly popular.
How do I choose the right trip?
This is an important question. There's an exciting selection of Antarctic cruises to choose from ranging from 6 – 35 days in duration. Whether you are considering the Antarctic Peninsula, the Polar Circle, South Georgia or the Falkland Islands, simply get in touch with one of our Travel Specialists who can talk you through the options and help speed up the process of matching you to the right trip.
How much will it cost?
A trip to Antarctica is a big ticket item in anyone's book and it's important to understand from the outset what to expect and what influence on the final cost options you're considering will have.
There are a lot of significant variables which influence price, and no two ship operators are the same. The size of the ship, standard of accommodation, and quality of food and service all play a part. But there are less obvious factors too: the calibre of the expeditionary staff, what clothing is provided, whether wine is included, staff to passenger ratio and the variety of complimentary activities.
Price Guide (prices per person in British Pounds):
Classic Antarctica Peninsula cruise (10-12 days) –  £5,000 – 10,000
Fly & Cruise Antarctica (8 days) –  £8,000 – 22,000
South Georgia, Falklands & Antarctica cruise (18-23 days)  – £8,000 – 18,000
What wildlife will I see?
Wildlife lies at the heart of every Antarctic trip. On the Antarctic Peninsula you'll get to see loads of penguins – chinstraps, gentoo & adelie – in their hundreds, if not thousands, as well as a number of different species of seal. You'll also almost certainly see whales, with minke, humpbacks and orcas being the most frequently sighted.
Check out the monthly guide above to find out which animals you are likely to see at each time of the year.
Can I combine an Antarctic cruise with Patagonia?
Almost all Antarctic voyages depart from the southern tip of Patagonia, providing an unmissable opportunity to also explore this captivating region before or after your cruise. It's a brilliant and proven combination.
Our specialists can provide you with ideas and help with booking this part of your trip. This has the advantage of all your travel plans coming under one roof, ensuring that nothing is missed or overlooked.
Can I walk on the ice?
You certainly can. Almost every ship operate daily excursions on the mainland, including hikes where you can get closer to the penguins and spot more wildlife. To get there you simply jump in a small zodiac and get taken in small groups to the mainland. You can also kayak, SUP, camp out on the ice and much more.