Ecuador
Untouched jungles and towering volcanos are interspersed with beautiful colonial architecture and beaches of white sand.
Famed as the gateway to the Galapagos Islands, Ecuador has a myriad of experiences to offer any visitor, despite its comparatively small size. Haciendas and boutique hotels offer unique accommodation options perfect for a bespoke holiday to South America, allowing you to immerse yourself in the culture of this vibrant country. The fertile valleys of the interior are alive with small communities farming the land and trading at lively markets. Traditional methods are still used and the people here are proud of their heritage.
Otavalo market is a highlight for visitors to Ecuador, and a great chance to interact with the friendly local people and purchase some colourful hand woven textiles. The cities of Quito and Cuenca have a deep colonial history, echoed in the attractive plazas and streets which ooze rustic charm. For adventurists, the 'Volanco Corridor' is full of hiking and climbing opportunities, plus world class white water rafting. Alternatively a horseback ride provides a serene way to view these sleeping giants.
A trip to Ecuador would be incomplete without experiencing the marvellous wildlife that can be found in the contrasting habitats of the Galapagos Islands and the Amazon jungle. The famous islands, which are accessible via a short flight from Quito or Guayaquil, are a paradise of pristine beaches, bizarre rock formations and of course, unforgettable wildlife experiences.
The Amazon basin is a completely different experience. Thick, damp vegetation hides under a sunlit canopy of ancient trees, where tapir, monkeys, sloths and multi-coloured birds can be observed.
SAMPLE LUXURY HOLIDAYS TO ECUADOR & THE GALAPAGOS
Below are 3 sample itineraries of what's you could do on holiday in Ecuador and the Galapagos.
Contact us for create your own luxury bespoke holiday.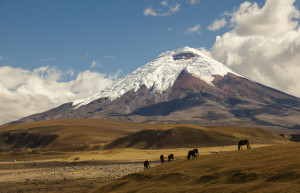 ECUADOR IN DEPTH
Get to know Ecuador's Andean villages, vibrant cities, spectacular wildlife & beautiful scenery.
| | | |
| --- | --- | --- |
| | Currency | United States Dollar |
| | Time Zone | GMT-5 |
| | Language | Spanish |
| | | |
| --- | --- | --- |
| | Flight Time | 12 hours from London Heathrow |
| | Capital City | Quito |
|   | National Dish | Ceviche |