Cuba
Classic elegance, abundant natural beauty and an ineffable revolutionary spirit. Cuba is a Caribbean paradise. With some of the most striking landscapes in the Caribbean, historic landmarks at every turn, and a vibrant modern culture; you could say that Cuba has something for everyone.
Pastel-coloured colonial cities in varying states of romantic decay dotted across the breadth of this emerald island account for five of Cuba's nine UNESCO World Heritage Sites. Like classic novels, fraying at the edges, these kaleidoscopic town centres have been weathered by the passing of the ages, but have retained a certain timeless opulence, being subsequently revitalised and reimagined by each new generation that inhabits them. Explore the art museums in Old Havana, the grand 1920s palaces on the Punta Gorda in Cienfuegos and visit the site of Don Facundo Bacardí's first rum factory in Santiago de Cuba.
Home to the beaches of Varadero, the mangrove swamps of Cayo Coco and the dramatic mountain ranges by Trinidad and Santiago, Cuba's diverse habitats make for a fabulous nature-lover's getaway. The swamps of Zapata offer world-class birdwatching opportunities including the Caribbean's highest number of water birds and the planet's smallest bird: the bee hummingbird. For those who seek adventure, diving, kayaking through the mangroves or hiking to waterfalls in the Sierra del Escambray are a great addition to any trip.
Culture enthusiasts will be enchanted by the baroque architecture preserved in many Cuban cities, however this island's influence upon the world's cultural landscape extends far beyond its declaration of independence from Spain. Cuba is the home of salsa, rumba and bolero dancing, as well as the adopted home of literary icon Ernest Hemingway and Argentine revolutionary Che Guevara. See Hemingway's home in Havana as he left it in the 1960s and visit Che's mausoleum in Santa Clara where his defining battle ended the Batista regime. Finally, relax with a mojito and a Cuban sandwich by the sparkling Caribbean Sea.
SAMPLE LUXURY HOLIDAYS TO CUBA
Below are 3 sample itineraries of what you could do on holiday in Cuba.
Contact us to create your own luxury holiday.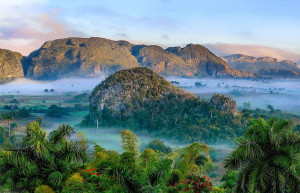 CUBA IN DEPTH
A 2-week luxury itinerary that allows you to really get under the skin of this wonderful country.
| | | |
| --- | --- | --- |
| | Currency | Peso |
| | Time Zone | GMT-5 |
| | Language | Spanish |
| | | |
| --- | --- | --- |
| | Flight Time | 10 hours from London Gatwick |
| | Capital City | Havana |
| | National Dish | Ropa Vieja |