Cuba In Depth

This two-and-a-half-week itinerary goes beyond the Havana-Viñales-Trinidad touristic trinity to offer a more in-depth experience of this dynamic island.
Cuba is the Caribbean's largest island and the diversity amongst its landscapes, towns and people is one of the most rewarding elements of travel in this vibrant country. This comprehensive itinerary combines nature, culture and remote beaches for a unique experience of Cuba, going beyond just the crowded must-sees of Havana and Trinidad. Spend time hidden away in the hills of Viñales enjoying the relaxed pace of rural life, before exploring the deserted cobblestoned streets of lesser-visited historic cities such as Camaguey and Santa Clara. Delve into the rugged tropical scenery of the Escambray and Sierra Maestra mountains, trekking to the hidden command posts where Cuba's revolutionaries coordinated their battle plans and soaking up the verdant forest vistas. Finish your journey in the blissful seclusion of Baracoa. Facilities here certainly are not top-level, however for those seeking an immersive cultural experience of Cuba's forgotten southeast coast, there is nowhere better.
3 nights in Havana at the Hotel Gran Manzana Kempinski with two full days of activities.

2 nights at Villa Secreta in Viñales with a full day trekking tour of the region.

2 nights in Trinidad at the Iberostar Grand Hotel Trinidad with a city tour and jeep safari.

1 night in Camaguey at Encanto La Sevillana with a historical city tour.
1 night in the Sierra Maestra mountains at Villa Santo Domingo with a guided trek to Fidel Castro's hideout.

2 nights in Santiago de Cuba at Villa Gaviota with a full day of activities in the city.

4 nights in Baracoa at Hotel Rio Miel with a walking tour of the city included.

Hiking in the Alejandro de Humboldt National Park and days at leisure on the beach.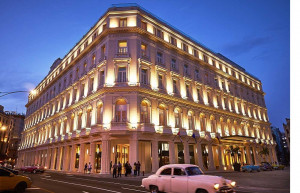 Arrive into Cuba

Upon arrival into José Martí International Airport, you will be met by a guide and taken to your hotel by private transfer where you will spend three nights in the bustling city of Havana.

Suggested accommodation – Gran Hotel Manzana Kempinski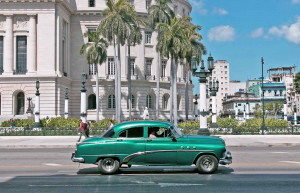 Havana

This morning you will enjoy a walking tour of colonial Havana with your local guide before heading out into the city in the afternoon in a classic American car to experience the 'Hemingway' tour, visiting sites related to the life of the famous author and this creative period in Cuba's history.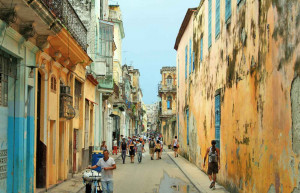 Havana

Today you will set off on a tour of local markets to learn more about Cuban produce. Enjoy lunch and a gastronomy lesson at Jibaro in Havana, one of the city's best kept secrets. In the afternoon, explore Cuba's art scene, visiting two artists' studios and the Museum of Fine Arts.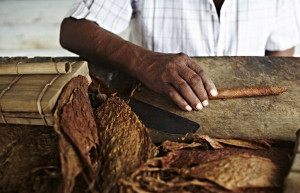 Transfer to Viñales

Leave Havana and drive into the countryside for a two-night stay in the picturesque region of Viñales.

Suggested accommodation – Villa Secreta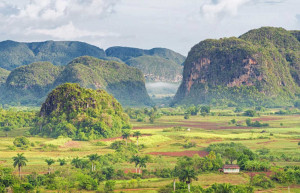 Trekking in Viñales

Enjoy a 4km trekking tour through the striking landscapes of rural Cuba made up of rolling hills, patchwork tobacco fields and picturesque country houses.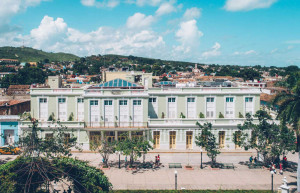 Travel to Trinidad via Cienfuegos

You will drive from Viñales to Cienfuegos and enjoy a private tour of this city's grand French-style architecture before continuing to Trinidad where you will spend the next two nights.

Suggested accommodation –  Iberostar Grand Hotel Trinidad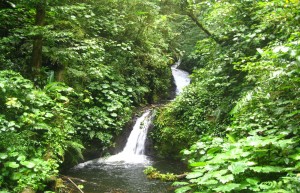 Trinidad and Jeep Safari to Topes de Collantes

This morning you will head up into the Escambray mountains on a jeep safari through the unspoiled nature of the Topes de Collantes. Enjoy the verdant nature of Cuba's isolated sierras, before returning to Trinidad for a relaxed afternoon city tour.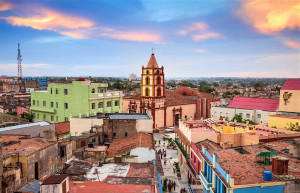 Camaguey
You will leave Trinidad with your guide and move on to the colonial central Cuban town of Camaguey, where you will enjoy a fascinating historical city tour and spend one night.

Suggested accommodation –  Encanto La Sevillana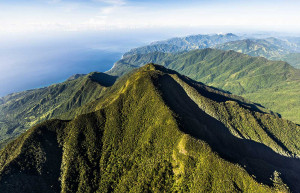 Granma

Continuing on your journey through eastern Cuba, you will spend one night in Granma, in an isolated villa in the scenic Sierra Maestra mountains. Your afternoon will be free to explore the culture of the local farmers, or to enjoy pleasant walking trails through forests and river valleys.

Suggested accommodation – Villa Santo Domingo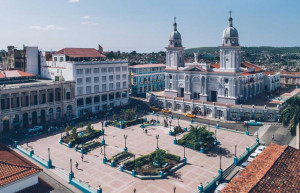 Morning trek and travel to Santiago de Cuba

Early this morning you will set off on a trek to the Comandancia de la Plata, a secluded command centre high in the mountains, which Fidel Castro and Che Guevara used as a staging post for coordinating the major action of the Cuban Revolution. In the afternoon, you will travel to Santiago de Cuba and visit the El Morro fortress to watch the sun set.

Suggested accommodation – Villa Gaviota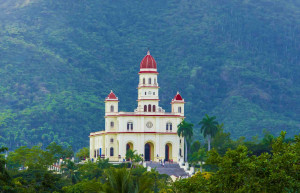 Santiago de Cuba

During this full day in Santiago, you will explore the various points of interest that have shaped the colonial and revolutionary history of this dynamic city. Explore the Moncada Barracks, where a defining battle of the Revolution took place and relax in the Cespedes Park.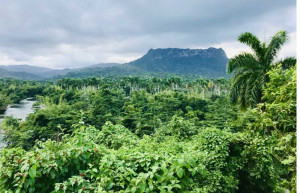 Travel to Baracoa
Today you will transfer to Baracoa where you will spend the next four nights. Upon arrival you will enjoy a walking tour of Baracoa and the town's quirky museums before spending the evening at your leisure.

Suggested accommodation – Rio Miel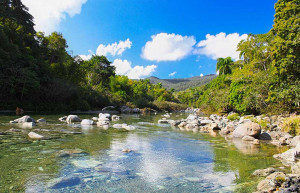 Alexander Von Humboldt Park

Enjoy a stunning hiking tour of the Alejandro de Humboldt National Park. Make sure to pack your swimming gear, as you'll be able to enjoy a peaceful swim amongst nature in the park's secluded rivers.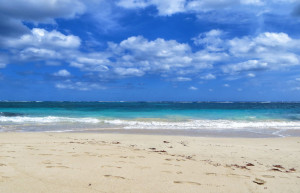 Free time in Baracoa

Days at leisure to enjoy the natural splendour of Baracoa and its nearby deserted beaches.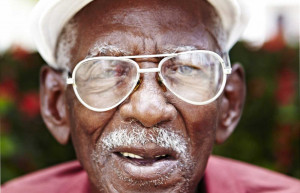 Fly to Havana

This morning you will board a local flight from Baracoa to Havana to spend one final night in the city. Your concierge can assist you with organising tickets to a cabaret, jazz concert, or even the Cuban ballet!

Suggested accommodation – Gran Hotel Manzana Kempinski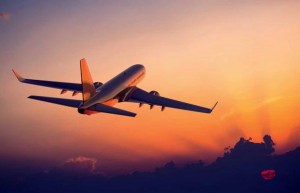 Fly home

Today you will transfer to the airport in Havana for your onward flight home.
The price for this itinerary is GBP £5,910. (US Dollar pricing also available)
This is a per person price, based on 2 people travelling and sharing a room.
15 nights in luxury accommodation as listed above

Private transfers and tours with an English speaking guide and driver

All internal flights in economy class seating
International flights (discuss your specific requirements with us)

Any visas you may require
This is a guide price. Please enquire and we will provide a full personalised quote for you.  All our itineraries are tailor-made to your own requirements so can be modified however you wish.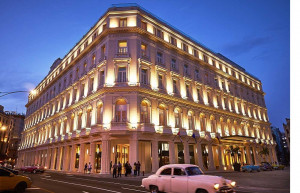 Kempinski
The Kempinski Hotel is a chic hotel offering elegant rooms, restaurants & bars, plus a posh spa & a rooftop pool in the heart of Havana near all the best restaurants, bars and live music venues.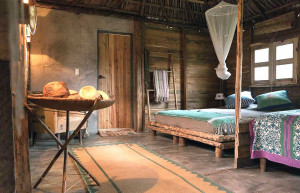 Villa Secreta

Villa Secreta offers rustic elegance set amidst one of the most beautiful sceneries in all of Cuba. Enjoy a stay in a private cabin in total seclusion surrounded by nature. The decor is upcycling chic, and the atmosphere is pure tranquility.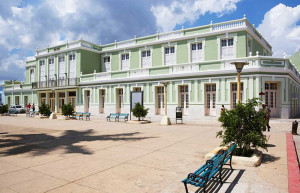 Iberostar Grand Hotel Trinidad
In the heart of Cuba, amid the perfectly preserved Spanish colonial settlement of Trinidad, old-world charm and wonder meet comfort and tranquility in the Iberostar Grand Trinidad's refurbished 16th-century World Heritage building.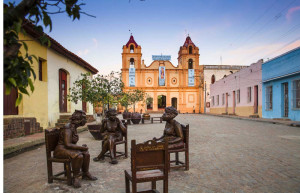 Encanto La Sevillana

An elegant boutique hotel in central Camaguey, Hotel Encanto La Sevillana is a colonial style hotel within walking distance of many of the city's most popular squares and attractions.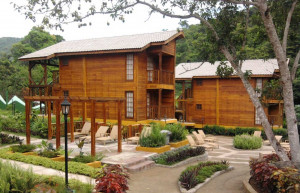 Villa Santo Domingo

Villa Santo Domingo is girded by the Sierra Maestra Mountains, making it the perfect spot for observing the flora and fauna of the region.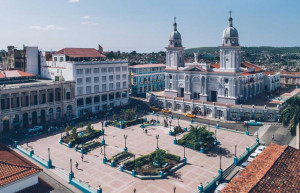 Villa Gaviota

Villa Gaviota (also sometimes known as Eastern Villa) is located in the residential area of Vista Alegre, a few minutes from the historical, cultural and commercial centre of the hospitable city of Santiago de Cuba.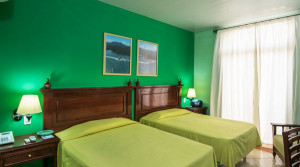 Rio Miel

Rio Miel is located in a privileged setting along the seafront in Baracoa, close to the historic centre of the city. Baracoa was Cuba's first city and is an interesting place to stop by and visit on an off-the-beaten-track tour of Cuba.