Why book a holiday with us
You are not just a number.
We are a small independent company and because of that each and every booking is very important to us. We want every client to have the best holiday possible which means you receive a very personal service. You are not just another number in a sales target.
A truly bespoke service.
When we create our itineraries we listen to you throughout the entire process. We don't have any set trips or itineraries, simply suggestions, and we can amend your trip as many times as you like prior to confirming everything to make sure you get the holiday you want.
Our contacts are second to none.
We have built up a fantastic array of luxury travel contacts throughout the world and we use this to our advantage to obtain clients exclusive access to properties and experiences plus free hotel upgrades wherever possible. The suppliers we use are friends as well as colleagues.
You are fully protected.
We are ATOL bonded and members of the Travel Trust Association providing full financial protection for your holiday. Our ATOL number is 12237.
What we do
Humboldt Travel specialises in private, tailor-made holidays, honeymoons, family holidays, multi-generational holidays, sporting trips and group tours to Latin America, Asia, the Middle East and Africa.
What this means is that we arrange the whole trip for you including flights, the accommodation, tours and transfers, however giving you as much freedom and independence as you wish.
Many clients arrange their own international flights or wish to use air miles, however we can easily do this too. We take over the stress of organising your holiday so that on arrival in the country, you are eased into your holiday with some guidance along the way.
Below is a guideline of how the booking process works with us.
Step 1 – You contact Humboldt Travel by phone or email.
Step 2 – We discuss your holiday plans to learn more about you, any specific interests you may have, how long you plan to travel for and the sort of standard of accommodation and services you are looking for.
Step 3 – We create a detailed itinerary for you with day to day plans, flight schedules and descriptions of hotels and tours. The itinerary is then emailed to you for review.
Step 4 – Most clients will tweak some of the itinerary and as all our holidays are tailor-made, anything can be changed. We can amend the itinerary so that you achieve the perfect holiday for you.
Step 5 – Once we have finalised an itinerary we will inform you of a deposit amount to secure the holiday.
Step 6 – Two months prior to departure you will need to pay the balance payment for your holiday.
Step 7 – A month prior to travel we will post to you a comprehensive travel dossier with all your travel documentation and luggage tags (pictured below). You will also receive an access code to use our App which offers a holiday countdown, a day-by-day breakdown of your trip and holds digital copies all of your important documents.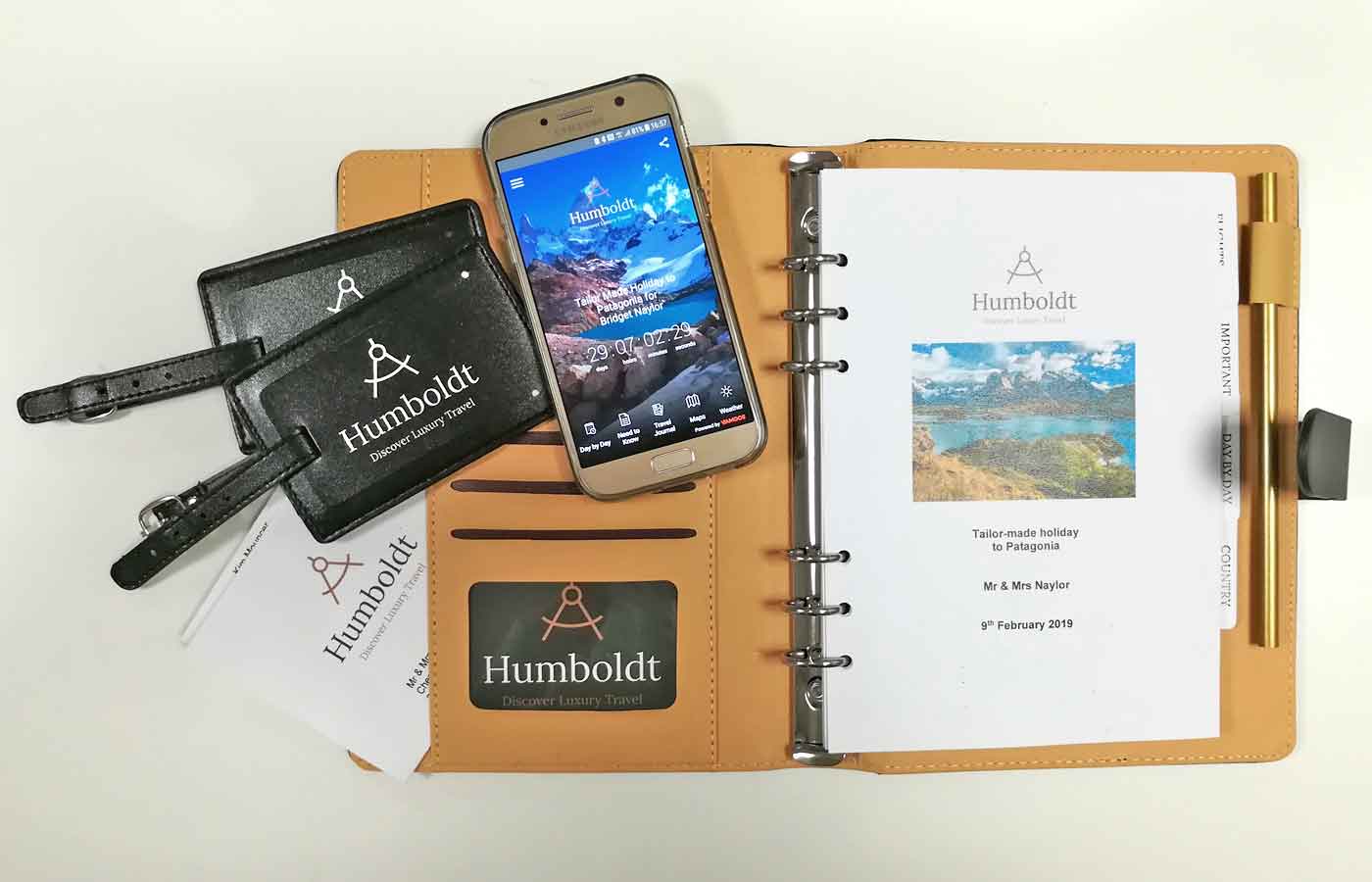 Step 8 – You go on holiday!
About Us
Humboldt Travel is a small family business, owned by Simon and Kirsty Williams. The small size of the company means that you receive a very individual service which we are proud of. Humboldt started life as Bespoke Brazil, established in 2011 by director Simon. The company has since grown from the roots of Bespoke Brazil, expanding to offer more countries in Latin America and then Asia and Africa.
Humboldt Travel creates tailor made holidays to some of the most vibrant and exciting parts of the world, incorporating luxury accommodation and exceptional service. We are passionate about the countries we sell and we work hard to create the holiday of a lifetime for each of our customers by finding out your requirements and building a holiday around these.
Meet Our Travel Specialists
---
Simon
Simon founded Humboldt Travel and has travelled extensively around the world and worked in a variety of different sectors within the travel industry. He is particularly passionate about Brazil and has exceptional knowledge on the country. Simon is history buff plus an avid photographer and always has his camera gear in tow. The cameras are now joined by his two children and the nature of travel has changed but is none less adventurous. His most memorable travel experiences include a night time encounter with Colombian river police on a journey down the length of the Amazon; trekking with gorillas in Rwanda; spending a weekend in a holiday camp in Siberia while traversing Russia on the trans-Siberian en route to the World Cup in Korea; eating fried scorpions in Cambodia; dancing on TV in the Rio Carnival costumed parade; and walking with penguins in Antarctica.
---

Kirsty 
Kirsty has always been fascinated by other people and cultures, something instilled in her from a young age. She graduated from the University of Durham with a degree in Modern Languages (French and Spanish) which further developed her passion for languages and travel. Following university, she worked wherever she could using her languages, often travelling the world. The travel industry was the obvious place to settle and she joined her husband Simon as director of Humboldt Travel, channelling her passion into creating tailor-made holidays.  Some of her travel highlights include dancing Samba in Rio de Janeiro; taking a houseboat through the Kerala backwaters in India; snorkelling with sharks in Belize; scrambling over the Indiana Jones trek with her son on her back in Petra, Jordan; spotting jaguars in the Brazilian Pantanal; tasting bao buns in backstreet Beijing; and doing Machu Picchu in style on the Belmond Hiram Bingham train.
---
Who we work with
To ensure you have the best possible holiday we only work with companies and suppliers that we know and trust. Because of the close relationships we have established, we are able to guarantee that the services we offer are of the highest quality.
Our network of contacts enables us to guarantee that if something goes wrong on your holiday there are people close at hand to resolve any issues straight away which is not always so easy to do independently, especially if your language is limited. To put your mind further at ease, when you book with us, we will provide you with a 24/7 emergency number allowing us to help out if any real problems arise.
Due to the number of destinations we offer, it is impossible for us to have personally inspected all the hotels we recommend however the colleagues we work with have done and we are working on doing so ourselves! You can therefore trust our recommendations; after all, trust is such an important aspect when booking your holiday.
Where possible we try and recommend locally owned hotels rather than international chains. You will see from our sample itineraries that many of these are boutique style properties offering a real charm and the sort of attention to detail for which we aim.
We also prefer to recommend hotels which do not negatively impact on their environment.  There are a number of hotels at the forefront of sustainability projects creating environmentally low impact properties which mould into their surroundings.
Click on the link to view our Responsible Tourism Policy.
All the guides we use are fluent in English and the majority of transfers we offer will feature an English speaking driver where possible.
Humboldt Travel and our suppliers always aim to provide you with an exceptional service to make your holiday a memorable one.