VINALES
Just over two hours from Havana is the beautiful landscape of Viñales. A great contrast from the capital city, this is a beautiful place to get away from it all.
The countryside here is made up of lush, green valleys covered with fields of red-brown soil, palm trees and hills known as mogotes, limestone hillocks leftover from the Jurassic Period.
The main industry in this part of Cuba is farming, specifically tobacco for Cuba's most famous export, the cigar. The farming methods remain largely unchanged and the fields are still ploughed with oxen. Viñales offers a great opportunity to visit a tobacco house and learn about cigar manufacture. Watch the experts roll them by hand beneath leaves drying in the rafters above.
Nearby, Las Terrazas is a beautiful place to visit. This nature reserve was once a bare landscape of scrub and grassland. Castro chose the area as an opportunity to restore the original lush, tropical vegetation.  This was so successful that it is now a UNESCO biosphere reserve with a beautiful variety of flora and fauna. Walking trails wind alongside alkes and streams and this is a popular place for visitors to relax or enjoy activities including trekking, swimming, horse riding, biking and canyoning.
WHERE TO STAY
Our favourite luxury hotels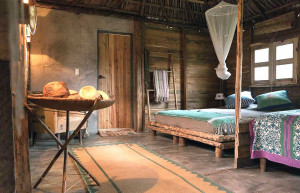 Villa Secreta

Villa Secreta is the true definition of rustic elegance with breathtaking views of the Vinales Valley. Enjoy a private cabin in total seclusion surrounded by nature at this amazing guest house in Vinales. The decoration is up-cycling chic, and the atmosphere is pure tranquility. The cabin sleeps up to 4 people with one king size bed and one queen size, making this the perfect spot for couples or small families. There is an outdoor lounging and eating area protected from the sun for ultimate relaxation after a full day of adventures. Villa Secreta is locates 2km from the main town in an area of the countryside called "Los Jazmines". The dirt road that connects the guest house to the town can be accessed by car, bike or on foot.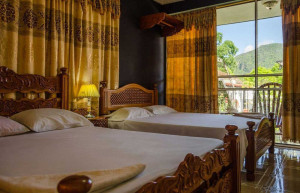 Casa La Autentica

Casa La Autentica is a sophisticated private house in the heart of Viñales. Located on the peaceful main street in the town of Viñales in the Pinar del Rio province in the North West of Cuba, rests the elegant La Autentica private guest house. With modern amenities and warm hosts, this hotel is the best place here to relax and daydream whilst gazing at the peculiar yet impressive Viñales mogotes. There are four rooms in this small hotel with two located in the house itself and two in a separate building off the garden. The décor is simple but the rooms are spacious and comfortable with high ceilings and wood carved furniture. Each room has two glass doors boasting landscape views and marvellous sights of the sun rising and setting over the countryside mountains.