Bolivia is a country of incredible beauty, spectacular landscapes, and truly unique sights. Humboldt Specialist Ellie explains some of our favourite things to see during your bespoke trip to this stunning Andean country.
Bolivia is a land of superlatives – it has the highest capital city in the world, the largest salt flats in the world, and perhaps some of the most diverse landscapes in the world, ranging from mountains, rainforests, lakes, desert and everything else in between. While there are so many highlights across Bolivia's varied eco-systems, there are a certain few spots that stick out as must-sees for any traveller with time to spend visiting this beautiful South American paradise.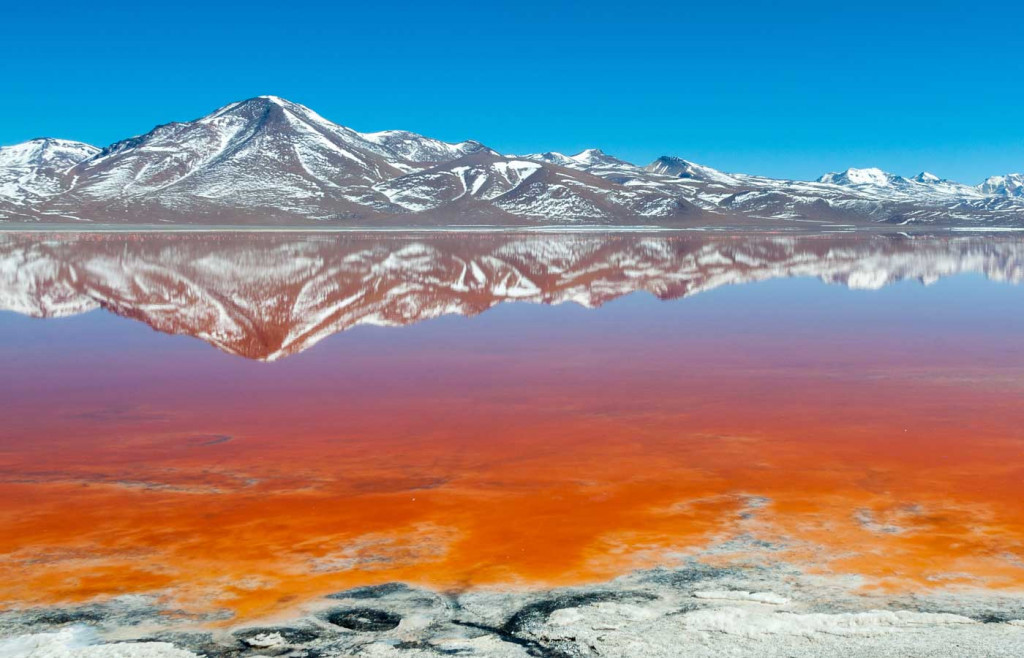 La Paz
La Paz is the highest capital city in the world, sitting at approximately 13,400 feet (4100 metres above sea level). This dynamic and bustling city is a great introduction to the diversity of this fascinating country.
La Paz is a picturesque city which sits in a valley surrounded by snow-capped mountains. The most stunning peak overlooking the city is the towering, triple-peaked Illimani. The peaks are always snow covered and can be seen from most districts in the city on a clear day. La Paz is a surprisingly avant-garde city – with a bustling gourmet dining scene and lots of funky art galleries and crafts markets to explore. The nightlife and bar scene is also surprisingly lively and there are plenty of chic bars, charming restaurants and sophisticated lounges to while away a few hours in come evening time.
Some of the best things to enjoy exploring in La Paz are the huge markets (such as the infamous Witches Market where indigenous healer sell folk remedies), the incredible architecture (be sure to see the pale yellow façade of the Presidential Palace), the ornate churches (the best is Iglesia San Fransisco), the quaint colonial streets (the oldest is called Calle Jaén) and the impressive views of the city from the famous Teleferico cableway. If quirky cities filled with culture and history appeal to you, then look no further, La Paz is the place.
Where to Stay? – ATIX Hotel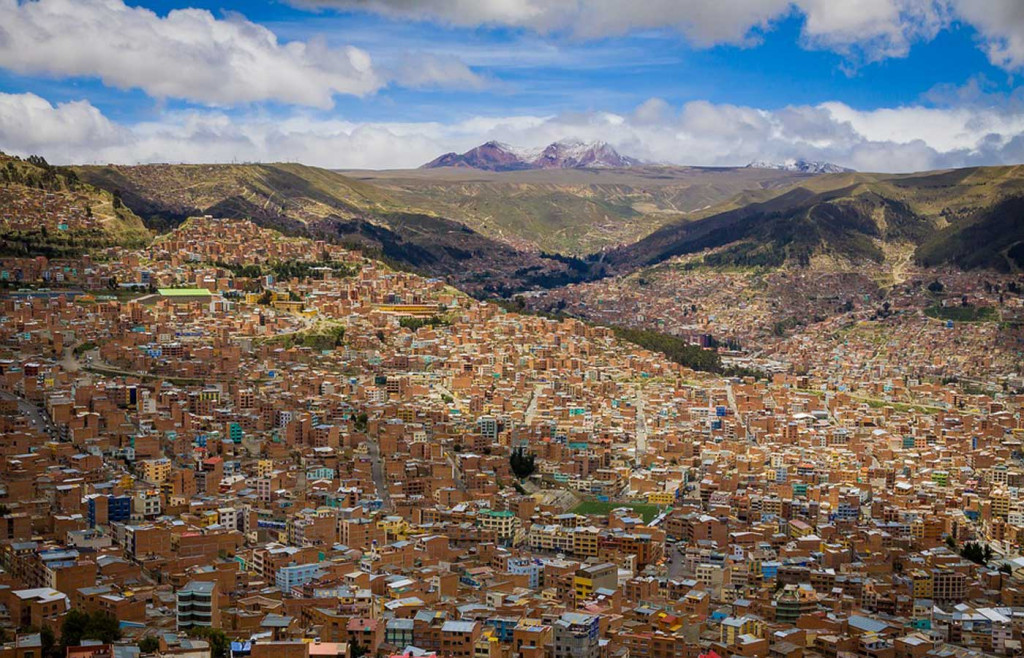 Lake Titicaca
Located between Peru and Bolivia at 12,500 feet (3800 metres above sea level), the 8400 km2 lake offers enough activities to keep you busy for at least a week. You can take boat trips to the many islands that are spread out from the shoreline, hike to lost coves and floating islands, party in the touristic hub of Copacabana and meet locals that will provide an insight into the traditions and ancestral cultures of this unique area.
Everything that sits beside this impressive body of water seems to fade into the background in contrast with the shimmering opal jewel-toned water of this sacred lake. It is not hard to see how Inca legends came to identify Lake Titicaca as the birthplace of the first Inca and their civilisation. Ruins from the Inca era and the Aymara-speaking Tiwanaku culture that preceded them are dotted around the lake and are well worth a visit with a historical expert as your guide. For photographers, the dramatic landscapes of the lakes and the mountains will not fail to impress.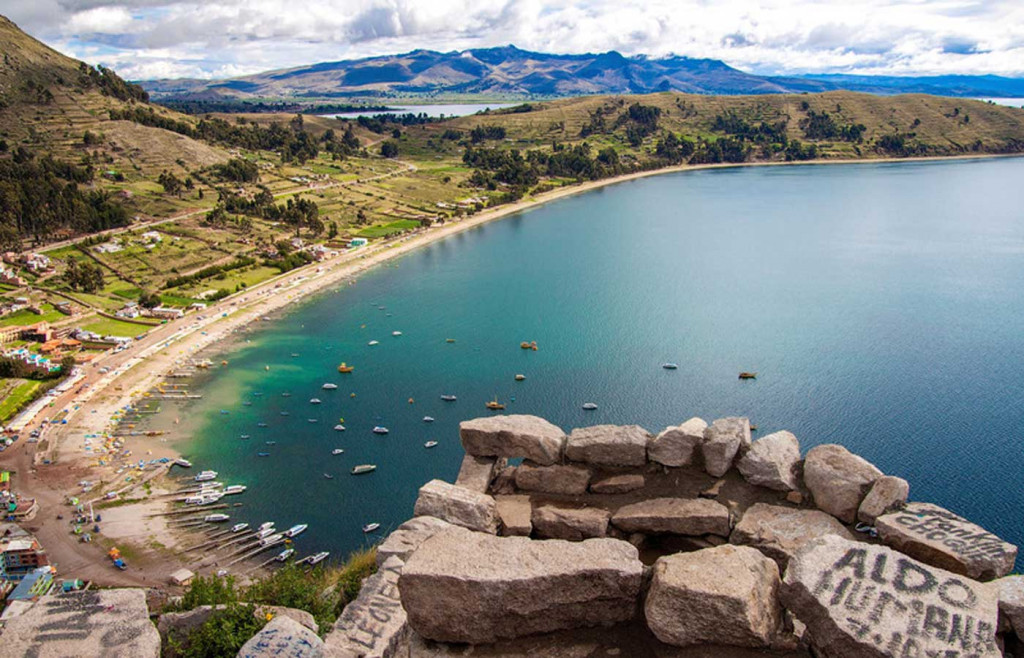 Coroico & The Yungas
Just 30 miles (50km) from La Paz, the mountainside town of Coroico is a nature-lovers' paradise offering a slice of semi-tropical tranquillity. With warm weather and spectacular views, Coroico is the perfect place to relax and is the most visited tourist town in the Yungas region. It's perched on the shoulder of the Cerro Uchumachi and offers far-ranging views across forested canyons, cloud-shrouded mountain peaks, patchwork agricultural land, citrus orchards, coffee plantations and dozens of small traditional settlements.
Well-known for being the end-destination for those who dare to cycle the infamous 'Death Road' from La Paz, Coroico is a friendly town full of shops and restaurants serving cuisine inspired by the bounty of the fertile Yungas region. Visitors to Coroico can also visit the nearby La Senda Verde, a charming eco-tourism project where volunteers and donors have helped build a wildlife sanctuary for animals confiscated from the black-market wildlife trade. For each client Humboldt send to Bolivia, we make a donation to this worthy cause and we thoroughly encourage our travellers to visit!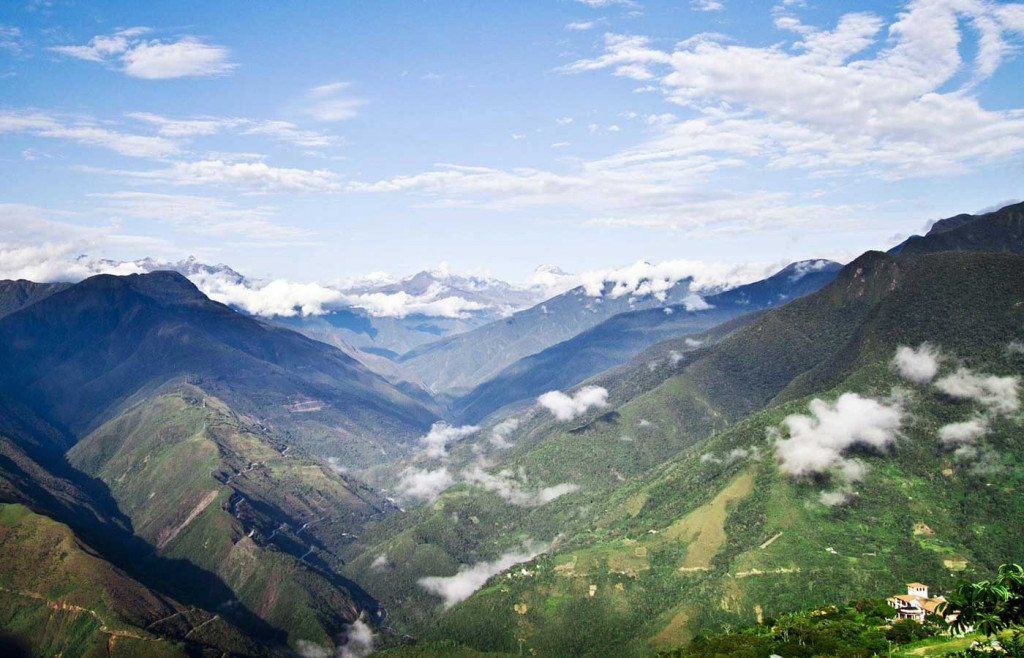 Sajama National Park
Sajama National Park is a stunning national park located in the Oruro Department in Bolivia, 4 hours from La Paz. Sajama is home to the peaks of scenic volcanoes, otherworldly rock formations, natural hot springs and mysterious ancient ruins. This magnificent scenery paired with the region's rich culture make Sajama the perfect place to get to know the true soul of Bolivia.
The park is home to communities of indigenous Aymara people, whose ancient culture can be observed throughout your tour of the park. The park holds unique cultural artefacts and ecological wonders, making it a great location for eco-tourism. Many different indigenous plants and animals are exclusive to this area, and so its continued conservation is of great ecological importance.
Accommodation options are limited, so we encourage our intrepid luxury travellers to try our luxury 'glamping' in this remote region. Your tent includes a double bed and all the necessary mod-cons for you to experience this magical landscape in the utmost comfort.
Where to Stay? – Luxury Glamping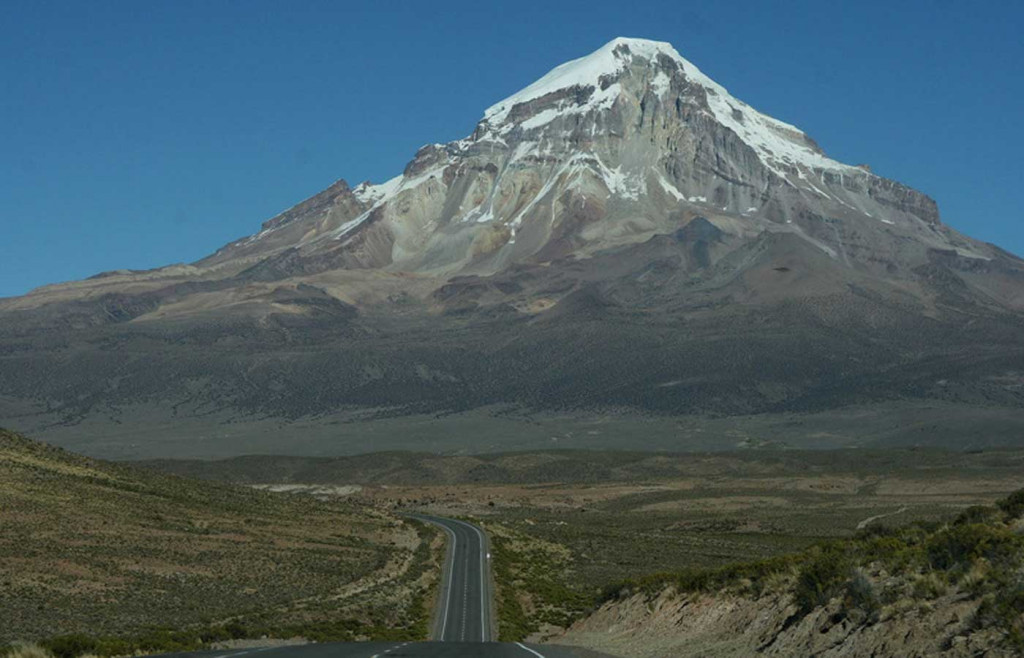 Wild Bolivia
High atop anyone's list of must-dos while travelling in South America is a trip into the wild to see some of Latin America's emblematic species. One such destination, perfect for lovers of the outdoors, is of course the Amazon rainforest. While most people automatically think of Brazil when considering travel to this world-famous eco-system, parts of this colossal jungle can be visited from Peru, Ecuador, Colombia, and of course, Bolivia.
If seeing wildlife is your goal, then a trip to the wilds of Eastern and Southern Bolivia is a must. From aboard a canoe in the forests, you can spot caiman, turtles, monkeys, pink river dolphins, capybaras, and numerous of species of exotic birds. You can go piranha fishing, hiking in the jungle, and search for the largest snake in the world, the anaconda. Going off the beaten track in Bolivia and experiencing these most remote and unspoiled corners of the country on a 'glamping' trip brings travellers up close and personal with countless incredible animals.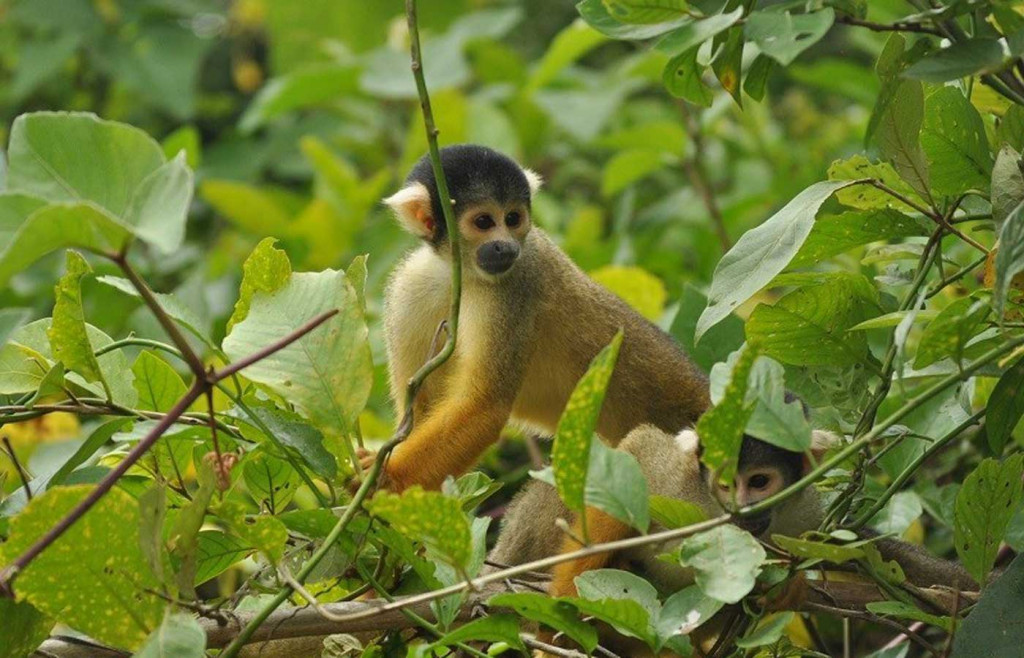 Uyuni & The Altiplano
Last, but most certainly not least, are the Salt Flats of Uyuni and the magical landscapes of the Bolivian high plateau, or 'Altiplano'. If they aren't on your travel bucket list already, then I would recommend adding them right away. The Salt Flats themselves are the crowning glory of Bolivia, even though the highlights of the surrounding area are just as breath-taking. The Salt Flats that make up the Salar de Uyuni are the highest and largest in the world. The bright white salt which stretches as far as the eye can see contrasts with the deep blue skies, offering visitors a scene that simply does not look or feel real. It is a jaw-dropping place that you will never be able to forget for its sheer cosmic vastness.
Where to Stay? – Palacio de Sal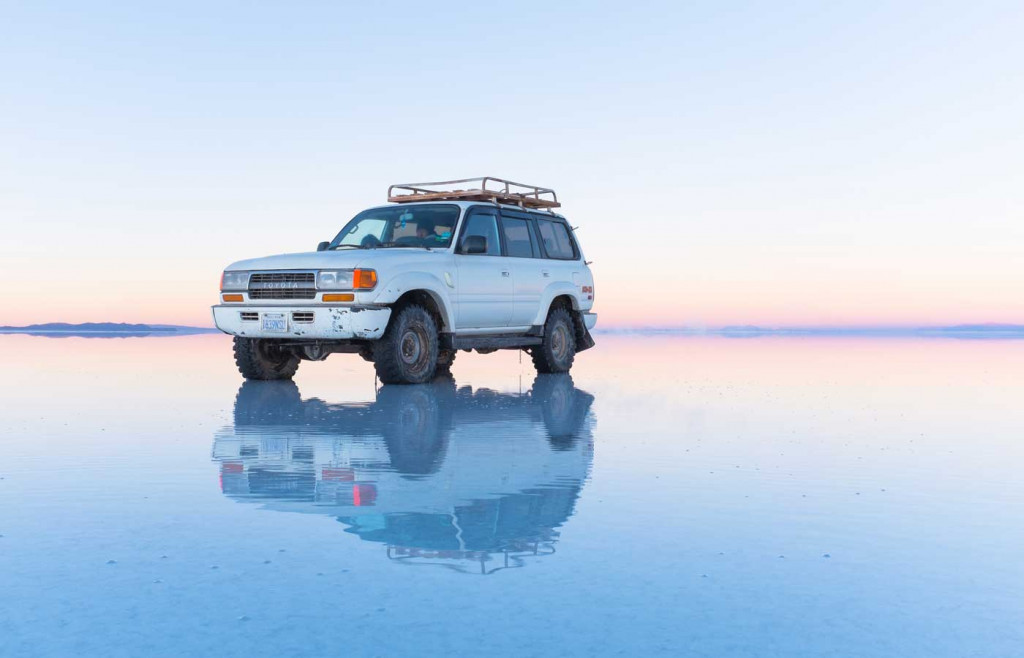 The Bolivian Altiplano is an incredible world of colours, dramatic scenery and rocky horizons. This remote corner of the country is difficult to reach but impossible to forget. In order to tick off all the highlights of the area, travellers must work their way through the south of Bolivia with a 2- or 3-night overland tour.  The natural wonders on the Altiplano are simply breath-taking. It encompasses treasures such as colourful lagoons tinted by their mineral content, geothermal baths, multicoloured mountains, bizarre rock formations, towering volcanoes, sulphuric lakes, dry deserts, lush green valleys of quinoa farms, a train cemetery, and a flurry of colonial-era mining towns like Potosi and Uyuni itself. Wildlife lovers will appreciate the periodic sightings of vicuña, Andean foxes, condors, and flamingos. There is no trip quite as isolated, yet magical, as this one through the windswept south.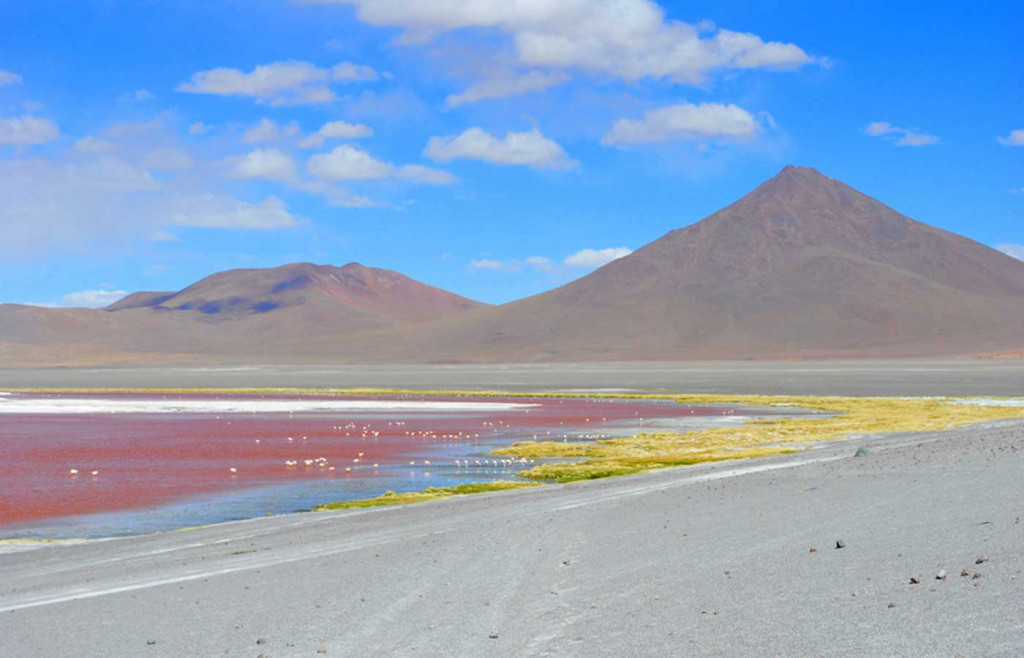 With so many sights to see in this magnificent country, we recommend at least 10 days for a comprehensive tour of Bolivia. Are you planning a trip to Bolivia? Click here to browse sample itineraries and contact us today to begin designing your bespoke trip with one of our specialists.