For our luxury hotel of the month for September, we have chosen the tropical Ka'ana Resort in Belize. Fusing a tropical jungle escape with the sleek design sensibility of a cosmopolitan boutique, this is our favourite place to stay in the stunning Cayo District.  
For those seeking adventure in Belize – look no further than the Cayo District. With the towering ruins of Mayan temples, the wild beauty of the Belizean rainforest and the adventure attractions of the ATM Cave and various other picturesque sites, the destination is perfect for thrill-seeking couples or adventurous family travel. Ka'ana is a boutique resort tucked away in the forest offering a fresh and modern take on tropical luxury and is the perfect place to curl up with a book and a fruity cocktail after a long day of exploring…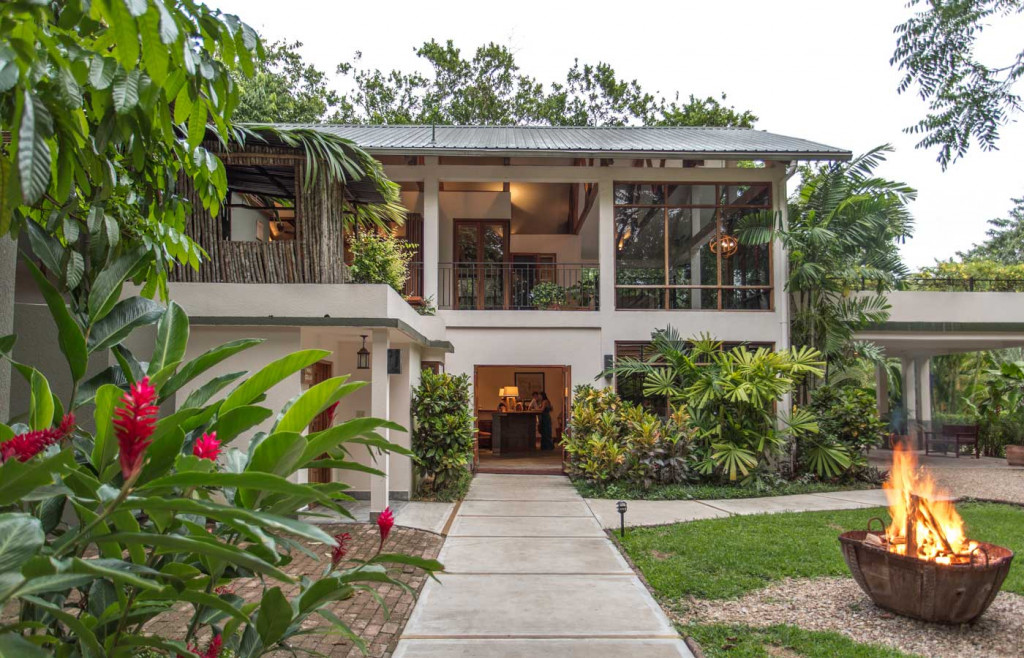 How to Get There
There are no direct flights from the UK to Belize City, with most European travellers having to spend a night in a transit hub in the USA on their outbound journey. With luck, this will change as travel in this delightful Caribbean country becomes increasingly popular. For US travellers, getting to Belize is decidedly easier. Direct flights to Belize City are available from Denver, Los Angeles, Chicago, Dallas, Houston, Atlanta, Charlotte, New York City, Fort Lauderdale or Miami.
Upon landing in Belize, it is a two-hour cross-country drive to Ka'ana in the western Cayo District, a region defined by lush jungle and mountain scenery and its rich Mayan heritage.
Rooms
Ka'ana's bright rooms and suites provide a quiet and relaxing haven amongst the verdant vegetation of the forest. All rooms offer an adventure-ready style of luxury with quirky bright colours complemented by soothing neutral tones and an unfussy sense of modern chic. Upgraded rooms offer outdoor showers, private terraces and cosy secluded gardens, whilst the family-friendly villas add a private plunge pool to the mix. With wooden accents and the vibrant hues of tropical flowers, each lovingly designed suite pays homage to the beauty of the surrounding rainforest with a variety thoughtful and sustainable design touches.
Food & Drink
Operating with a unique 'farm-to-jungle' concept, Ka'ana's refined eateries offer chef-driven menus that celebrate the produce of the local farms in the region and adapt to the fresh seasonal ingredients available at any given time. Serving a varied menu of local favourites and refined international dishes, many of the starring ingredients in the elegant plates at La Ceiba restaurant are also grown in Ka'ana's own on-site organic garden. By night, enjoy the casual atmosphere of the Wallace Bar and sip on inventive signature cocktails, as well as tropical takes on the classics, alongside a menu of delicate tapas dishes in this chic lounge.
Outstanding Feature
The exquisite spa at Ka'ana is a standout feature of this charming tropical hideaway. Offering treatments revolving around organic, local products, guests can enjoy a range of luxurious facials and specialist treatments to help relieve the effects of sunburn or mosquito bites (which can be useful in the Belizean jungle!). The spa's signature treatment harnesses the mystic energy of ancient Mayan rituals in a low-intensity abdominal massage, designed to relax, rejuvenate and refresh the body.
Best For
The discerning traveller who is adventure-ready! Ka'ana Resort's unique location in amongst the magical attractions of the Cayo District is perfect for couples or families who seek thrills and high-octane adventure, yet still want the tranquillity of a luxury oasis to retreat to in the evenings after full days of exploring. The light and airy rooms offer an unfussy modern luxury, with nothing 'superfluous' about the accommodation, that lends itself to those who seek the utmost comfort, but plan to spend most of the day out and about.
Must Do Activity
What is there not to love about the Cayo District? There is so much to do in this little slice of paradise, from river tubing and caving to exploring the region's breath-taking Mayan ruins. Our favourite excursions from Ka'ana are a relaxed morning horseback riding trail to the magnificent ruined temple at Xunantunich or channelling your inner Indiana-Jones with a trip to the Actun Tunichil Muknal (or ATM) Cave. Working your way through this series of subterranean chambers, filled with Maya ritual history, is a must-do for the adventurous luxury traveller.
Are you planning a trip to Belize? Learn more about the Cayo District by clicking here and visit our Ka'ana page for more information on the hotel. Contact us today to begin designing your bespoke holiday with our travel specialists.