This 5* hotel is on the exclusive Small Luxury Hotels of the World list, and it's easy to see how it came to be there. The attention to detail is exquisite, along with exceptional service and an unforgettable view of the Arenal Volcano. Featuring an adults only section, this property is an ideal choice for couples craving privacy and wanting to escape from it all.

---
Costa Rica has become one of the most sought-after destinations on the planet due to it's incredible biodiversity, idyllic beaches and adventurous activities. For anyone visiting this small but mighty country, the Arenal region is a must-see, particularly if you are seeking a relaxing beginning or end to your trip. The geothermal activity here generates hot springs which provide the perfect place to unwind after a day of ziplining, horse riding, kayaking or trekking. Hotels of every style have sprung up to support the booming popularity of the area, and one of the very best is the Arenal Nayara Resort, Spa & Gardens. Featuring only luxurious free-standing bungalows and 'casitas' which are surrounded by tropical gardens, 4 restaurants, a full spa and unbeatable views of the volcano – the word 'paradise' is a good word to describe it.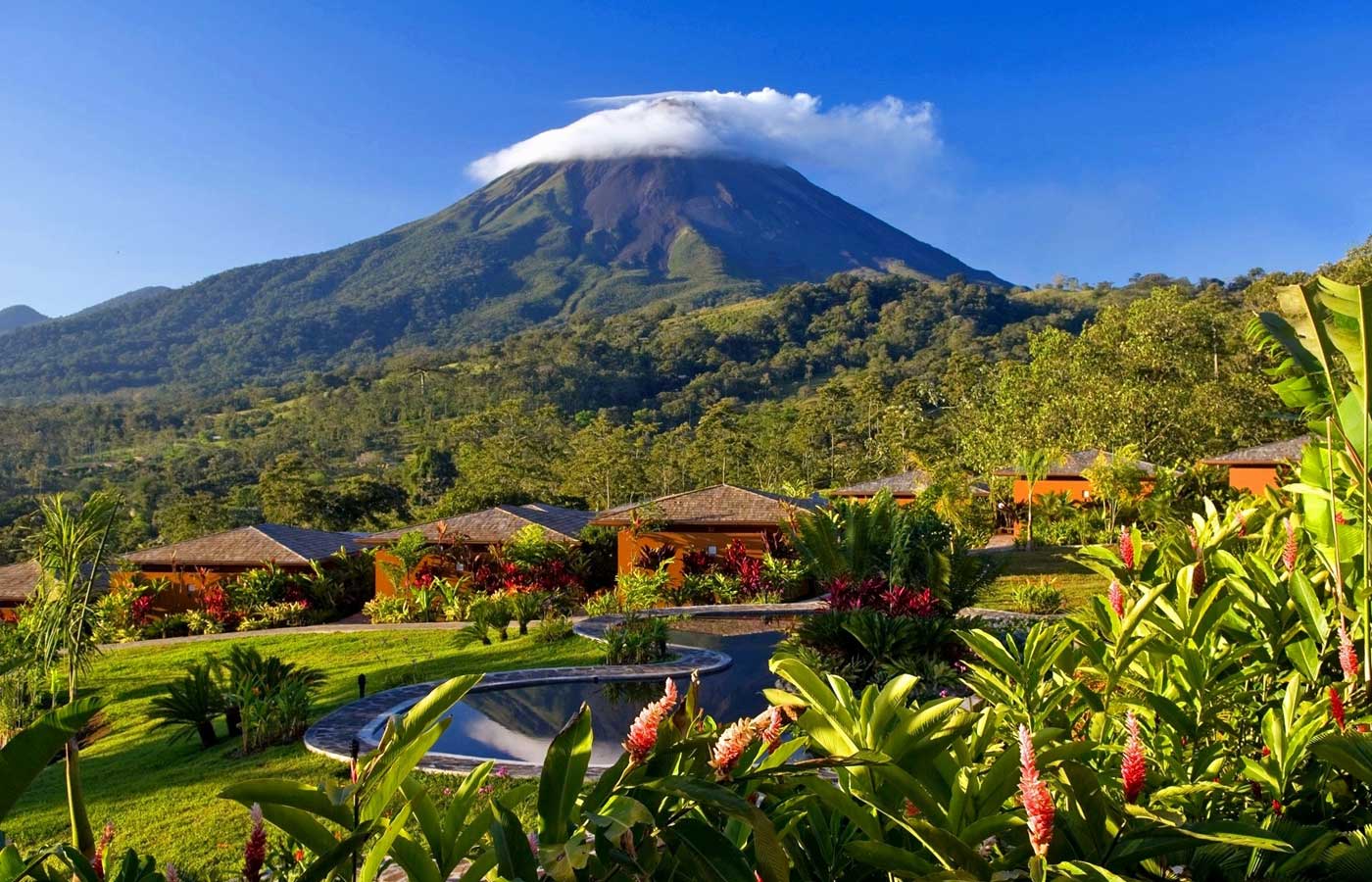 ---
NAME: Arenal Nayara Resort, Spa & Gardens
LOCATION: Overlooking the Arenal Volcano in the Arenal region of Costa Rica
NO. OF ROOMS: There are 50 individual free-standing villas and casitas decorated in traditional style boasting modern amenities such as a plunge pool, minibar, WiFi, air conditioning, audio system and premium bath amenities.
FOOD & DRINK: Dining in a beautiful setting is easy at Nayara, which has a choice of restaurants. The Altamira Restaurant serves international cuisine alongside traditional Costa Rican dishes, or if Asian food is more your style you could try the Asia/Latin fusion restaurant Asia Luna. There is a wine bar offering many wines from around the world with tapas dishes to compliment each one, or a more informal choice is Kali Kali which serves pool side snacks.
OUTSTANDING FEATURE: The spa at Nayara is a shining example of how relaxing treatments and therapies should be delivered. With views of the surrounding tropical gardens and outdoor visitor beds, there are few places which offer such an excellent service. Guests can choose from massages, facials, scrubs, volcanic mud wraps, manicures and foot soaks. If you are a couple on honeymoon, there are combination options which you can indulge in together.
BEST FOR: Couples who are looking to escape the turbulence of everyday life and relaxing in style.

MUST DO ACTIVITY: Ziplining in Costa Rica is an activity not to be missed. Zooming through the jungle canopy is a fantastically fun and exciting way to see this unique habitat from a different perspective.

ECO CREDENTIALS: This luxury hotel is committed to integrating the principles of sustainable development by promoting environmental practices among staff and using everyday techniques to protect the local area and communities such as CFL light bulbs, automatic cut-off light switches, encouraging guests to reuse towels and bed linen,  flow reducers and duel flush retrofits. The hotel also supports a number of local projects including Hogarcito de Ninos – a charity which helps abused and orphaned children. Many of the staff at Nayara are from the local area, and are helped with schooling, transport and education. In addition, the hotel is passionate about sustaining the biodiversity of the region by cultivating native plants and encouraging native wildlife to visit the protected garden.
---




---
Would you like to visit Costa Rica? Simply contact us for more information and let us create a tailor made holiday for you.