Nestled into the trees, overlooking the Caribbean and providing the ultimate remote retreat, Tayrona EcoHabs is the perfect hideaway for couples seeking privacy or families looking for quality time together.

---
Each of the bungalows has been built based on inspirational designs by the local tribes, Yogi and Tayrona. A thick thatched roof provides cover for the spacious cabins, which have 2 levels. Aside from the fabulous views, each features hot water showers, hammocks, a mini bar, flat screen TV and huge beds. Choose to hang out in the privacy of your bungalow or stroll down to the sandy beaches nearby where you can take a dip in the beautifully blue waters, snorkel or soak up the sun. The only reason you would need to leave the idyllic beach or cosy bungalow is to visit one of the 2 onsite restaurants or enjoy a treatment at the spa.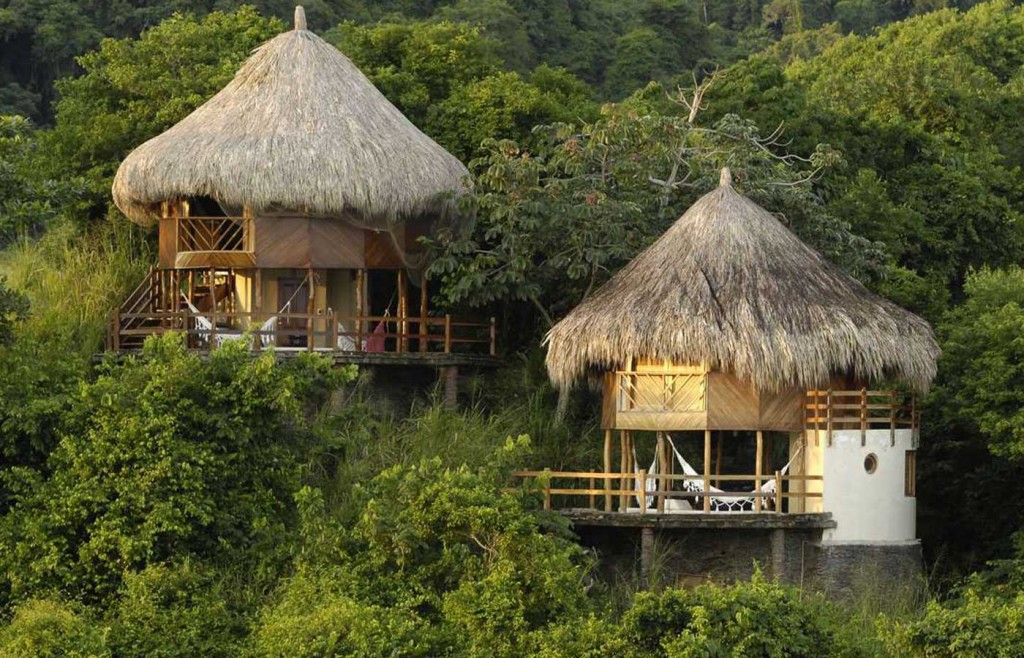 ---
NAME: Tayrona EcoHabs
LOCATION: Colombia's Caribbean coastline, on the edges of Tayrona National Park
CAPACITY: There are 14 bungalows, rustic in style and representative of the style used by the local tribes people.
FOOD & DRINK: Guests can choose from 2 restaurants within the property, both serve a great mix of regional and international cuisine. It is possible (and we would recommend due to the remote location) to stay on a full board basis where all meals are included.
OUTSTANDING FEATURE: Quite simply, the location. The peaceful feeling of escapism combined with the incredible views out over the Caribbean are just what anyone needs to fully relax and switch off.

BEST FOR: Families and couples alike will enjoy this quirky, yet comfortable, place to stay in one of Colombia's most iconic locations. It covers all bases with plenty of time for relaxation, yet an incredible array of activities for all ages.

MUST DO ACTIVITY: For couples, a romantic stroll along the deserted beaches surrounding EcoHabs is essential. For those seeking a little more excitement, a trek through the thick jungle to 'Pueblito' is a wonderful way to really see the wild side of this region. Families should not miss out on the chance to lazily float down the rivers of the region in a big inflatable tube.

---
The interior of each bungalow is simple, but very comfortable and private
Stunning views over the forest covered hills and tuquoise blue ocean surround each bungalow
Nearby, the Tayrona National Park offers outstanding hiking, swimming, snorkelling and sunbathing.
For remote luxury, Tayrona EcoHabs are one of the best options in Colombia.
---
Would you like to visit Colombia? Simply contact us for more information and let us create a tailor made holiday for you.