With exclusive properties in Patagonia and the Atacama desert, it was only fitting that Awasi should bring it's unique and luxury style to Iguazu Falls.

---
Brand new and freshly opened in February 2018, the beautiful Awasi Iguazu property boasts just 14 private villas spaced throughout the surrounding Atlantic rainforest. Each has been designed to perfection, with light and airy interiors alongside modern touches. Awasi has an outstanding reputation for providing first class service, and with a private guide and vehicle at the disposal of each villa, it's not surprising. A program of activities has been carefully selected to keep guests entertained during their stay, including visits to the local Guarani tribe, bird watching, kayaking and more. This rich ecological area has much more to it than just the magnificent Iguazu Falls themselves (the falls themselves are just a short 20 minute journey from the hotel), and Awasi is the ideal location to explore further.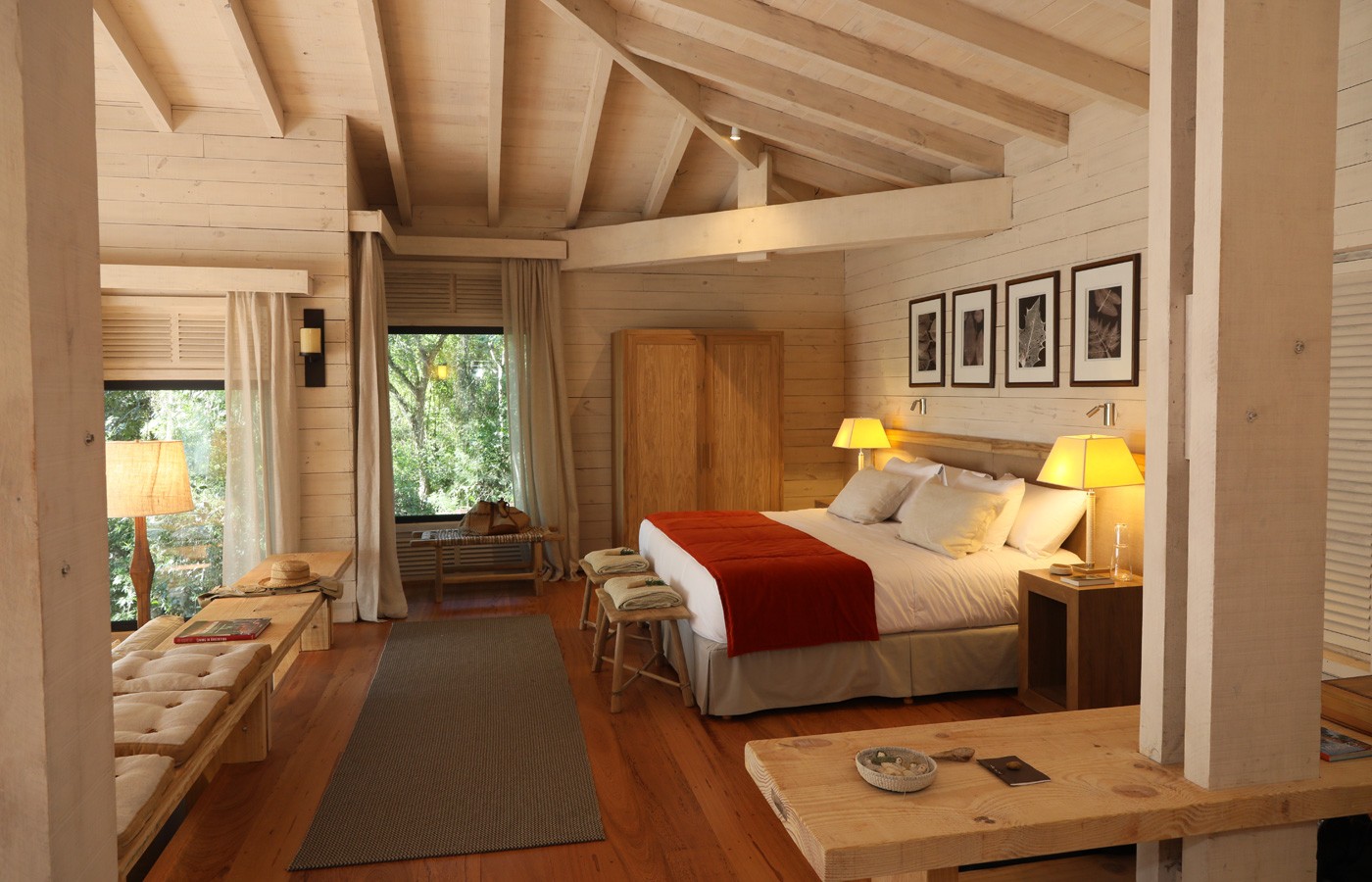 ---
NAME: Awasi Iguazu
LOCATION: Puerto Iguazu, Argentina
NO. OF ROOMS: There are 13 luxurious private villas and one master villa nestled within the Atlantic rainforest which surrounds the property. All feature a private plunge pool and spacious living areas.
FOOD & DRINK: Head chef Aaron Castillo Telleria serves up a divine selection of dishes using traditional techniques and modern innovation. Local ingredients are combined with fresh flavours resulting in plenty of tasty options. Having worked at a variety of restaurants all over the world, you can be sure to find something you like on the menu.
OUTSTANDING FEATURE: Each of the private villas comes with its very own private guide and vehicle allowing you to discover the people, flora and fauna of the region through a variety of excursions. This exclusive feature sets Awasi apart from other hotels.
BEST FOR: Everyone! The villas are private enough for couples, yet homely and spacious enough for a family to enjoy. The local area has plenty of activity options and all guests will be left in awe of the mighty Iguazu Falls.

MUST DO ACTIVITY: Of course visiting the falls is the top activity in the area, however, meeting people from the local Guarani tribe or spotting wild toucans in the forest are also unforgettable moments during a holiday in Iguazu.

ECO CREDENTIALS: The villas have been constructed on stilts so they have minimal impact on the surrounding environment, as well as being created from natural materials and created to blend in with the jungle. Decorations have been bought from local tribes, who are now supported through the hotels activity program, along with the rare birds and wildlife of the region.
---
Awasi Iguazu is a charming property which offers guests a superior experience and laid back atmosphere
Each individual lodge provides privacy for guests
The bathrooms are specious and offer relaxing views
The pathway through the jungle which surrounds the property
As with all Awasi properties, it's the little touches that make this hotel so special
---
Would you like to visit Argentina? Simply contact us for more information and let us create a tailor made holiday for you.