When thinking of Peru, it is likely the first things to come to mind are Machu Picchu, llamas and an overwhelming burst of colour and culture. However, on the northern coastline, Peru also has some of the most peaceful coastlines scattered with beautiful beaches. It is in this region that visitors can discover some truly luxurious properties such as KiChic…

---
This small, tranquil hotel is located on a private beach and offers guests an experience of 'perfect balance'. Mixing traditional Peruvian touches and Japanese mindset, the overall focus is on peace, rest and relaxation – perfect for a luxury holiday. Natural materials such as mud, stone and wood have been used in empathy with the surroundings, resulting in a fluid and eco-friendly blend of building and beach. From this blissful base, guests can indulge in activities such as swimming, kite surfing, surfing, sunbathing and long walks along the golden sands. The luxury hotel also offers some exceptional experiences such as a ceviche tour, quad bike excursion and even a cinema under the stars. End each day at the hotel restaurants which serve locally sourced food, including ingredients grown on their own farm, such as fresh fish and vegetarian platters. Cocktail in hand, toes in the sand and a soft sea breeze, what could be better?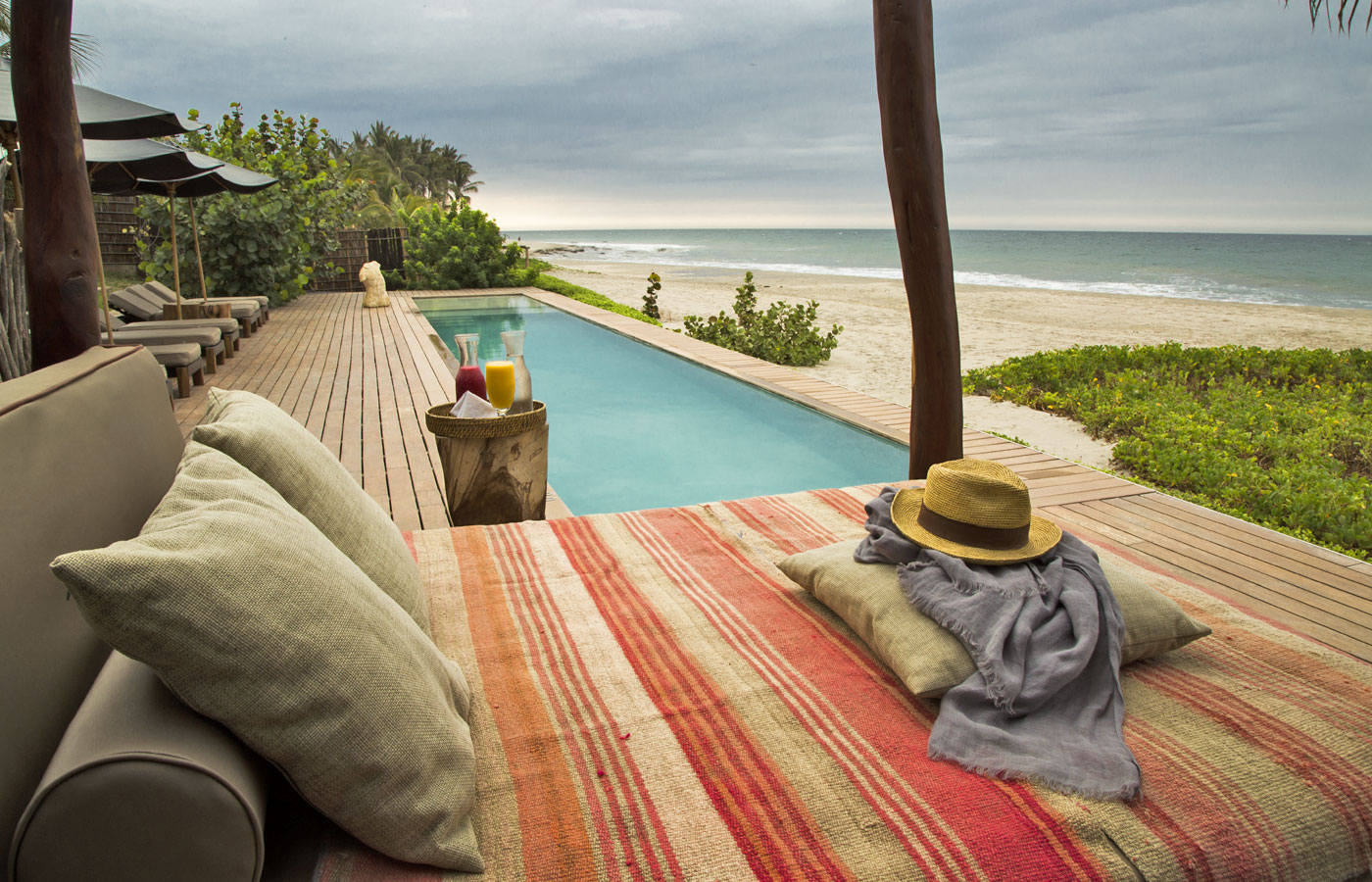 ---
NAME: KiChic
LOCATION: Mancora, on the northern coastline of Peru
NO. OF ROOMS: There are nine rooms, each with it's own personality and name,  plus they are all built with local materials.
FOOD & DRINK: There are two beautiful eateries at the hotel, both a distinct mix of laid back beach luxury and modern flavour fusions. One serves superb vegetarian food, the other, a fish bar offering the catch of the day with a Peruvian twist.
OUTSTANDING FEATURE: The overall design of this hotel is a nod to a unique design concept which fuses Peruvian chic and Japanese zen. The natural mud, stone and wood features blend seamlessly with the surrounding coastline and create a relaxing and homely environment. Just being at KiChic is a pleasure in itself.
BEST FOR: Couples looking for a romantic escape, friends wanting a laid back luxury hotel as a base or anyone seeking peace and tranquility.

MUST DO ACTIVITY: Upon request, the hotel can organise a private cinema set up on the beach under an open canopy and surrounded by candles. This exclusive option is for 2 people and includes wine, platters of food and a film of your choice. A truly unforgettable way to spend an evening.

ECO CREDENTIALS: The whole property is centred around an eco-friendly philosophy, which is reflected in its style.
---
Each room has it's own personality and design, with a name to match.
Outdoor living is at the heart of KiChic.
The Peruvian and Japanese inspiration creates an incredible ambiance.
---
Would you like to visit Peru? Simply contact us for more information and let us create a tailor made holiday for you.