As far as self-drive holidays go, there are few places in the world that lend themselves to this exciting method of travel as well as Patagonia does. Both the Argentine and Chilean side of this vast region are perfect to explore by car and both are very easy to navigate. The dramatic sweeping landscapes, unique culture and extraordinary wildlife make this region perfect for an adventurous trip.
Safety
Whilst driving through Patagonia, normal safety precautions should be taken, however, this remote and laid-back region is generally very safe for tourists. Unlike many other holidays, during a self-drive trip you will need to carry cash to pay for road tolls, as well as your passport and driving documents to show police and border officials. Always keep these to hand, but not in full view. Copies of passports are extremely useful and essential for any type of trip – remember to save a photograph or scan to your online cloud or email address just in case. Cash is also useful on the road as many roadside stops, due to their remote locations, do not accept card payments. Never keep cash in one place, spread it around, in wallets, purses, pockets, suitcases.. so that even if you lose your wallet, you will still have some cash available.
Road Conditions
The conditions are generally excellent, particularly in Chile. Most of the roads are tarmacked and very wide, with good signage and little or no traffic. You are likely to see more trucks and coaches than other cars. There are a few sections of road which are still unpaved, however, as the popularity of this region increases both countries are working hard to get all roads sealed. On unpaved roads, normal precautions must be taken, which include driving a slower speed to avoid large stones damaging the vehicle, ensuring that the surface is safe after rain and avoiding areas of deep sand or mud.
Language
Spanish is spoken throughout Argentina and Chile, and when driving in Patagonia it is always useful to know a few phrases – directions can be particularly useful! Keeping a phrasebook in the car (or downloading an app to your smartphone) is an excellent way to ensure you can ask for help or simply know how much to pay for fuel.
Navigating
The road signs are good in Patagonia, partly because there are very few cities or villages and partly because many roads literally lead from town to town with no turn offs or diversions, making it difficult to get lost! Although modern technology is excellent when navigating in a foreign country, it is always useful to have a local map too just in case of battery failure or lack of signal. Up to date maps can be bought in most of the fuel stations for only a few pesos. Smart phones and tablets can be used for online mapping systems, such as Google Maps, to help direct you in real-time, or a GPS system (which is installed in almost all modern rental cars) can be instructed using exact locations. In the event of no signal, an excellent Mobile App that can be used is 'maps.me', a free off-line road navigation system.
Breakdown Procedure
This can vary depending on which company your hire car comes from – confirm these details when you pick up your hire car and be sure to keep the emergency breakdown telephone number to hand.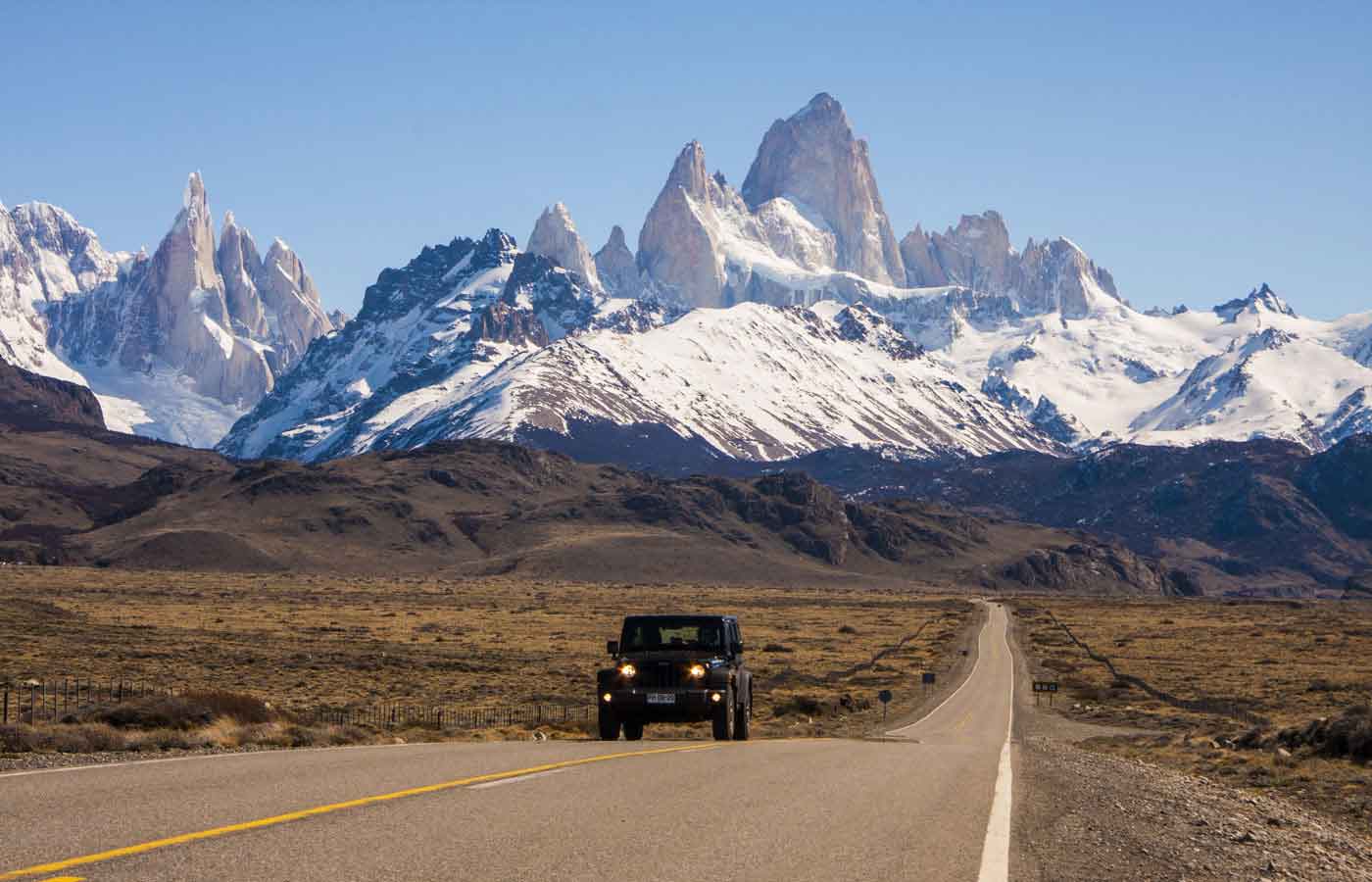 Borders
On a day when you are due to cross a border, it is good practice to leave early in the morning and get there sooner rather than later. In Patagonia's peak season, borders can be very busy and a long wait may be a possibility. The last thing you want is to be leaving a border late knowing that you have a long drive ahead of you. Regardless of if you are crossing from Chile into Argentina, or from Argentina into Chile, the procedure is very similar. You will need to get your passports stamped, and also let immigration check your vehicle documents. You will be given a slip of paper when you enter from immigration with your details on it, and often a stamp – it is essential you keep hold of this for when you leave the country again (even if via an airport) as it will be asked for. This paper slip is also something that the police at road blockades may sometimes ask for. Borders can be a bit haphazard (particularly the small remote borders) with no clear instructions on what exactly needs to be done, but don't panic, just ask an officer and they will soon point you in the right direction. If language is a problem, keep a phrasebook to hand. One important rule to remember at border crossings is the strict regulations on what you can and cannot carry between countries. Both Chile and Argentina are very firm on this, and will search almost every vehicle which comes through – often with specially trained sniffer dogs. They aren't just looking for drugs however, heavy fines can be issued to people carrying fresh fruit, meat, dairy and other animal produce. Prepacked goods such as biscuits, crisps and soft drinks are fine. Cheese, any type of fruit or veg, cold cut meats, bakery goods and other 'fresh' foods are not. Although some border officials are more lenient than others, it's better to be safe than sorry and only carry sealed snacks and drinks.
Ferries
In some areas of Patagonia there are ferries which transport cars, trucks, coaches and foot passengers to areas which are otherwise inaccessible. In true laid-back Latin American style, it is likely that no timetable will be in place, and little information is given at the loading or unloading ports – it is simply a case of lining up and waiting. Although this can be frustrating, it is also an exciting method of getting into some of the more remote regions and a chance to chat with the locals! The ferocious winds that are infamous in the region can equally play havoc with regularity of departures, so bear this in mind when hoping to cross. Notable ferries include those that cross the Magellan Strait to Tierra del Fuego, and the many different routes that connect Chiloe Island with the mainland. Ferries are often very basic, with little or no facilities on board other than a toilet, so come prepared with snacks and a drink. Always have a reasonable supply of cash too, as you will need to pay your carrier fee at the ticket booth located inside. Once on the ferry, you can usually sit in your vehicle or go for a stroll on deck. If you are crossing the Magellan Strait, it is worth doing this as more often than not small Commerson's Dolphin can be seen leaping in front of the ferry, and if you're lucky (and have keen eyes!), penguins occasionally swim by.
Police Checks
Many of the roads in Patagonia are wide and desolate, with no sign of human settlement for miles and miles. As you get nearer to civilisation there are often police blockades set up on the roads leading into towns or villages. This are completely normal, and there is no reason to be alarmed when passing through, just drive slowly and if they ask you to pull over, do so. Often, the police will want to see your passports, driving license and international driving permit. They may want to take a quick look at what you have in the car and ask you to open the boot. If language is a problem, have a phrase book to hand, and always be polite and helpful. 'On the spot' fines have been banned in both countries, so if anyone tries to get money from you it is a con – if you are issued with a ticket for any reason – you should be given a slip of paper with the details on which you will have to pay at the nearest police station (and sometimes banks) when you reach your destination.
Wild Animals
The beauty of driving yourself through Patagonia is that you can pull over whenever you like, for as long as you like, and take photos or observe wildlife as your leisure. The wildlife in Patagonia is unique and easy to see. The largest animal you will encounter on the road is the guanaco – a relative of the llama. These large herbivores can be seen grazing close to the roadside and will often run across roads or alongside them. Slow down and respect their path – they are a big animal and hitting one would cause serious damage. Next in size are the ostrich-like rhea, a large flightless bird which also forage close to roads and have a habit of running haphazardly in all directions when panicked. Smaller creatures that you are likely to see include armadillo, skunk and grey fox. If you are extremely lucky you may see a puma slinking across the road, a Huemel deer or a mara. Bird life is ever-present in Patagonia and it is worth telling your passengers to look out for impressive species such as the magnificent Andean condor. This huge bird is unmistakable due to its size, and can sometimes be spotted feasting on roadkill. Smaller species include black-faced ibis, caracara, hummingbirds and Andean lapwing in the north, and black-chested buzzard eagles, flamingo, upland geese and parakeets in the south. Taking a pair of binoculars is essential, and a wildlife identification guide will only add to your experience – these can be bought at many fuel stations and shops in Patagonia.
Signals and Other Drivers
Other drivers in Patagonia are generally very helpful and friendly, and if you get stuck or have a problem, they will probably pull over to check everything is ok. One signal to look out for, particularly when driving on roads with many twists and turns, is the 'you can pass indicator'. Many drivers of slow or large vehicles will put on their indicator to let you know it's safe to pass, so you can carry on with your journey without being stuck behind them for miles. On roads with many bends, drivers also honk their horns just before the turn to warn oncoming traffic. It is common courtesy, when passing on unpaved roads, to slow down and pull over as far as possible to avoid throwing stones and dust towards the other vehicle which could potentially shatter a windscreen. Be aware that although there are few cars on the roads in Patagonia, many are old and poorly maintained, meaning that sometimes they have no working indicators or brake lights – the best practice is to keep your distance.
Tolls
Travelling south towards Patagonia on the main roads from either of the capital cities, Santiago or Buenos Aires, you will pass through toll gates and be expected to pay the given fee. For this reason, ensure that you always have cash on you ready to pay. There are no huge cities like these in the southern cone, and very few tolls, but always be prepared with some cash in the car, just in case. The toll gates work much the same way that they do elsewhere in world, with the fee clearly listed in advance and an area to pull in with manned booths and barriers. In the lead up to the toll gates, there will be many locals walking among the queueing vehicles selling drinks, snacks and other wares.
Fuel
Fuel stations can be few and far between in Patagonia, so it is best to always keep topped up at all times. Most fuel stations will be serviced, but on occasion you will be expected to fill up yourself. Do not rely on the next station if you are running low – it is not uncommon to arrive at a fuel station only to find that it has run out of fuel or is closed. At every chance you have, put more fuel in the tank and you'll have a much less stressful experience. Places which are worth noting for having limited or no fuel access are Torres del Paine National Park in Chile – you will need to top up in Puerto Natales which has the closest fuel stations as there are none in the park itself. El Chalten only has one fuel station which is often closed or empty or simply has such a huge queue it's difficult to fill up, however, nearby El Calafate (a 3-4 hour drive away) has plenty of fuel stations or Tres Lago has a fuel station (a 2 hour drive away).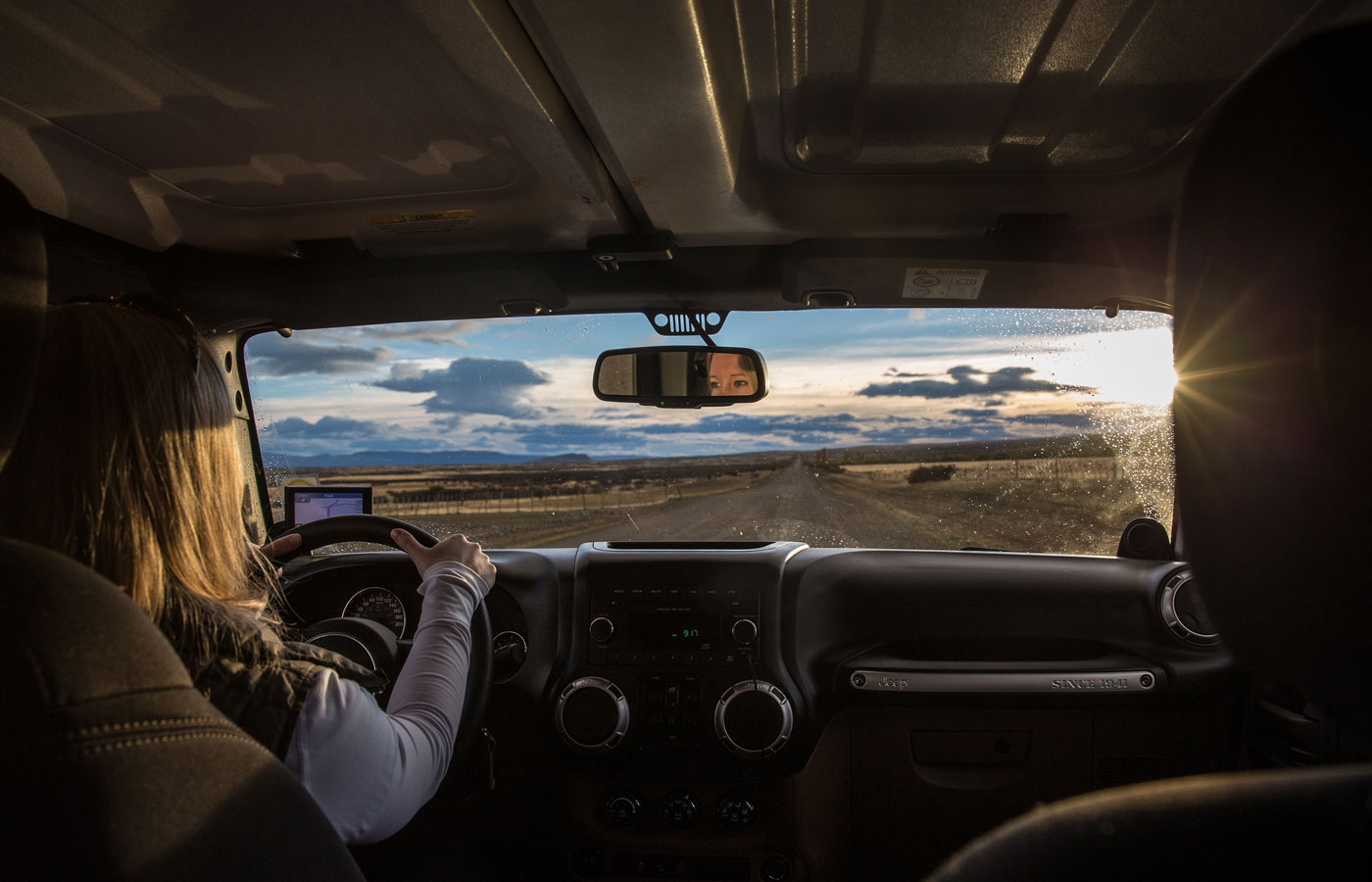 Legalities
To legally drive in Chile and Argentina you must have your full UK licence plus an International Driving Permit. These can be obtained from the Post Office or RAC for just £5.50. Both countries drive on the right. Usual rules whilst driving are similar to those in the UK, the main points to remember are that drivers and passengers must wear seatbelts at all times and respecting the speed limit is compulsory. There are speed cameras, speed traps and heavy fines in place throughout both countries. Drink driving is illegal, and the limit is much lower than that of the UK – just a small glass of wine or one beer will push you over the limit and if you get caught, it is taken very seriously. It is also illegal to smoke, listen to music through headphones or use a mobile phone whilst driving. In Argentina you must always drive with your lights on, even during the day (this is good practice in Chile too).
Equipment
In Patagonia the weather can change in seconds from warm, bright sunshine to snow showers and bitter winds. Taking good quality clothing is essential, particularly for self-drive, should you need it in the event of a breakdown. In addition, these following items can be useful for a self-drive holiday;
Binoculars
Map
Polarised sunglasses
Reusable water bottle
Pen and notepad
USB charging cables for all electronics
Phrasebook
Blog post by Kim Mouncer
---