Often overlooked in favour of its gigantic neighbours, Argentina and Brazil, Uruguay is a charming little country where the pace of life is very slow. Mostly rural, Uruguay is South America's most liberal country and makes a great add-on to a tour of Argentina. Why not finish your trip in laid-back luxury on a secluded Uruguayan beach?
As the second smallest country in South America, after Suriname, Uruguay is often forgotten as a destination and does not often make it to the top of a must-see list. However, this at-times neglected destination has much to offer, particularly if you are looking for a luxury beach holiday in Latin America. It is popular with many of Latin America's own rich and famous as a destination full of sun, sand, glitz and glamour. The town of Punta del Este, known as the Saint Tropez of South America, is famous for its party scene and celebrity spots. Our personal favourite is the neighbouring Jose Ignacio. Smaller and much more laid-back, it does glamour and luxury without the big, brash resorts and there are some exceptional hotels to choose from.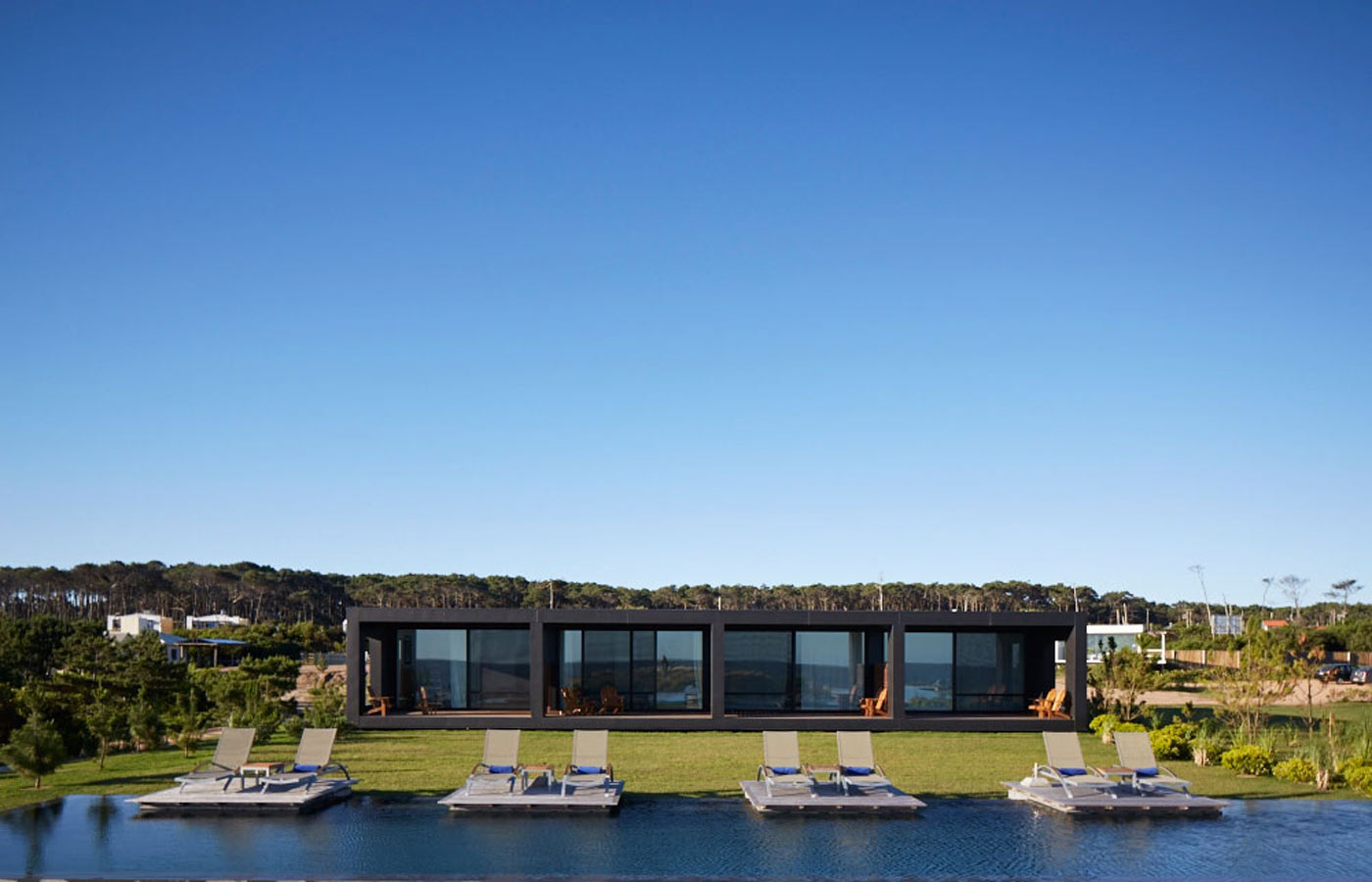 Bahia Vik
Bahia Vik is one of three Vik properties in Uruguay and these hotels really do lead the way when it comes to luxury and style. Bahia Vik is situated on 10 acres of beach dunes on the Jose Ignacio peninsula and offers sweeping views across the ocean and Playa Mansa. This is the perfect place to relax with a sundowner whilst enjoying the sunset. Bahia Vik allows you to get away from it all and make the most of the proximity to the beach and the top-class service.
Accommodation is divided between suites in the main building along with private bungalows dotted through the grounds. Art is a strong focus in this property, as well as at all Vik hotels, and works by local and international artists are found throughout the hotel. This contributes to the avant-garde feel of the décor and means that each room is decorated in a unique, eclectic style.
Bahia Vik offers a restaurant with a great selection of dishes, drawing from Uruguayan cuisine as well as popular international options. The beach bar is the perfect place to relax in the day or party until the small hours, cocktail in hand.
The hotel offers a spa, infinity pool and fitness suite. If you want to be a little more active during your stay there is plenty on offer including canoeing, nature trails with a local naturalist, bird watching and yoga. Guests can get a taste of local culture with a polo lesson or wine tasting.  The hotel produces its own wine, a nod to its sister property in the Chilean wine region, Vik Chile. The Bordeaux blend is known simply as Vik and is a great choice on the extensive wine list.
The fire pit looks out over the dunes and is ideal for preparing a traditional Uruguayan barbeque to be enjoyed on the beach. This makes for a delicious lunch or the perfect end to the day, sitting around the fire looking out to sea with the wind in your hair and a stunning view stretching ahead.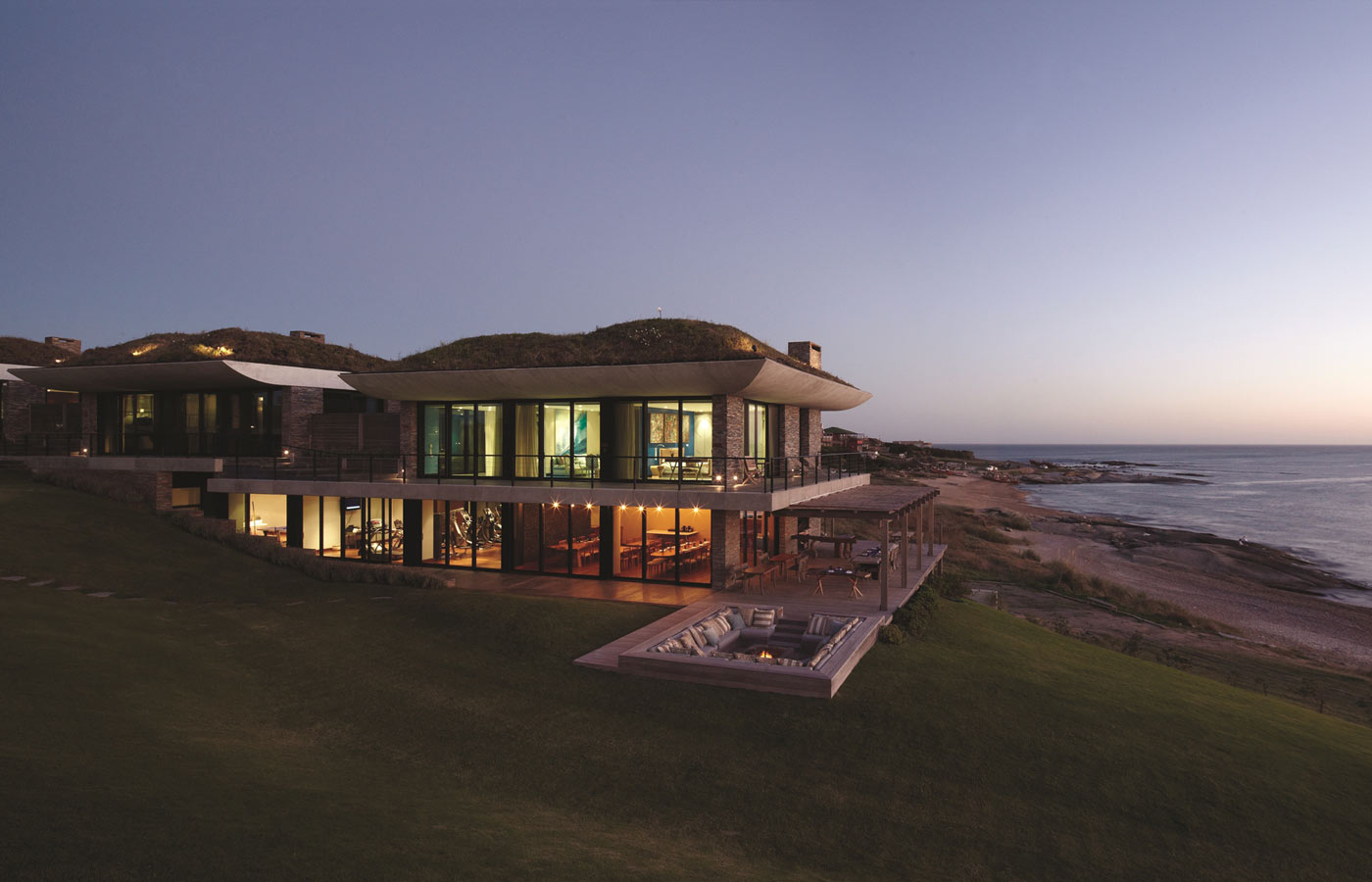 Playa Vik
Playa Vik is located very close to Bahia Vik and yet is a totally different offering. The focus is still on art and design here and in fact the hotel itself is a work of art. The central 'sculpture' building is exactly that, made from curved titanium and glass – it certainly stands out. The main focal point is a 55-foot sliding glass wall that opens to let the outside in, perfect for a beach hotel in stunning surroundings.
Different artists from Uruguay and around the world have contributed to the design here and each suite has its own unique aesthetic. The stylish suites include Japanese Shoji doors and stunning artwork. The public spaces are light and airy with a sophisticated bar and living room, perfect for relaxing with a glass of something from the indulgent wine list.
The rooms are again split between the main building and individual cabanas in the grounds. The cabanas are the highlight in our opinion. Each comes complete with its own living garden on the roof, overflowing with bougainvillea, adding to the beautiful, sun-kissed vibe of the property. The outside and inside blend effortlessly with fireplaces and windows that slide into the walls.
Playa Vik takes great care to provide the best of everything and the restaurant is no exception. Headed up by world-renowned chef Marcelo Betancourt, it offers a tempting array of dishes. The outside is brought in once more as the dining room opens out on to the deck and pool area.
The pool is another stunning feature, 75-feet long and constructed from Absolute Nero Granite, it is striking, sexy and perfectly in-keeping with the rest of Playa Vik. A fibre optic-lit celestial map of the southern hemisphere is a magical addition. Add to this stunning views over the ocean and you can conclude that beach hotels don't get much better than this.
Activities on offer at this luxury Uruguay hotel include surfing, nature walks, horse riding and polo lessons. However, we highly recommend relaxing by the pool or taking a dip in the sea and simply soaking up the sun and the spectacular location.
Fasano Las Piedras
The luxury Brazilian brand, Fasano, brings its exceptional style and service to Uruguay, where its addition to the luxury hotel landscape in this region is very welcome.  This hotel is considered a Punta del Este property but don't let that put you off because it is in fact outside of the town – a positive in our opinion. Recently refurbished, it is located inland but makes it into the beach selection thanks to its exclusive private beach.  The Fasano is a beautifully designed hotel and the award-winning architecture makes it easily recognisable perched atop a headland, offering gorgeous views across the fields and out towards the coast beyond. It brings together the beach and the surrounding rolling countryside which is often forgotten in a part of the country which is all about the attractions of the coast.
The hotel was refurbished in 2016, with 10 new suites being added to the 20 existing bungalows. The light and airy rooms feature floor to ceiling windows, allowing guests to make the best of the lovely views. These wide expanses of glass are a feature throughout the hotel and let in beautiful natural light, giving a warm and fresh feel.
The Fasano is set in beautiful gardens which have been landscaped around a stunning outdoor pool. The private river beach is a delightful extra and means that guests have the feel of a beach hotel in a more exclusive setting.
Dining is an important feature in all Fasano hotels and their restaurants are always excellent. The Fasano las Piedras is no exception and guests can choose from a range of specially selected regional and international dishes.
There are plenty of leisure activities on offer for guests looking for more than the beach. The equestrian centre is ideal for horse riders. Lessons are available and there is even a sand lane for jumping practice. The polo field is the perfect place to enjoy a match or watch some practice. The Arnold Palmer-designed golf course is surrounded by exceptional views. The club house is charming – housed in an old train wagon and a quirky but elegant place to enjoy a drink after a round of golf.  There is also a tennis court complete with trainers for those who want to work on their game and of course a spa complete with an indoor pool and a 180-degree panoramic view, allowing you to relax whilst still enjoying the outdoors.
For exclusive luxury, elegant décor and exceptional service, these three hotels are the obvious choice when it comes to an indulgent coastal escape in charming Uruguay. Are you planning a trip to Latin America? Find out more about Uruguay here, and contact us today to speak with one of our travel specialists.