India is still very much the best place in the world to see Bengal tigers and the optimum time to see these beautiful big cats is between October to April. This is primarily because the climate is cooler, so game drives and travelling will be far more comfortable. The tiger spotting schedule fits well round this and throughout these months, viewing tigers and other wildlife in the national parks is fantastic. If you are looking for more guaranteed sightings on a short time schedule then February, March, and April are probably the best times to see tigers in India due to the scenery and temperatures.
Here's our rundown of the top 5 places to see tigers in India whilst on a luxury holiday.
Bandhavgarh National Park
In the high misty forests of the Satpura mountain range, the landscapes of Bandhavgarh National Park roll from grassland crossed by gentle rivers to towering sal trees shot by sunlight. Once the hunting grounds of the Rewa's Maharajas, it is now territory preserved for the dynasties of wild, roaming tigers. Bandhavgarh may be smaller than other national parks, but it allows for a higher chance of spotting the majestic 60 or 70 tigers that prowl through the long grass and drink at the edges of the meandering streams. The wildlife proves extraordinary from Indian leopards sporting large inky rosettes and bulky Indian bison to sloth bears and vulnerable sambar deer detectable by their rugged forked antlers. What's left of human architecture merges into the rocky mountains; a monolithic statue of a reclining Vishnu, 1st-century manmade caves and the crumbling temples of Bandhavgarh Fort, slowly being repossessed by the jungle.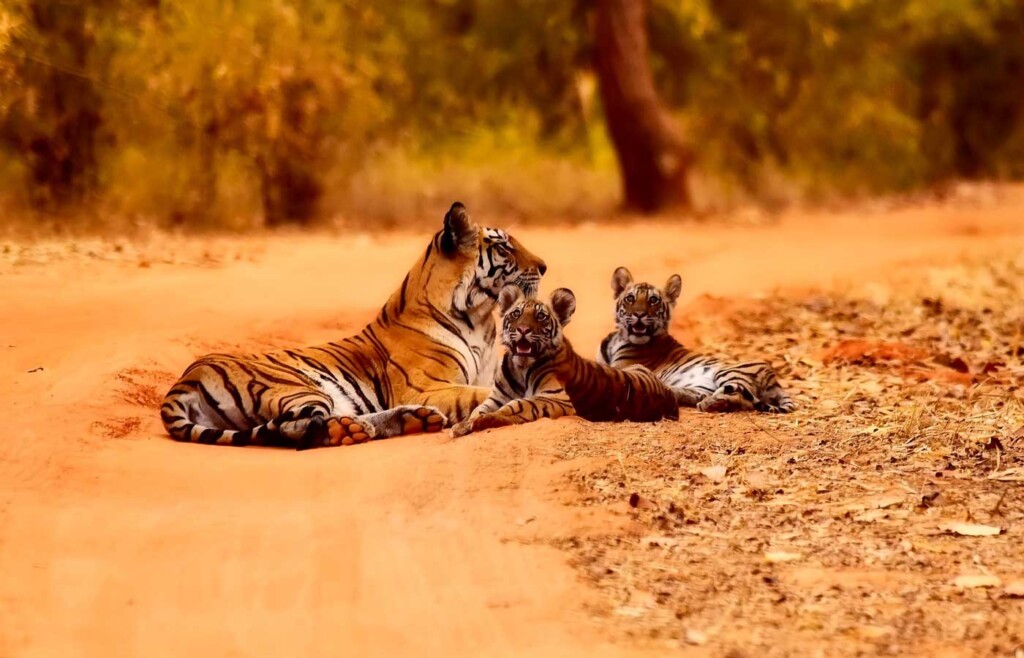 Where to stay in Bandhavgarh National Park
Samode Safari Lodge | Experience a lodge steeped in regal Indian tradition and architecture, with depictions of figures featuring the regions rich, wildlife population. The airy, main lounge invites weary travellers to unwind around massive fireplaces and leads out to a large wooden deck area. Large, shaded deck loungers surround the open air swimming pool that offers a refreshing respite from the Indian sun.   Samode Safari Lodge has 12 independent villas spread across the expansive property, boasting elegant living areas, private verandas, colourful suites with soft linens atop large beds, and art décor bathrooms with modern amenities, animations painted across the walls and open air baths. Adventurous travellers will enjoy game drives and safaris through the Bandhavgarth National Park, home to the rare striped, copper tiger. Samode Safari Lodge promises authentic Indian hospitality, spectacular views of the emerald forest and a true Indian safari adventure.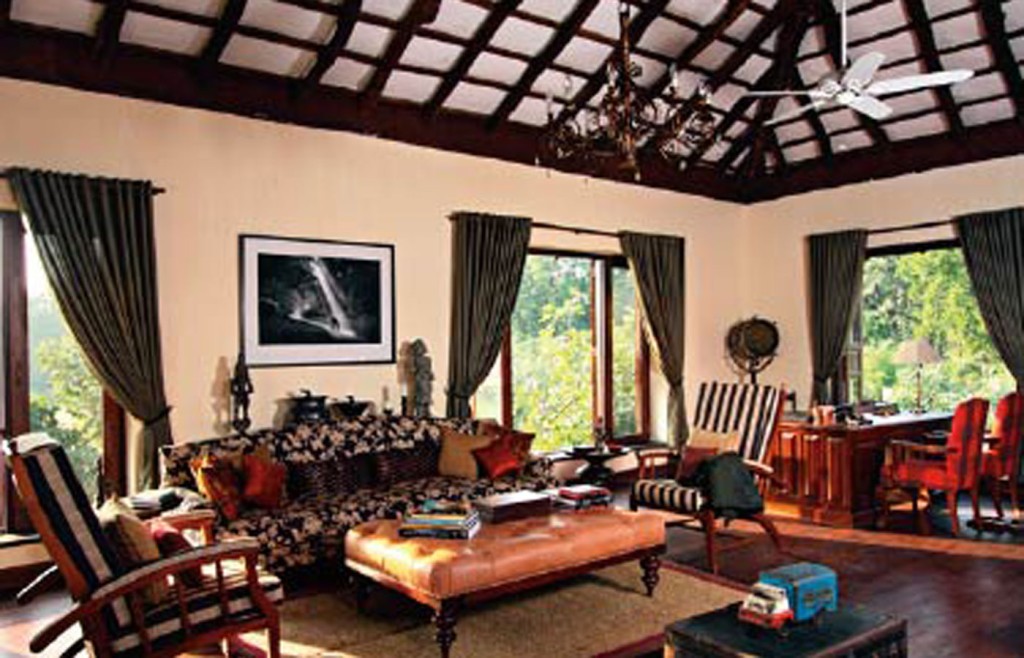 Mahua Kothi | The name Mahua Kothi draws its inspiration from one of India's most beautiful trees, the Madhuca Indica, or as it is commonly known, the Mahua or butter tree. Twelve kutiyas (jungle village huts) are accessed through private courtyards. Each is furnished with wooden shutters, hand-made tiles, fireplaces and a large verandah. Air-conditioning and ceiling fans keep the rooms cool during the heat of the day. Dine by the pool, on your verandah or under the mahua tree. Game drives into Bandhavgarh supports one of the highest densities of tiger in India. The Park is also blessed with leopard, sambar deer, sloth bear, rhesus macaque, black faced langur, jungle cat, hyena, porcupine, jackal, fox, and wild dogs.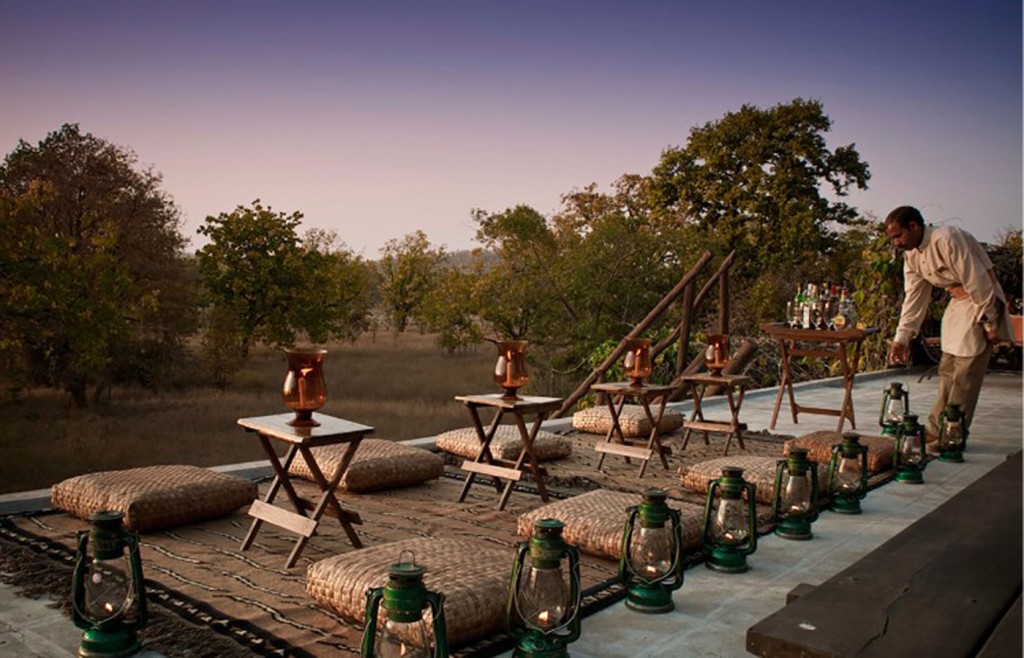 Ranthambore National Park
Ranthambore is located near the town of Sawai Madhopur, which is around 180 km (or five hours' drive) south-east of Jaipur in Rajasthan. The park derives its name from the 11th-century fort of Ranthambore, which sits on a rocky outcrop in the forest. Though overrun by vegetation, remnants of the summer palaces, temples and guard stones within the fort still remain. Earlier the hunting reserve of the Maharajas of Jaipur, the park at Ranthambore was once the scene of royal hunting parties. Today, it is famous for its tigers and is one of the most accessible parks on the tourist trail. It is very popular and therefore runs with strict rules and regulations, with a route system in place that can make the viewing experience a rigid affair, similar to Bandhavgarh. Other mammals you will see in the park are leopards, simbar deer, Jungle cats, striped hyenas, sloth bears, Indian wild boar, jackals, black bucks, Indian foxes, common palm civets, Rufoustailed Hare, Chinkara, Desert Cats, Hanuman Langurs. There are also over 200 species of birds to observe.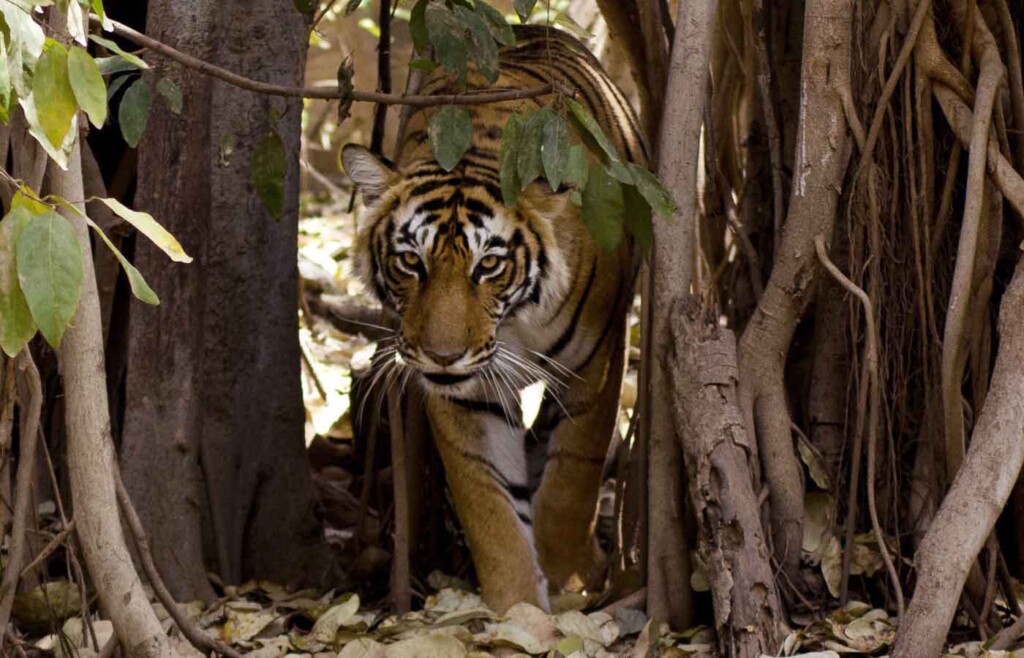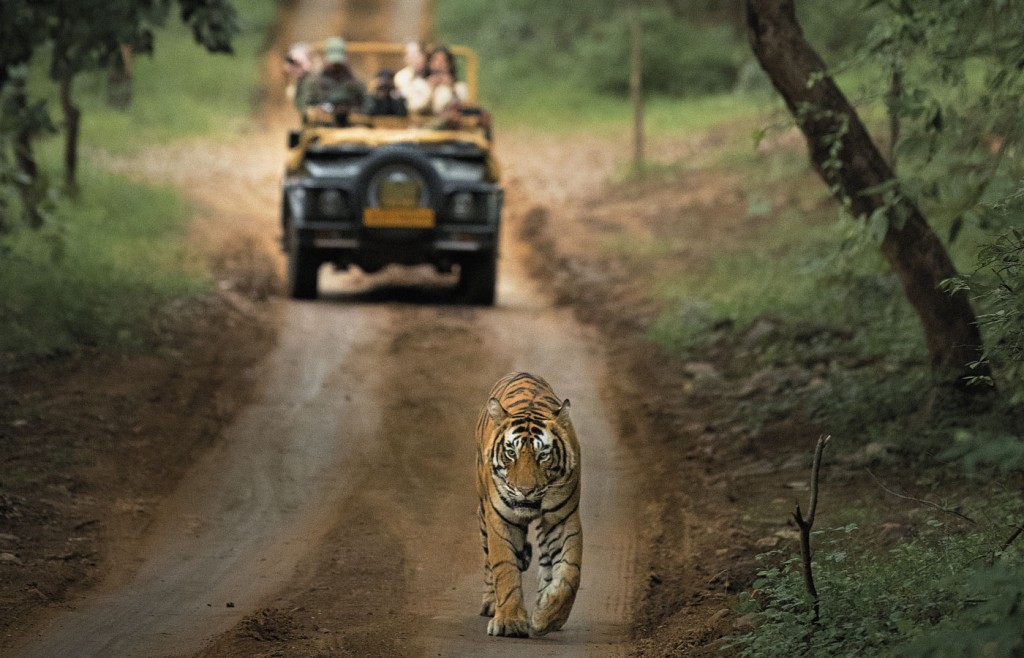 Where to stay in Ranthambore National Park?
Sujan Sher Bagh | This is a very special camp. Its owners have played an active part in conservation projects in Ranthambore for over four decades. This camp is a true example of conscious luxury travel as it blends inspiring sustainability with a luxury style reminiscent of safaris in the times of the British Raj era. The 12 tents are hand stitched and offer cosy beds, teak furniture and ensuite bathrooms. The food is a combination of Anglo-Indian and European cuisine, using home grown ingredients from his camp's farm. Guests can enjoy wonderful safaris and there is also a spa onsite.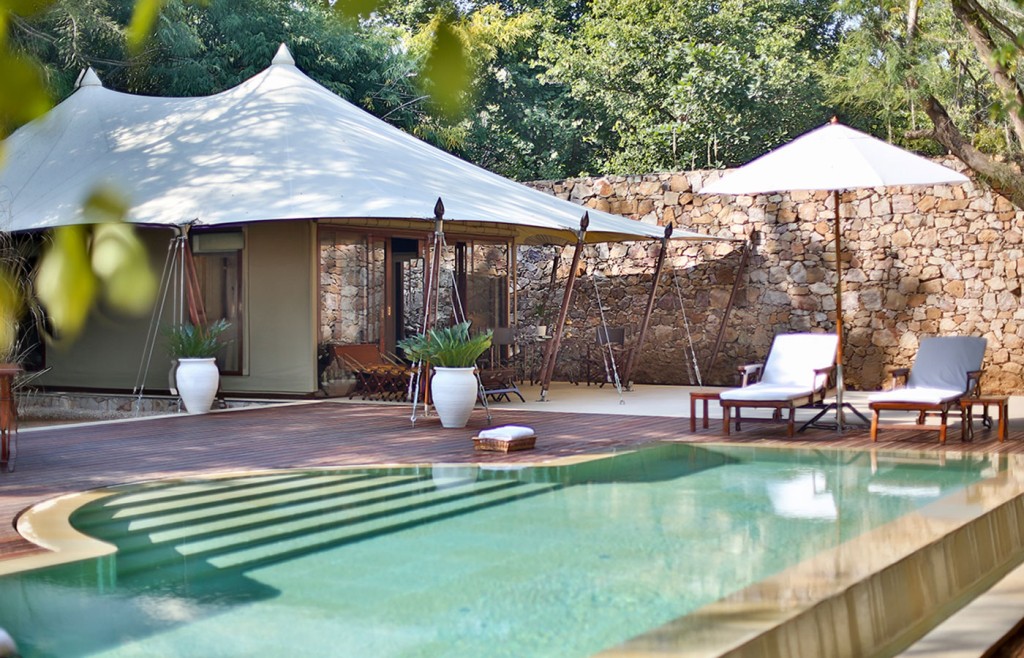 Kanha Tiger Reserve
Established in 1955, Kanha became a tiger reserve in 1973. Often described as India's greatest wildlife reserve, Kanha National Park is huge. Covering around 2,000sq km, it's an undulating landscape of plateaus, forests and sprawling, grassy plains. It's also considered to be the best administered park in India, with active conservation programmes not just for tigers, but for the barasingha swamp deer, and this is the only place in the world where the population has adapted to live on hard ground.  Around 100 tigers live here and, along with equal numbers of leopard, prey on the sambar, chital and swamp deer that congregate in its meadows. The size of Kanha Tiger Reserve means it's a little harder to spot tigers than in nearby Bandhavgarh, but here you can roam wide and deep, reconnecting with the landscape that inspired The Jungle Book and gaining a more rounded safari experience.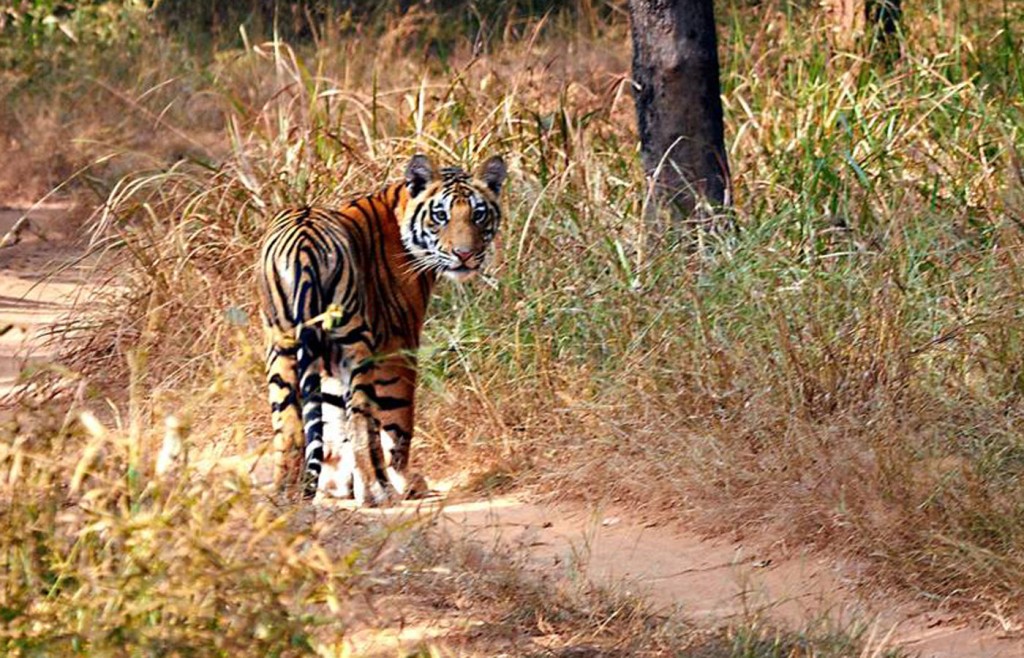 Where to stay in Kanha Tiger Reserve?
Banjaar Tola | Sitting on the banks of the Banjaar River and overlooking Kanha National Park, Banjaar Tola is a beautiful luxury safari lodge in the Taj group and offers the top notch service and experience that we expect from the Taj name. The 18 elegant, tented suites are bright and airy with authentic leather and canvas detailing and driftwood furniture. The cuisine combines tribal flavours with classic Indian elements. Guests can enjoy spectacular safaris with expert guides and then return to the refreshing pool, candlelit dinner and beautiful views across the river.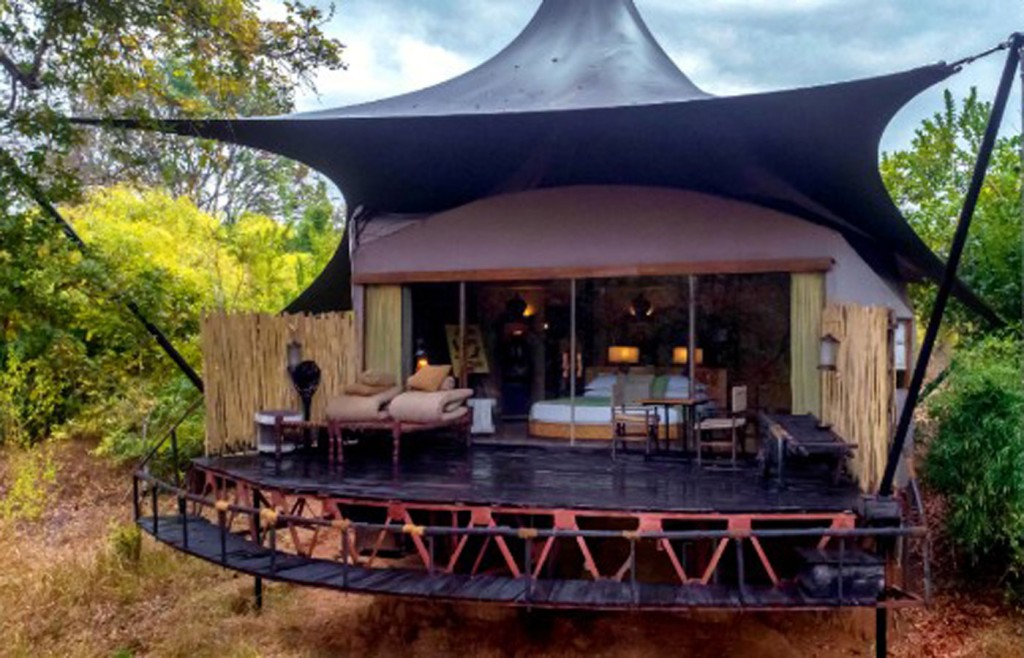 Tadoba Tiger Reserve 
The Taboba-Andhari Tiger Reserve is the largest and oldest national park in Maharashtra, and sufficiently off the beaten track to have escaped the attention of the hordes, despite boasting one of the highest tiger density figures in the country. Its name derives from that of a goddess worshipped by the indigenous people who inhabit its densely forested hills, deep valleys, meadows, and wetlands. Nearly 87% of the reserve is covered in beautiful dry deciduous forest – a renowned storehouse of rare trees and medicinal plants. Over 60 tigers live within and around the park borders, along with leopard, wild dog, striped hyena, gaur, nilgai, sambar, chital, civet cats, marsh crocodiles and nearly 200 species of birds.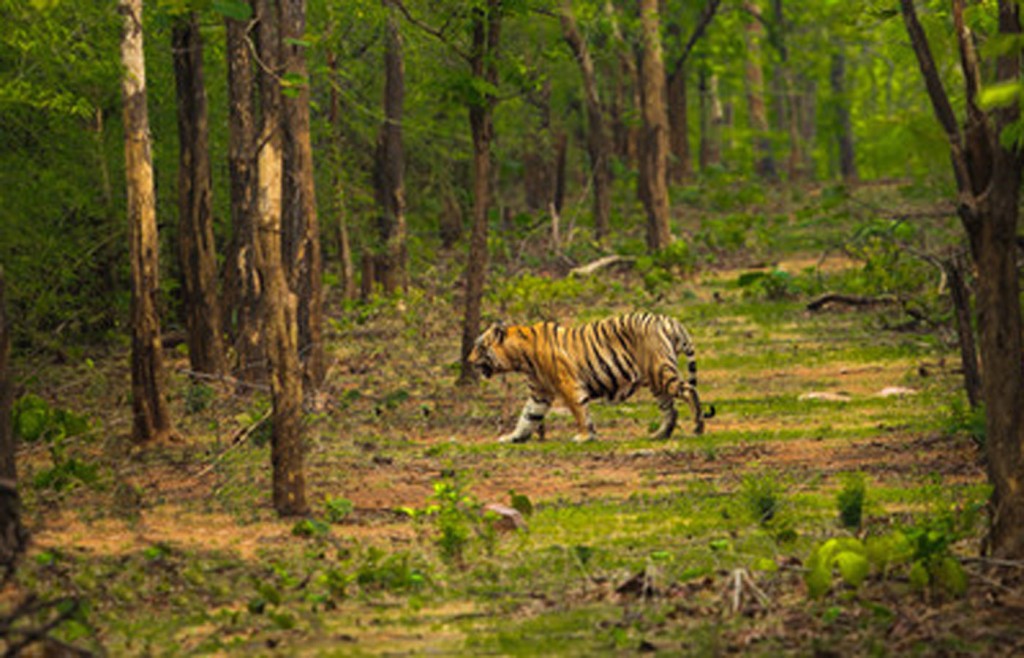 Where to stay in Tadoba Tiger Reserve?
Limban Eco-resort | Personally designed by its owners, architects Amala Sheth and Anand Bhagat, this brand-new 14-unit property near Tadoba's Khutwanda Gate is a masterful interpretation of the theme of 'urban-rustic'. Nothing is generic about the dreamlike rooms (take your pick between cottages and tents) mounted on stilts: the tiger-stripe chests, spiral-rope lamps, walls painted with flower-and-foliage detail from the palash, sal and mahua and rugs from Anandwan, a non-profit organisation, are guaranteed to please the most jaded bon vivant. A second powder room in each unit is a thoughtful touch given the haste of early morning safaris. In the common spaces, the rock garden-style swimming pool, Gond-inspired wall art, sofas and chairs inspired by ploughs and even the wild gaur, and beautiful painted wheat-winnowers are all details that connect Limban to the world in which it is set. The kitchen, run by three inventive young chefs, serves up food to pique any gourmand; the Maharashtrian menu is particularly delightful.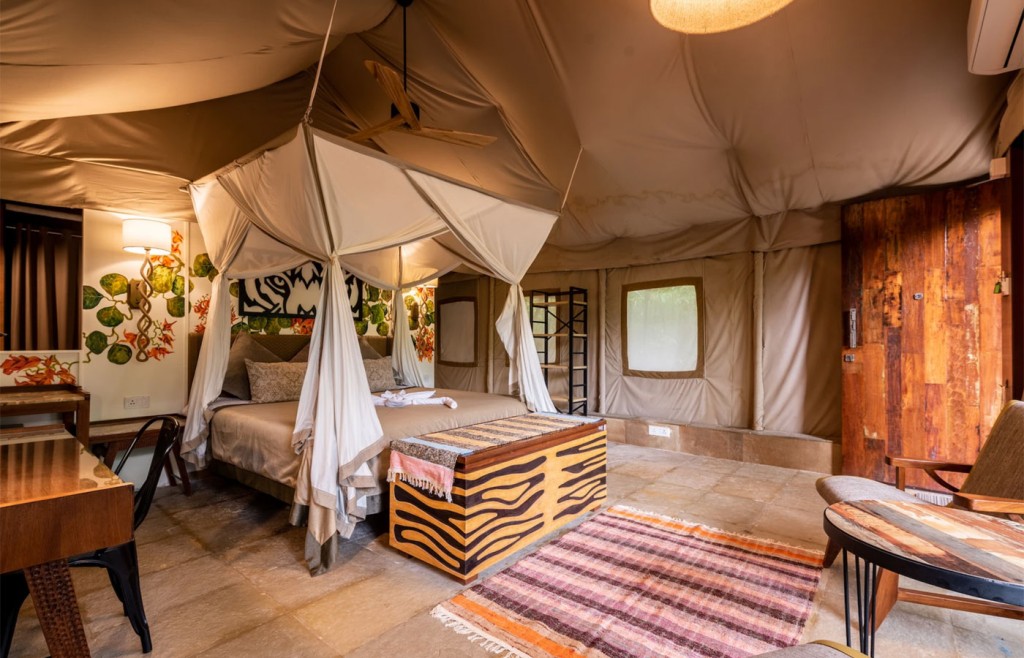 Pench Tiger Reserve
Pench inspired Rudyard Kipling to write "The Jungle Book". One look at its mighty tangle of jungle, with huge, pale tree trunks and rich foliage rustling with animals and birds, explains why. This captivating forest has been luring tourists since it became a wildlife sanctuary in 1983, although visitor numbers are significantly less than nearby Kanha or Bandhavgarh National Parks, so more often than not you'll have the jungle to explore free from crowds. Tiger sightings have been steadily improving in the rolling terrain, forested with teak and sal trees, and visitors can expect to see plenty of other animals in their natural habitat including leopard, wild dog, hyena and large herds of Indian bison (Guar). Ornithologists will be delighted by the range of birdlife within the Pench Tiger Reserve, such as fishing eagles, buzzards and vultures. Jeep safaris are recommended to explore the swathes of forests and animal spotting is best in the early morning or dusk.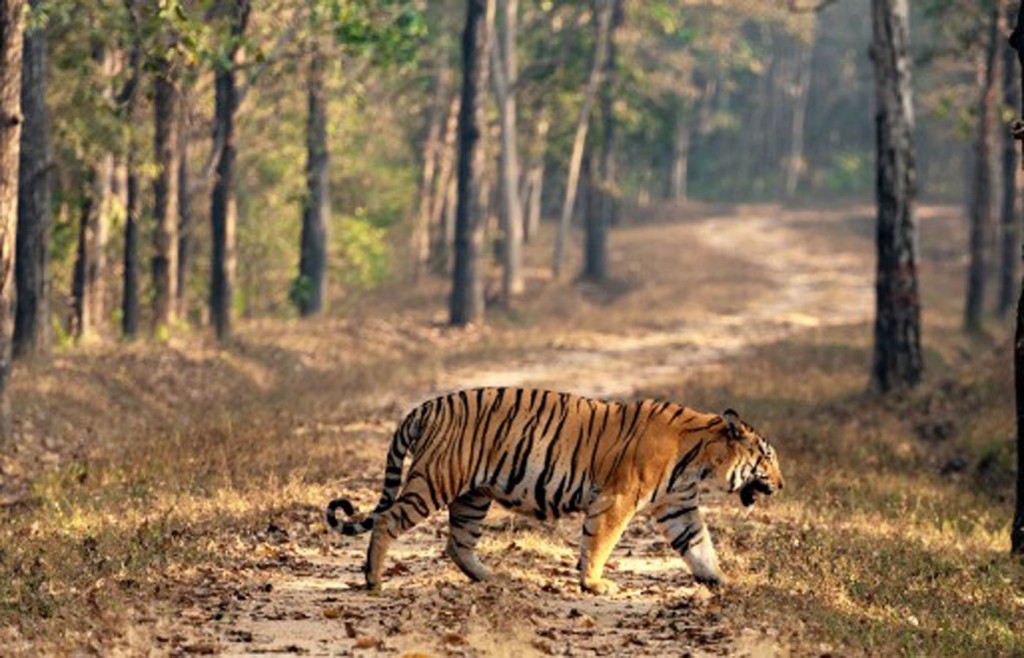 Where to stay in Pench Tiger Reserve?
Baghvan – A Taj Safari Lodge | Five minutes from the national park, charming Baghvan – A Taj Safari Lodge, has a sweeping shaded deck surrounding a gorgeous swimming pool overlooking the nullah (dry riverbed) – a favoured route of the Pench tigers. The 12 quaint and spacious stand-alone suites are surrounded by the shaded canopies of beautiful forest trees, each with a distinctive contemporary bungalow feel, a 50s-style ambience and stairs leading up to a covered jungle rooftop platform or 'machan' (perfect for sleep-outs)