Humboldt directors, Kirsty and Simon, recently headed to South Africa for a trade show and took the chance to go on safari. They headed to the Sabi Sand Private Game Reserve which contains a wealth of luxury lodges and some of the best game viewing in Africa.
The Sabi Sand Private Game Reserve is an exceptional wildlife destination located in the northeastern part of South Africa, sharing an unfenced border with the renowned Kruger National Park. It is considered one of Africa's premier safari destinations, offering an exclusive and intimate safari experience in a pristine natural environment.
The reserve spans over 65,000 hectares (160,000 acres) of diverse landscapes, including open grasslands, woodlands, and riverine forests. It is named after the Sabie and Sand rivers that flow through the reserve, providing a lifeline for the abundant wildlife that calls this area home.
Sabi Sand is famous for its exceptional game viewing opportunities, particularly its impressive populations of the Big Five: elephants, lions, leopards, buffalos, and rhinoceros. In fact, the reserve is renowned for its leopard sightings, as they are highly concentrated in this area. Other species such as cheetahs, wild dogs, giraffes, zebras, antelopes, and an array of bird species can also be spotted during game drives or guided walking safaris.
In our last blog about the Pantanal in Brazil we featured the fabulous Onçafari project which is run at Caiman Lodge. The project was based largely on the excellent work done by the owners of the
Londolozi Private Game Reserve, in the heart of the Sabi Sand Game Reserve on the western border of the Kruger National Park in South Africa. Londolozi pioneered the tracking of leopards which is one of the reasons that the big cat is so prevalent in Sabi Sand.
One of the unique aspects of Sabi Sand is its exclusivity and luxury accommodations. The reserve is home to several prestigious, award-winning private lodges, offering unparalleled service, lavish amenities, and breathtaking views of the African wilderness. These lodges range from boutique-style intimate camps to larger luxury lodges, each providing a high level of comfort and personalized attention to guests.
During Kirsty and Simon's visit, they stayed at two lodges; Chitwa Chitwa and Sabi Sabi Bush Lodge. Both lodges accepted small children but are very different in terms of size and style.
Chitwa Chitwa Game Lodge is without doubt one of the standout properties in Sabi Sand Private Game Reserve.  Accommodation at Chitwa Chitwa is in the form of spacious and stylishly decorated suites that blend African charm with contemporary luxury. Each suite features a private deck with a plunge pool, allowing guests to relax while enjoying the sights and sounds of the bush. The suites offer all modern amenities and are designed to provide maximum comfort and privacy.
The main lodge area at Chitwa Chitwa features an elegant lounge, a dining area, and a bar. The lodge's design incorporates natural elements such as thatched roofs, wooden decks, and stone walls, creating a harmonious blend with the surrounding environment. The communal areas provide a tranquil setting for relaxation and socializing and offer panoramic views of Chitwa Dam, which attracts a large amount of wildlife.
Most lodges in Sabi Sand are invested in not just showing our guests the best African experience possible, but also in giving back to the communities around them. At Chitwa Chitwa they founded The Chitwa Trust in 2008 with the purpose of meeting two of South Africa's greatest challenges: unemployment and lack of education. The Trust is a registered non-profit organization that provides aid to underdeveloped areas of Mpumalanga in a way that involves both conservation and community upliftment. During their stay, Kirsty and Simon were fortunate enough to visit a school project with their own children and see the work done by the trust which was a humbling experience.
Sabi Sabi Bush Lodge is a larger property but one that is brilliant for families and includes a children's club, allowing parents to enjoy some downtime at the spa. Accommodation at Sabi Sabi Bush Lodge consist of beautifully designed, spacious suites that blend seamlessly with the surrounding environment. The lodge features 25 private suites, each with its own en-suite bathroom, indoor and outdoor showers, and a private deck overlooking the African bush. The suites are elegantly furnished with a combination of contemporary and African-inspired decor, ensuring a comfortable and luxurious stay.
The main lodge area offers various facilities and amenities for guests to enjoy during their stay. It includes a swimming pool, a bar, a lounge area, a library, and a dining area where delicious meals are served. The lodge's design incorporates natural elements and open spaces, allowing guests to connect with nature while still enjoying modern comforts.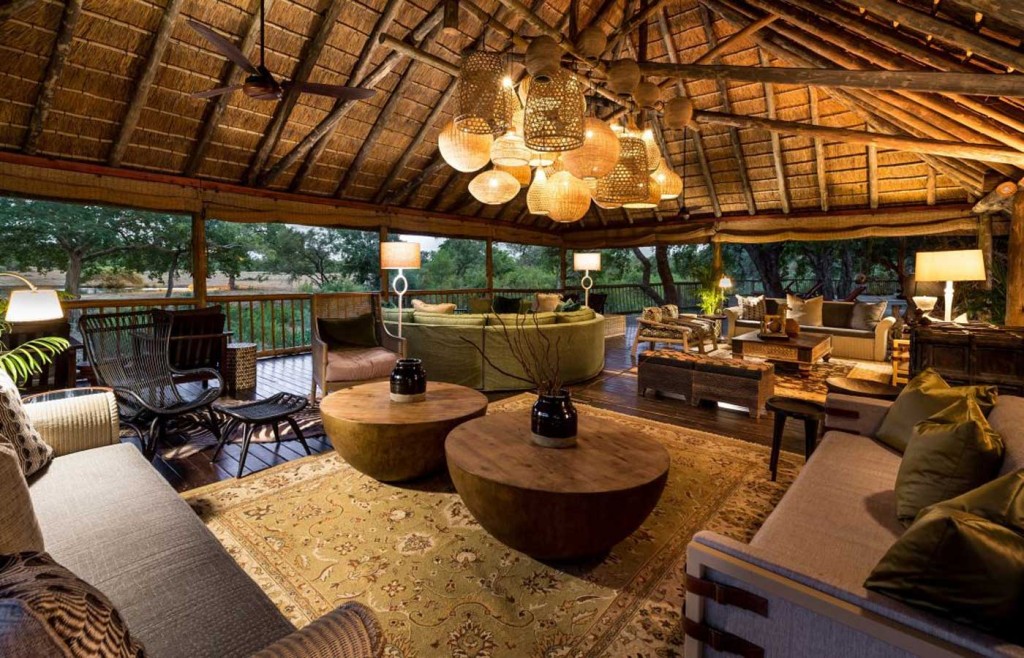 Game drives are a highlight of any visit to Sabi Sand. Led by experienced and knowledgeable guides, these safaris take place in open 4×4 vehicles, allowing guests to get up close to the wildlife while maintaining a safe distance. Night drives are also offered, providing the opportunity to spot nocturnal creatures and witness the raw beauty of the African bush after dark.
In addition to game drives, lodges in Sabi Sand often offer guided bush walks, providing a chance to explore the smaller details of the reserve, learn about the flora and fauna, and experience the thrill of being on foot in the wilderness.
A typical day at a lodge in Sabi Sand Private Game Reserve
This would be how a typical day would pan out, during the summer season at the majority of lodges.
5am – Wake up, meet at lodge for coffee
5:30am – Depart for a safari (game drive)
8:45am – Head back to camp for breakfast
10am – Bush walk with your ranger or alternative activities and relaxation
1pm – Lunch
4pm – Afternoon tea at lodge
4:30pm – Evening safari and sundowners
7:30pm – Head back to camp
8pm – Pre-dinner drinks
8:30pm – Dinner
How to get to Sabi Sand Private Game Reserve
There are a number of ways to arrive into Sabi Sand Private Game Reserve. Kirsty and Simon decided to hire a car and drive from KMIA "Nelspruit" airport. From this airport to Chitwa Chitwa is a 4-hour drive. It's an easy drive on tarmac roads for most of the journey until you reach the last 90 minutes of the drive. Simon describes this as the bumpiest road he's ever been on which had millions of potholes but a real adventure nonetheless. If you're heading to a lodge in the north of Sabi Sand via Gowrie Gate then be aware of just how bumpy this road is, whether you are self-driving or if you are taking a private transfer.
If you are heading the lodges located in the south of Sabi Sand then access is via the Newington or Shaws Gate which offers a far smoother road journey.
The best way to arrive without doubt is by plane, to take you into the private landing strips which most properties have. It saves you a long transfer and gets you into the heart of the action as soon as possible to maximise your safari experience.
Why visit Sabi Sand Private Game Reserve
There are several compelling reasons to visit Sabi Sand Private Game Reserve:
Superb Wildlife Viewing: Sabi Sand is renowned for its incredible wildlife sightings, including the Big Five. The reserve has a high density of animals, especially leopards, making it one of the best places in Africa to spot these elusive creatures. The experienced guides and trackers in the reserve have a deep understanding of the wildlife behaviour, increasing your chances of unforgettable wildlife encounters.
Exclusive Safari Experience: Sabi Sand offers a more intimate and exclusive safari experience compared to many other reserves. The number of lodges is limited, and the private concessions ensure that game drives are not crowded, allowing for a more personalized and immersive safari adventure. The lodges in Sabi Sand are known for their luxurious accommodations, attentive service, and attention to detail, ensuring that your stay is comfortable and memorable.
Unfenced Border with Kruger National Park: Sabi Sand shares an unfenced border with the renowned Kruger National Park, allowing animals to roam freely between the two areas. This creates an expansive wildlife habitat and provides a larger territory for animals to explore. It also means that you can enjoy the benefits of both reserves, including the diverse ecosystems and abundant wildlife.
Guided Bush Walks: In addition to game drives, Sabi Sand offers guided bush walks, allowing you to explore the wilderness on foot. Walking safaris provide a different perspective, enabling you to observe the smaller details of the environment, learn about tracking animals, and appreciate the intricate ecosystem up close. It's an immersive and exhilarating experience that adds another dimension to your safari adventure.
Photographic Opportunities: Sabi Sand offers incredible opportunities for wildlife photography. The reserve's knowledgeable guides understand the needs of photographers and can position the vehicle for the best shots. With the stunning landscapes, diverse wildlife, and expert guidance, Sabi Sand provides an ideal setting for capturing breathtaking images of Africa's wildlife.
Conservation and Research Efforts: Many lodges in Sabi Sand actively contribute to conservation and research initiatives in the area. By visiting the reserve, you are supporting these efforts and contributing to the preservation of this precious ecosystem. Some lodges offer educational activities and programs where guests can learn about conservation practices and the challenges faced by wildlife in the region.
Overall, Sabi Sand Private Game Reserve offers an exceptional safari experience, combining luxury, exclusivity, and remarkable wildlife encounters. It is a haven for nature enthusiasts and wildlife photographers, providing an unforgettable journey into the heart of the African bush.
Contact us to discuss adding Sabi Sand Private Game Reserve to your next holiday to South Africa and let us help you choose the best lodge to stay in.