Offbeat Rajasthan
Spend two weeks in the fabulous state of Rajasthan, exploring lesser known sights and on the lookout for wildlife

This itinerary is an active exploration of offbeat Rajasthan, exploring some of the less visited sites in the state, away from the main tourist route. The trip begins with  nights in Delhi with a full day private tour enabling you to experience the city at its best.A flight will take you to the 'Blue City' of Jodhpur for 2 nights where you will enjoy a cycle through the Rajasthan countryside plus visit the imposing Mehrangarh Fort. Next stop will be the city of Jaisalmer with its large fort which borders the Thar desert. Here you can stay in a stunning camp from where you'll be able to explore the fort and the desert. The journey takes you towards Udaipur, stopping in Rohet en route for the night with a chance to experience traditional village life. You'll then head to the stunning Surai Jawai Camp which is a prime wildlife viewing camp, including excellent chances to experience leopard sightings. Your final stay will be at the RAAS Devigarh for 3 nights, close to Udaipur with a chance to explore the famous lake city and a full day cycle through the countryside near Udaipur to show you another side of Rajasthan.
2 nights in Delhi at The Lodhi in a Lodhi Deluxe room with breakfast

Full day private tour of Old and New Delhi

2 nights in Jodhpur at the RAAS Jodhpur in a luxury room with breakfast

Morning cycle ride through rural Rajasthan and visit to the huge Mehrangarh Fort

2 nights in Jaisalmer at The Serai in a luxury tent with breakfast

Morning tour of Jaisalmer fort and after tour by 4×4 vehicle of the Thar desert
1 night in Rohet at the Mihir Garh Boutique Hotel with full board

Private tour of Bishnoi village

2 nights in Bera at the Sujan Jawai camp with full board

Wildlife drives from Sujan Jawai in search of leopards

3 nights in Delwara (nr Udaipur) at the RAAS Devigarh in a palace suite with breakfast

Cycling day tour from RAAS Devigarh to Lake Badi through rural Rajasthan

Full day private tour of Udaipur
The price for this itinerary is GBP £7,080 (pricing also available in US Dollars)
This is a per person price, based on 2 people travelling and sharing a room.
12 nights in luxury accommodation as listed above

Private transfers and tours with an English speaking guide and driver

All internal flights in economy class seating
International flights (discuss your specific requirements with us)

Any visas you may require
This is a guide price. Please enquire and we will provide a full personalised quote for you.  All our itineraries are tailor-made to your own requirements so can be modified however you wish.
WHERE TO STAY
Our suggested luxury hotels for this trip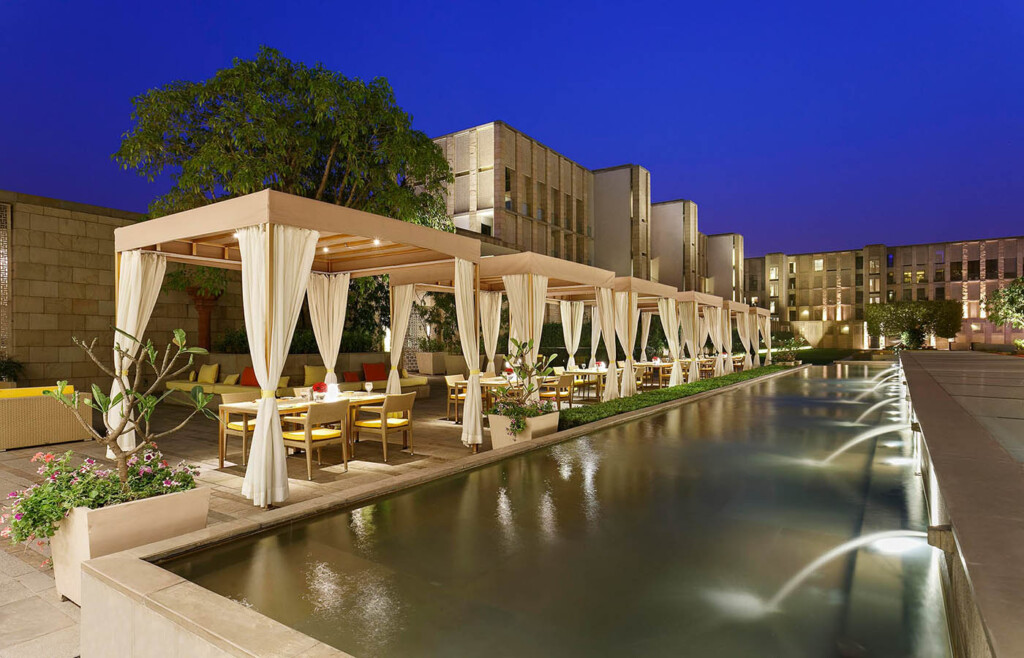 The Lodhi – Delhi

The Lodhi is a cool, luxury hotel bringing traditional Moghul architecture with a modern twist. The building is set within expansive gardens, seven acres in total yet offers only 40 rooms meaning that your experience feels intimate. The elegant rooms feature contemporary décor and large windows with spectacular views. Guests can enjoy private balconies and plunge pools for the ultimate relaxation. The gallery space in the foyer showcases contemporary artists and the restaurant is a beautiful spot to enjoy India's diverse culinary delights, overlooking the reflection pool.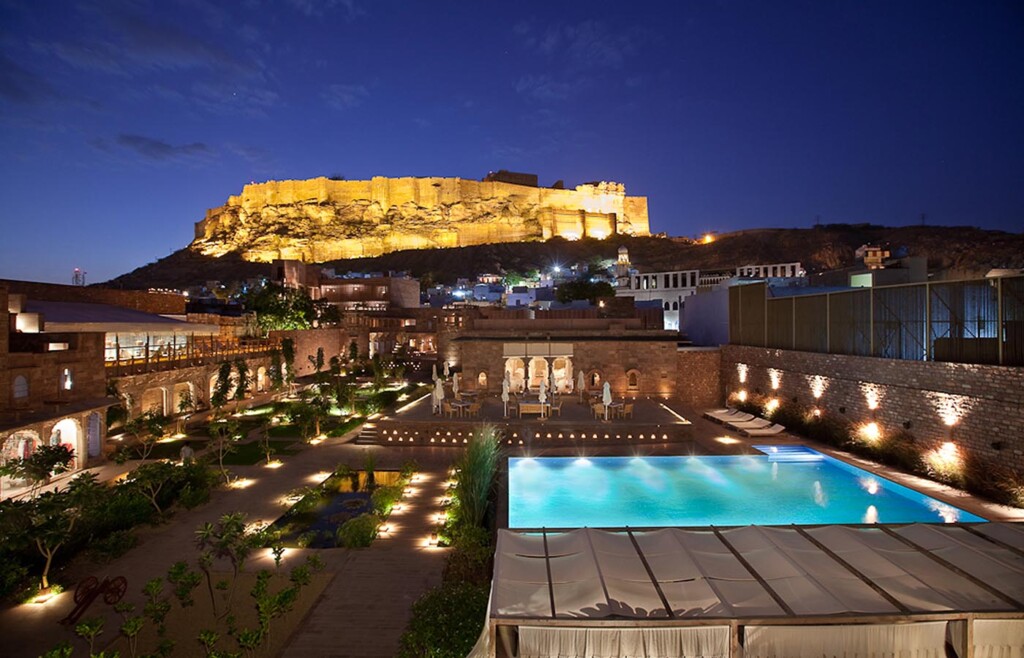 RAAS Jodphur
RAAS Jodphur combines modern blue and rose sandstone blocks with an ancient haveli. Jaali-slashed shutters dapple geometric light across 40 elegant bedrooms and suites, furniture is custom-made rosewood, and all the mod cons are in place. The hotel sits in a big sunbowl beneath the Mehrangarh Fort. There's a lovely big turquoise swimming pool with curtained loungers, a patchwork lawn-and-paving courtyard garden, waterfall-backed reception and a dedicated spa. There is fine dining at the Baradari restaurant, informal food at the Stepwell Cafe, or the Darikhana restaurant.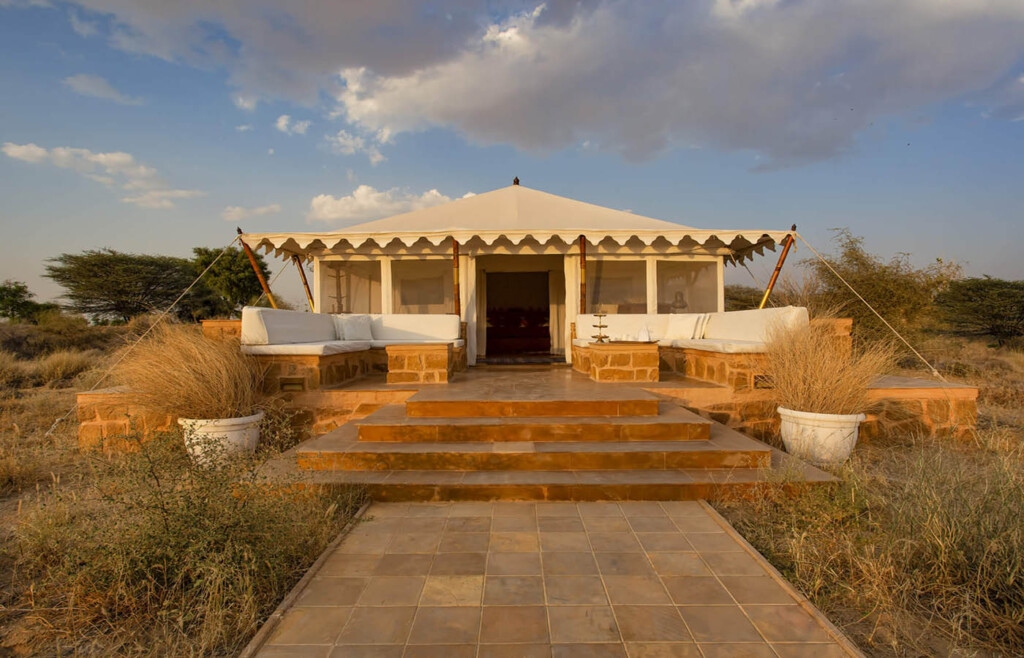 Sujan The Serai – Jaisalmer
This ultra-luxe desert camp is set on a 100-acre private estate in the Thar Desert. It's an oasis for rest and rejuvenation. As a Relais & Chateaux property, quality is inherent. The 21 tents combine simplicity with contemporary and elegant styles effortlessly. Built on sandstone plinths, each stylish tent is extremely spacious, and comes with its own covered lounge and luxurious en-suite. The Serai serves a delicious fusion of local and western delicacies using home-grown, fresh ingredients. Spend a heavenly afternoon beside the stunning main pool, or delight in the Raison d'Etre Spa.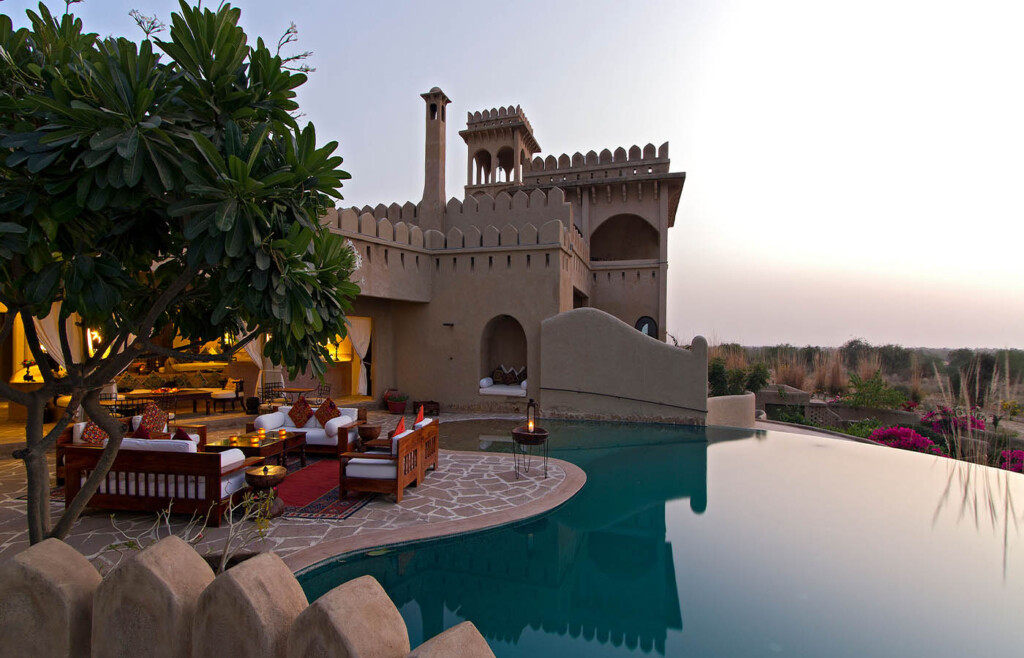 Mihir Garh – Rohet
Once named as the world's most extraordinary hotel by Lonely Planet magazine, Mihir Garh is an impressive property. This superb "Fortress of the Sun" overlooks the Thar desert, right in the heart of Rajasthan. Mihir Garh stands as a tribute to this land. It mirrors the architecture of the local villages, with its rounded edges, open fireplaces and alcoves, and the colour of the stone merges seamlessly with the surrounding sand. Each suite provides a unique place to relax, where luxurious appointments act as a foil to the mineral sand of the surrounding desert. A divine hotel.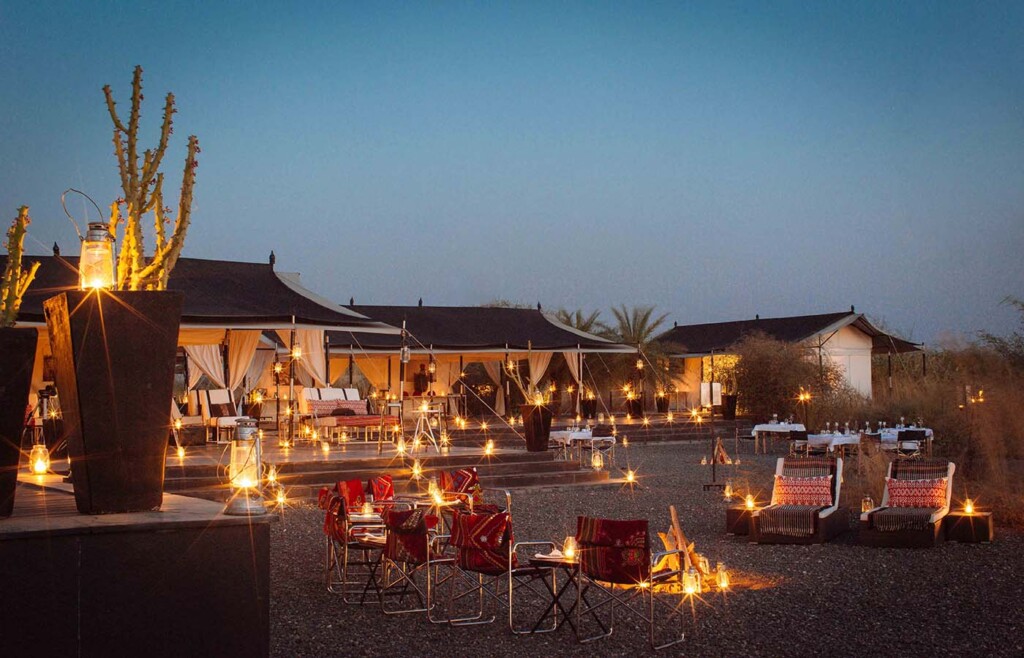 Sujan Jawai – near Udaipur
Sujan Jawai is a luxury camp in an area renowned for leopards with an impressive and varied landscape of hills and winding sand riverbeds. The local Rajbari herdsman with their colourful red turbans are delighted to share their countryside and way of life with guests. The camp consists of 9 luxurious tents including a Royal suite and a 2 bedroom family suite which are spacious and well spread out offering privacy and seclusion. Game drives are obviously a highlight but take advantage of the Camp's stunning swimming pool while yoga can be arranged in stunning locations.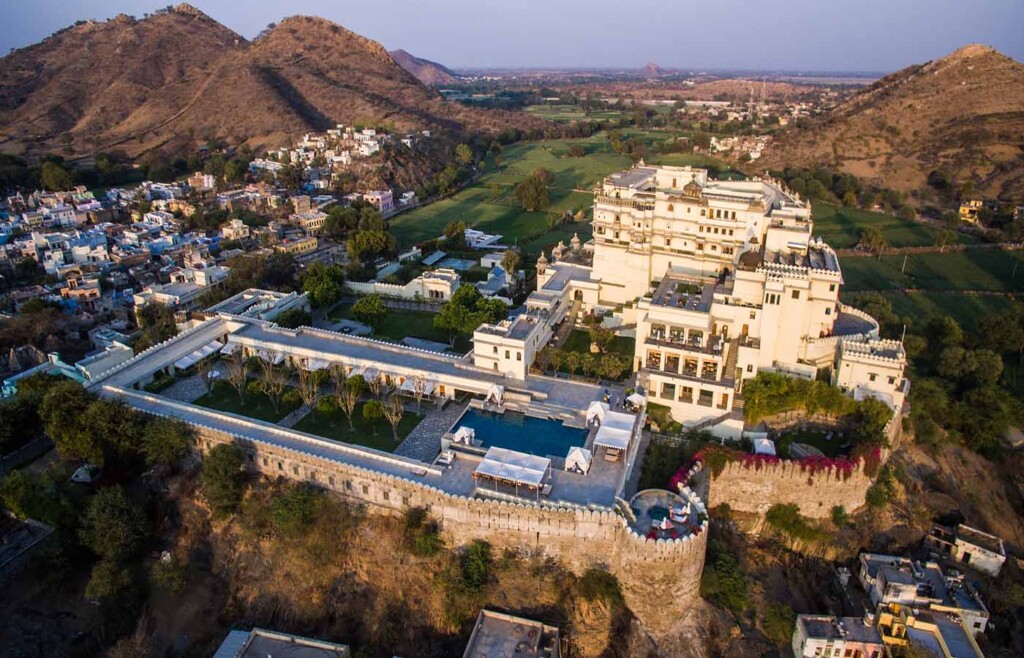 RAAS Devigarh – near Udaipur
Much more than just a place to stay, RAAS Devigarh sets the bar for next-generation India. Nestled in the Aravali Hills, just 45 minutes away from Udaipur, this outstanding heritage property was completed in 1760 under the reign of Rajrana Sajja Singh II. Responsibly-updated, eco-minded, and environmentally- conscious, it meets the needs of the modern traveller, whilst remaining a stunning testament to the beauty, charm, and magic of old-world Rajputana. There are 39 unique suites, a range of dining options, plus some intimate bars for relaxation and a pool with a view.