Choosing a cruise in the Galapagos can sometimes be overwhelming. So many boats, so many different itineraries – what makes the difference when choosing the cruise that is right for you? Humboldt Director Simon offers some advice on picking the right ship.
There is no denying that the best way to explore this enchanting archipelago in the Pacific is by boat. Sailing through these volcanic islands and appreciating the wonderful landscapes from the deck of your luxury ship allows you to experience the wildlife diversity the region has to offer to the maximum. Whilst there a many excellent cruises in the islands to choose from, certain cruises suit certain guests better than others. Here are the factors that you might consider when working with your travel specialist to choose your cruise: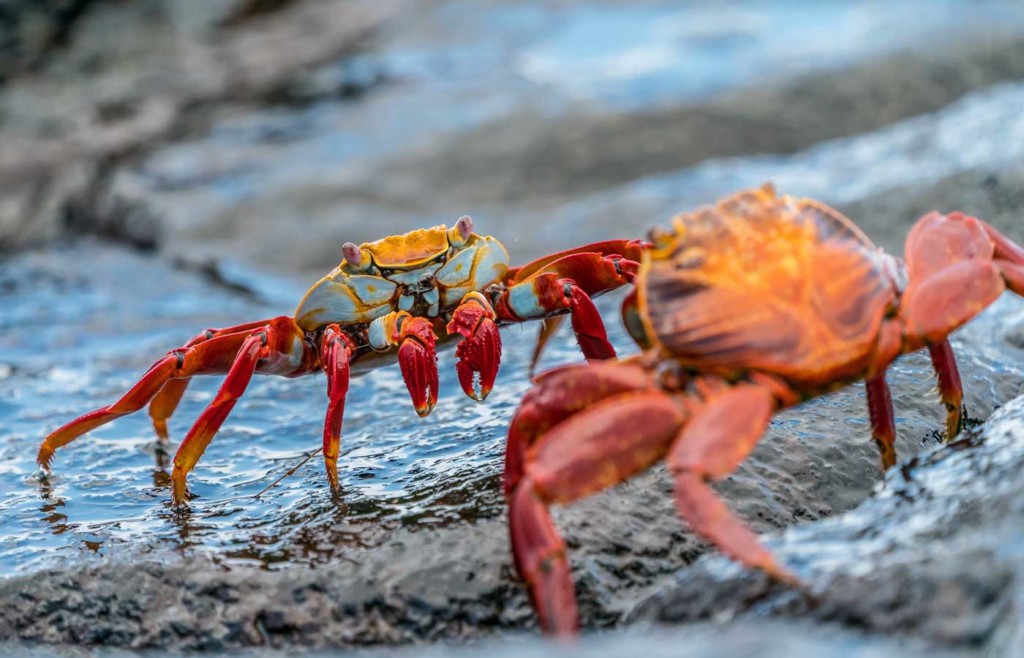 The Size & Type of Boat
Big or small? Does size matter? Well it is a matter of preference when it comes to choosing the right boat for a luxury cruise around the Galápagos Islands. If I was to break down the types of boats in the Galápagos Islands, then I would say that there are four major categories of ship available to travellers. These are a catamaran, a small motor yacht, a small expedition cruise and a large expedition cruise.
A catamaran or small motor yacht is likely to have between 12 and 32 people on board; a small expedition cruise will have around 40 to 70 people on board; and the large expedition cruises have up to 100 people on board, the maximum number any boat can carry in the Galápagos Islands. Many people automatically assume that the smaller boats are the best option but that may not be the case for everyone. Smaller boats do often offer a more intimate and personalised service but can feel a little claustrophobic to some travellers who are not so keen on being in such close quarters with the same group of people for the duration of the itinerary. Meals are often served 'family style' on the smallest yachts which is a deal breaker for some. On the other hand, a smaller yacht is often conducive to a better relationship with the guides and crew, who do their best to cater to the individual tastes of their small group on board.
Catamarans with their stabilising twin hulls are a good fit for those with less confidence in their sea legs, while the smaller the boat (in general), the bumpier the ride might be. Most open sea crossings are completed at night when passengers will hopefully not notice the waves, but if you are worried about instability, it may be better to opt for a larger vessel.
We recommend – The Alia is a popular luxury catamaran offering stability to those unsteady at sea.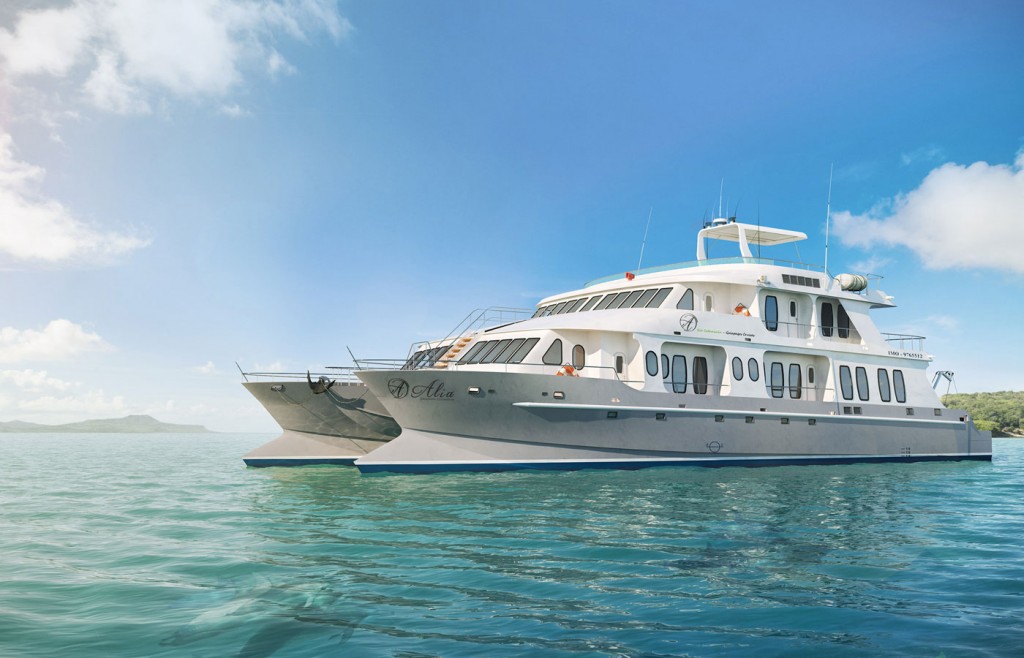 Which Itinerary?
As a first-time visitor to the Galápagos, I don't believe there is a bad itinerary offered by any cruise company in the archipelago. Even a 3-night itinerary will enable you to see a huge amount of wildlife and really feel that you have experienced the unique offering of the islands. For those who really want to see a lot of the islands then at least week-long cruise is a must. All of the islands offer different sights, different wildlife and different coloured beaches or landscapes so even a cruise around the central islands will offer great diversity. If you are looking for a better experience though, try to include a trip to the western, southern or northern islands where rarer wildlife can be found. Most boats operate on two-week rotations wherein they visit most of the sites available in the archipelago. The boats offer the full two-week cruise to guests, or sections of the cruise broken down into 7-, 4- and 3-night itineraries. Unless you have a very specific wildlife wish list featuring species endemic to only one or two of the islands, most of these itineraries will offer a nice spread of the emblematic Galápagos species. We recommend at least 5 nights to make the most of your experience.
Read more on the Galápagos Big 15 species here…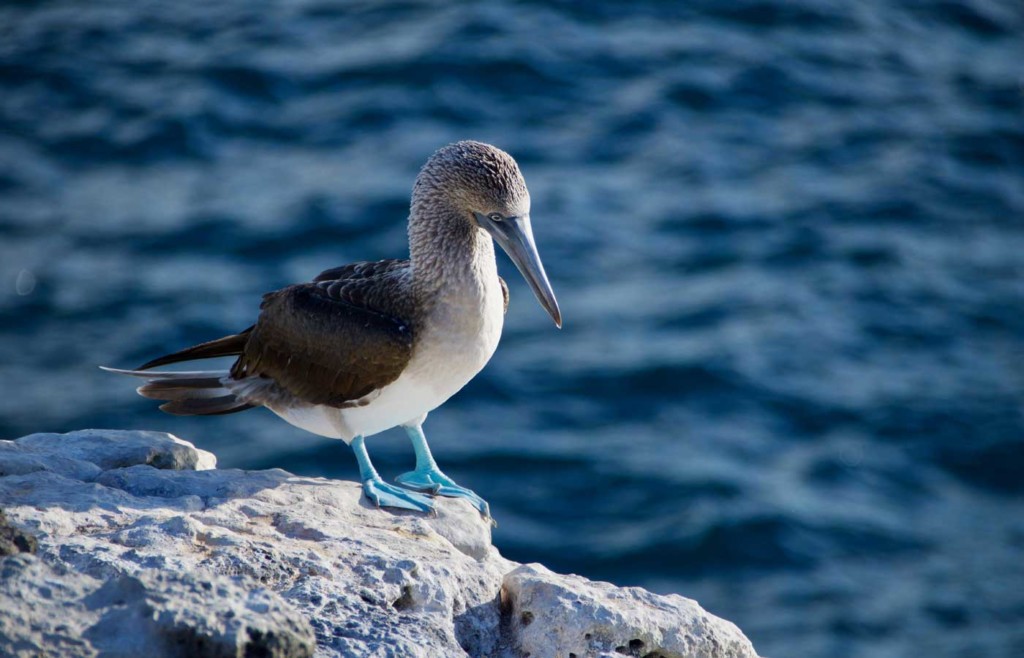 Island Visits
The number of people visiting any one Galápagos visitor site is limited to 100. This means that a large expedition cruise ship will occupy an entire site and the only other people you will see nearby are from your own boat. If you are on a small boat then you are likely to see 3 or 4 other boats anchored nearby, each of which take turns to visit a certain site. The advantage of being on a smaller boat is that the whole boat does everything at the same time, so you all have the same experience whereas on the larger vessels you have to make visits in staggered shifts of small groups. Neither system is better than the other – it is all down to personal preference!
We recommend – If you are opting for excellent service on a smaller ship, The Passion and Grace are two of the best. Passion offers an open bar option and Grace, a present from Aristotle Onassis to Grace Kelly for her wedding, is one of the most luxurious ships in the islands.
Guide Ratio
The guide ratio is the number of passengers on a luxury Galápagos cruise compared to the number of guides on board. The ratio usually varies between 8:1 and 16:1. The smaller the ratio, the more personal the service. Usually the small boats will have just one guide on board for the whole group, whereas the larger vessels sometimes are better in this respect with a guide to each 8 or 10 guests.
We recommend – La Pinta, Santa Cruz and Isabela all offer an excellent passenger to guide ratio.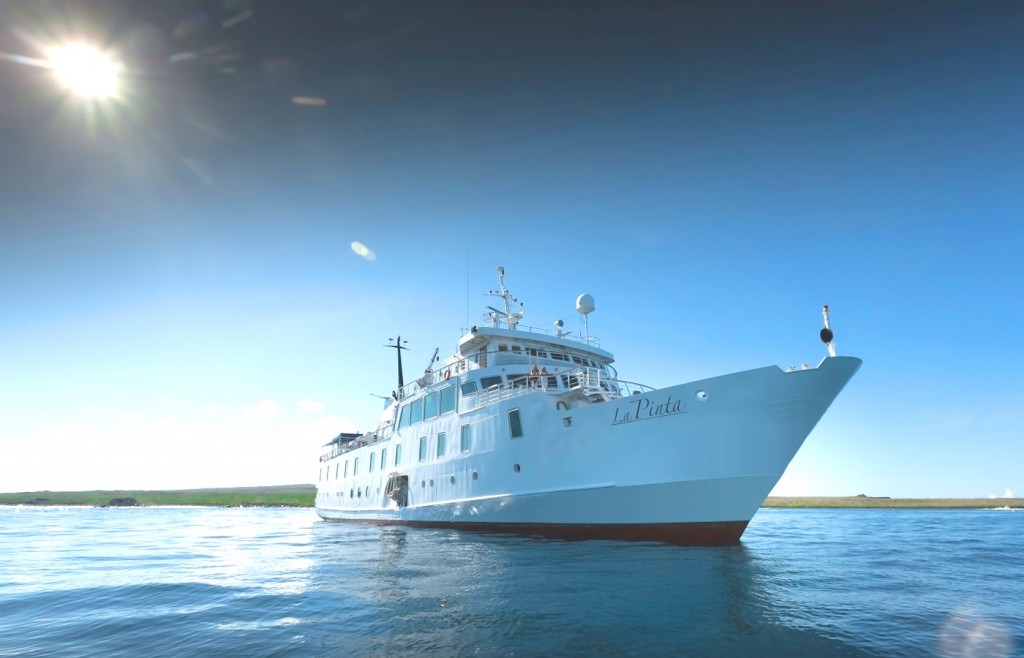 Meeting People
Are you a social butterfly? If so, a smaller vessel with a closer group and family style dining may be for you. If having to speak to lots of strangers over dinner if your worst nightmare, then a larger boat with separated dinner tables in a more traditional restaurant format may be more ideal. On the smaller boats you are quite captive with your group, whereas on a large boat you can disappear into the crowd and enjoy more ample social spaces.
We recommend – The Seastar Journey is a consistently highly rated boutique cruise for those seeking a small vessel.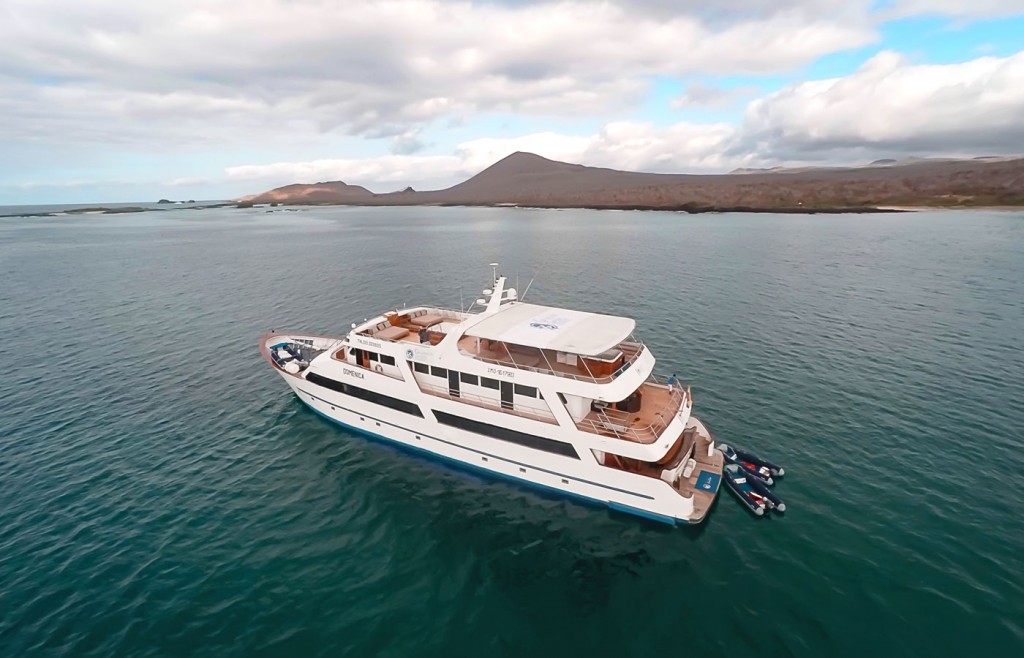 Food & Dining experience
On the smaller boats everyone eats at the same time, usually split between two or three tables. Food will be good but there may be only a couple of choices for a main course at each meal. The other drawback is that you will generally have to sit next to the same people over dinner for the duration of the trip. If there is a bad egg in the group, then priority is often to make sure you are not sitting on the same table as them. On the big expedition boats, there may be a couple of dining rooms offering different types of food and the large spaces enable couples to have more privacy and families to feel as though they are not invading everyone else's privacy.
We recommend – Origin and Theory are the only Relais & Chateaux cruises in the archipelago. Both offer the stunning cuisine for which this luxury group is renowned.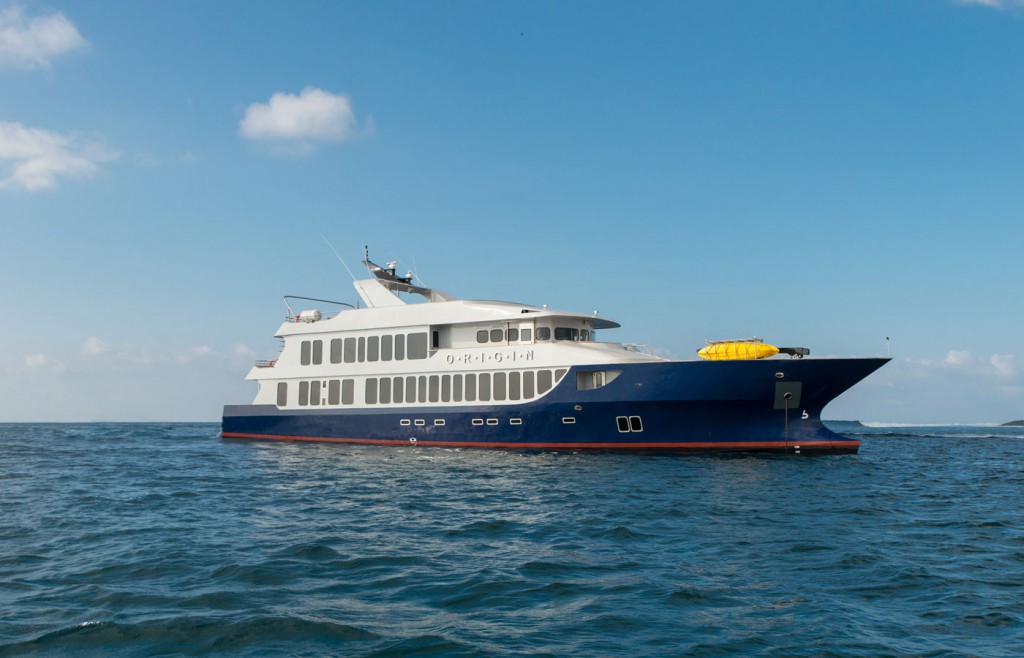 Stability & Seasickness
Do you suffer from seasickness? If so, then perhaps a boat may not be for you and you may prefer to stay in a hotel on Santa Cruz, San Cristóbal or Isabela. However, a boat is the best way to see more of the islands and the greater diversity of wildlife species and landscapes. It is therefore best to opt for a big boat or a catamaran which should offer better stability on any of the more open inter-island sea crossings.
We recommend – The Galápagos Legend is a wonderful larger cruise for those wanting a bigger vessel.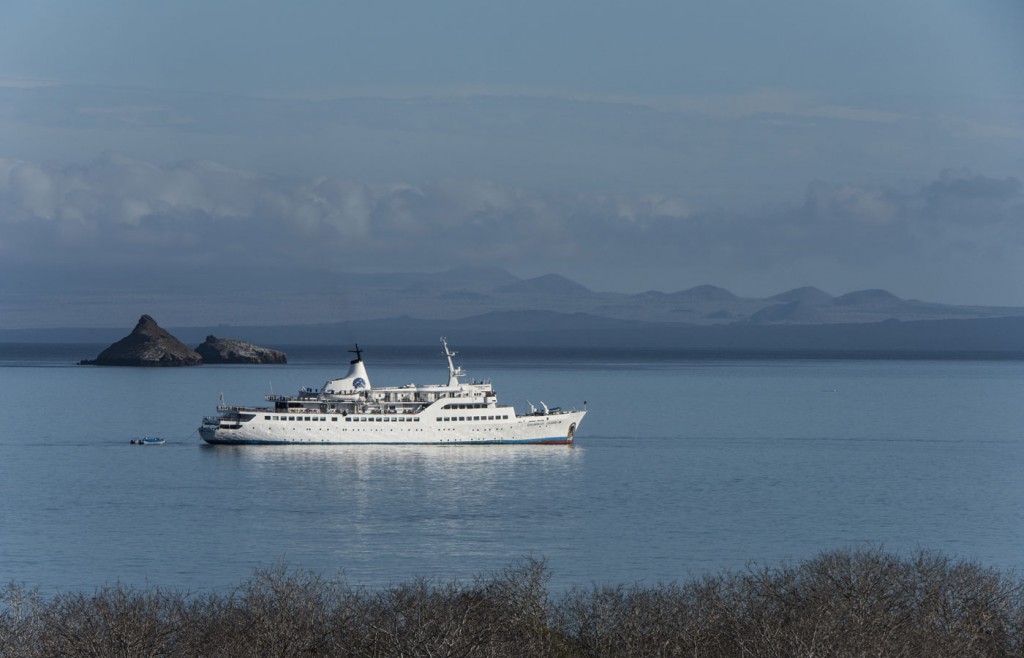 Ship Facilities
Certainly, the larger boats have the edge when it comes to facilities. Most will offer a gym, a spa and an on-board shop whilst families may find them more suitable due to Kids Clubs and other child friendly facilities.
We recommend – For guests wishing to have the ultimate in luxury and exclusive experiences on the islands, the best option is The Silver Origin by Silversea. This slick luxury vessel has everything you would expect from a luxury hotel.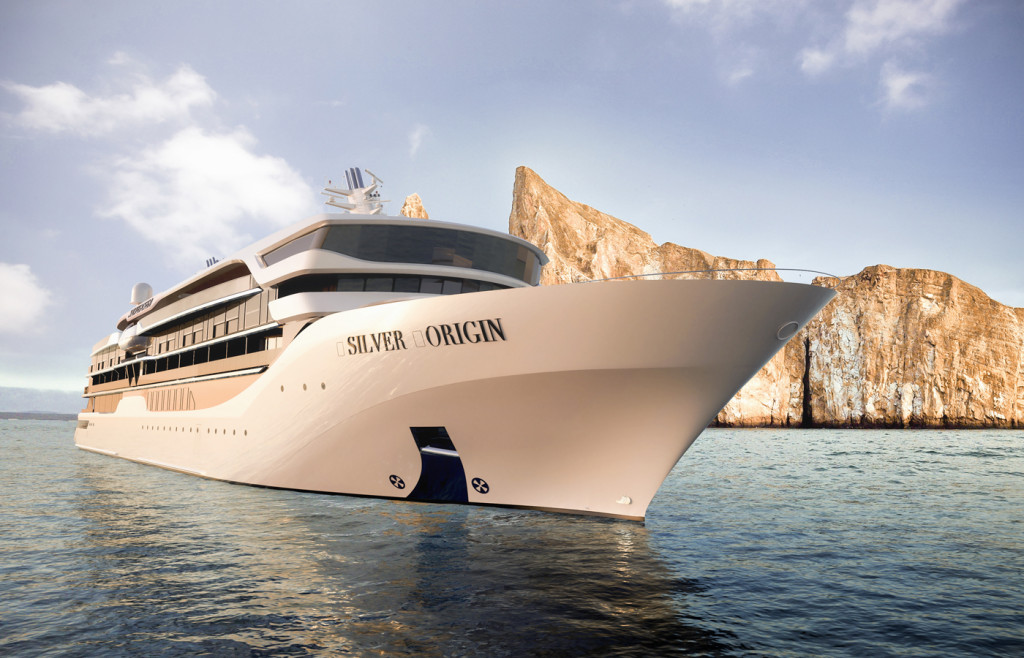 No matter what your requirements, there is the perfect Galápagos cruise for any traveller to make the most of their experience in these enchanted isles. Whether it is dining on gourmet cuisine on the Theory yacht, exploring far flung islands on one of Grace's week-long itineraries, or enjoying an indulgent treatment at the spa aboard The Silver Origin at the end of the day's hike – talk to your travel specialist to find the right fit.
Are you planning a trip to the Galápagos Islands in Ecuador? Read more about the region here and contact us today to speak to your travel specialist about planning your luxury holiday.