PONTA DOS GANCHOS
The small hotel of Ponta dos Ganchos is in a stunning location close to a traditional fishing village along the Emerald Coast of Brazil.
The property is situated on a privately owned peninsula within a state park, with spectacular views over the forested coastline and blue sea. It is widely regarded as one of the most exclusive resorts in Brazil, and has a number of awards under its belt to support this.
Each of the 25 individual bungalows are styled in a sophisticated way, and offer guests total privacy within a harmonious setting. If you are looking for rest and relaxation, there are few places better, particularly as this resort is only for those over the age 18.
The Leading Hotels of the World seal is a testament to the impeccable facilities, the exquisite cuisine and the quality of the services. Ponta dos Ganchos boasts a heated swimming pool, massage gazebos, Spa, state of the art fitness centre, ocean front tennis court, cinema, restaurant, bar and nature walks through the surrounding nature.
Not far from the resort, guests can experience Arvoredo Island, one of the best sites in Brazil for scuba diving, plus on nearby islands dophins are regularly spotted. This unique part of the world where the waters of the Emerald coast meet the lush rainforest vegetation is simply idyllic.
SAMPLE LUXURY HOLIDAYS TO BRAZIL
Below are 3 sample itineraries of what you could do on holiday in Brazil.
Contact us to create your own luxury holiday.
LOOKING FOR SOMETHING DIFFERENT?
Our favourite luxury hotels
Hotel Felissimo
Surrounded by Altantic rainforest and close to stunning beaches and beautiful landscapes, Hotel Felissimo is in the perfect location for a luxury holiday. The beach of Praia dos Amores is just 500m away, and the hotels wonderful hilltop location provides panoramic views of the area.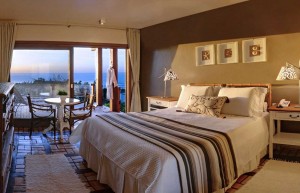 Hotel Quinta do Bucanero
Located on the cliff top in Praia da Rosa, this charming guest house overlooks one of the most beautiful bays in the world and is only 150 metres from the waterfront. It provides exclusive access to one of the best beaches in Brazil and is full of beautiful finishing touches.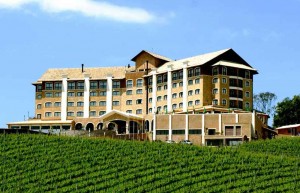 Spa do Vinho

This unusual hotel offers guests elegance and exceptional service, within a property which displays the characteristic hospitality from Serra Gaúcha. It boasts Brazil's largest wine cellar alongside French-Italian gastronomy, and guests can enjoy tea at the library, champagnen on the terrace at sunset or a cigar at the top of the hotel's tower.