PATIO DEL MUNDO
Patio del Mundo is a charming villa in the heart of Medellin, lovingly restored by a French family. With lush tropical gardens and an enchanting view, it offers a unique setting for you to enjoy your stay in 'The City of Eternal Spring'.
Full of character and vibrant textiles, Patio del Mundo is a tranquil getaway, where guests can relax in a garden filled with wild orchids and mango trees. Out on the terrace where breakfast is served, there is a relaxing murmur of a nearby river and the chirping of birds. This same terrace later turns into a stage for cocktails from the bar whilst enjoying the sunset.
The hotel is in the heart of the El Poblado Provenza neighborhood close to bars, restaurants, boutiques, museums and parks. Just a short walk, and you will be in central Medellin, a city which has dramatically changed over the last few years and is now one of the most cosmopolitan cities in South America.  After a day exploring the city, guests can return to the oasis that is Patio del Mundo and relax in hammocks and couches on the terrace, or enjoy a soak in the jacuzzi, before heading to one of the 7 sumptuously decorated rooms.
Each room has a theme of voyage: Out Of Africa, Bali, India, Cartagena de India, Santa Fe, Provence, Al-Andalus. Out Of Africa and Santa Fe have their own jacuzzi, Cartagena de Indias and Al-Andalus come with a private patio with hammocks, and Provence has its own personalized patio. Every room is fitted with a flat-screen TV. A terrace or balcony are featured in certain rooms. Rooms are fitted with a private bathroom. Extras include bathrobes and free toiletries. Superior rooms include a spa bath or a hot tub.
SAMPLE LUXURY HOLIDAYS TO COLOMBIA
Below are 3 sample itineraries of what you could do on holiday in Colombia.
Contact us to create your own luxury holiday.
LOOKING FOR SOMETHING DIFFERENT?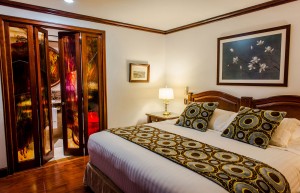 Park 10
Located close to Parque Lleras, the Park 10 Hotel has easy access to the excellent bars and restaurants that this area is famous for. If you would rather stay within the hotel, it too has wonderful dining options in its 2 restaurants; La Fragata and La Terrraza.