THE WINELANDS
Relax and taste world-class wines in the stunning landscapes, close to Cape Town.
South Africa's Winelands are a captivating and picturesque region that has gained international acclaim for its exceptional wines and breathtaking landscapes. Nestled in the southwestern corner of the African continent, this wine-producing paradise boasts a rich history dating back to the 17th century when Dutch settlers first planted vines in the fertile soil of the Cape. Today, the South African Winelands have evolved into a world-class wine destination, attracting connoisseurs and travellers from all corners of the globe.
The Winelands encompass several distinct wine-producing regions, each with its unique character and terroir. The most famous among them include Stellenbosch, Franschhoek, Paarl, and Constantia, among others. Stellenbosch, often considered the heart of South Africa's wine industry, is known for its historic architecture, prestigious wineries, and academic institutions like Stellenbosch University, which plays a significant role in wine research and education.
Franschhoek, on the other hand, is a charming village with a strong French influence, evident not only in the architecture but also in the wines produced here. It's often referred to as the "French Corner of the Cape" and offers visitors a delightful fusion of South African and French culture.
The Winelands' picturesque landscapes are characterized by rolling vine-covered hills, majestic mountain ranges, and vibrant flora. The Cape Winelands are not only a treat for the palate but also for the eyes, making it an ideal destination for wine enthusiasts, nature lovers, and photographers alike.
One of the most remarkable aspects of South Africa's wine industry is the diversity of grape varietals cultivated in the region. While they are renowned for their bold and expressive red wines, such as Pinotage, Cabernet Sauvignon, and Shiraz, they also produce exceptional whites like Chenin Blanc, Sauvignon Blanc, and Chardonnay. The South African winemakers are celebrated for their innovative and passionate approach to winemaking, continually pushing the boundaries of what can be achieved in this unique corner of the world.
Visitors to the Winelands can look forward to more than just wine tasting. The region offers a wide range of experiences, including cellar tours, gourmet dining at world-class restaurants, and wine and food pairings that celebrate South Africa's culinary diversity. The local cuisine reflects a blend of influences, incorporating elements from indigenous South African, Dutch, Malay, and more recent global culinary trends.
Exploring South Africa's Winelands is not limited to the vineyards and cellars. There are plenty of cultural and historical attractions to discover. In Stellenbosch, the Village Museum provides insight into the town's history, while the Groot Constantia Wine Estate in Constantia boasts the title of being one of the oldest wine-producing estates in South Africa.
In addition to its well-established winemaking tradition, the South African Winelands have also become a hub for sustainable and eco-friendly wine practices. Many vineyards and estates have embraced environmentally responsible viticulture and winemaking, incorporating organic and biodynamic farming methods.
South Africa's Winelands, with its intoxicating blend of history, culture, breathtaking scenery, and, of course, superb wines, offers a unique and unforgettable experience for every traveller. Whether you're a seasoned oenophile or a casual wine enthusiast, a visit to this region is sure to leave an indelible mark on your senses and your soul.
WHERE TO STAY
Our favourite luxury hotels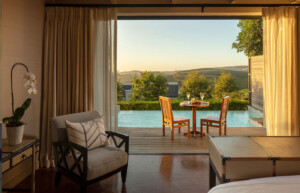 Delaire Graff Lodges and Spa – Stellenbosch
Perched on the slopes of the magnificent Stellenbosch mountains, the Delaire Graff Lodges & Spa offers sweeping views across the estate's vineyards. Each lodge at this Relais & Chateaux property has its own private plunge pool, an idyllic setting for relaxation. The décor skilfully blends indigenous influences and contemporary design, complemented by works of South African artists. The spa offers an exclusive range of sophisticated treatments. In the evening, watch the sun set over Table Mountain or visit the private cinema. Your stay is all about relaxing and indulging.
La Residence – Franschhoek

Located in the heart of the verdant Franschhoek Valley, La Residence sets the benchmark for luxury accommodation in the Cape Winelands. La Residence is set on a private 30-acre estate, surrounded by vineyards, olive groves and orchards, with a spectacular mountain backdrop and breath-taking views of the undulating countryside. The 11 Suites are ideal for couples while the 5 Vineyard Suites offer privacy and space for families & groups. Furnishings are colourful and stylish; chandeliers hang from the ceiling while elegant antiques and exquisite flowers create a feeling of refinement.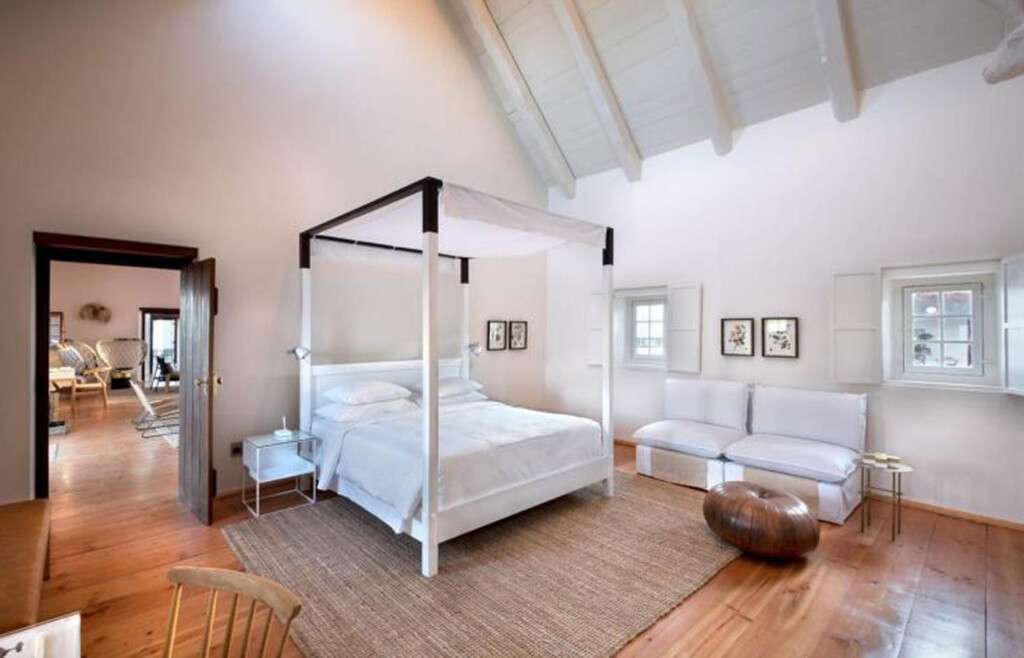 Hotel Babylonstoren – Franschhoek

Lying within the vineyards of the Drakenstein Valley, close to Franschhoek, Babylonstoren is a beautifully preserved farm with a manor house dating back to 1777. Its farm buildings have been converted to a boutique hotel which now host elegant cottages and suites. Its two restaurants serve produce from its organic gardens, as well as a wine Tasting Room which serves delicious platters. Indulge in relaxation at Babylonstoren as you view the mountains all around, pick your own healthy fruit and veg, swim, enjoy the spa, or watch sunsets with a glass of wine in hand.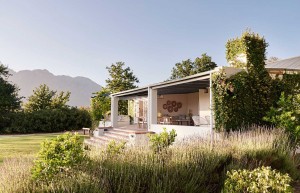 Boschendal – Franschhoek

One of the oldest wine estates in South Africa, located between Franschhoek and Stellenbosch in South Africa's Western Cape, Boschendal is surrounded by dramatic landscapes, lush gardens and vines. Boschendal offers a range of accommodation options, from luxurious cottages to the beautifully restored historic Manor House, making it the destination of choice for farm-to-table produce; beautifully restored cottages; and activities with exceptional multi-generational interest – all in a landscape of exquisite, dramatic beauty. It's a great property for families.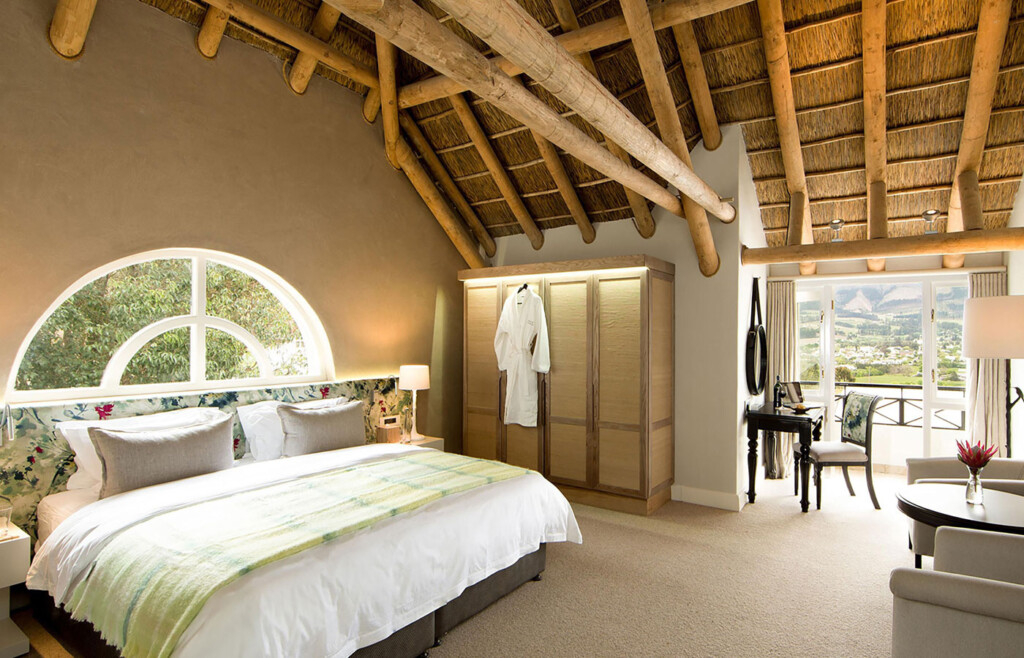 Mont Rochelle – Franschhoek

Mont Rochelle is Richard Branson's stunning 26-bedroom hotel and vineyard just under an hour's drive from Cape Town. Occupying 39 hectares of vineyards and hills, the hotel produces wine on-site, and guests can tour the cellars or wander the paths between vineyard plots. Rooms are named for the estate's four varietals, and house wines can be enjoyed anywhere in this laid-back property, including the 2 restaurants. For families and groups, The Manor House is ideal and is Mont Rochelle's private residence, complete with two swimming pools, four suites and a cosy bunkroom.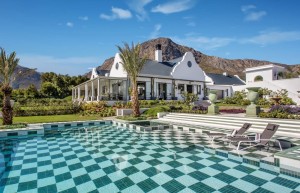 Monument House – Franschhoek

Monument House is settled on over four acres of formal, manicured gardens amidst wild, indigenous flower beds, around natural ponds and surrounding a checkered swimming pool. The property comprises of three villas and two suites and all which can be rented exclusively or independently from each other. Owner Wendy Smith has designed a stunning property. Rooms are beautifully flamboyant where statement pieces of art, heirloom cabinetry, antique rugs, luxury furnishings and extravagant wallpapers combine perfectly with works from local artisans.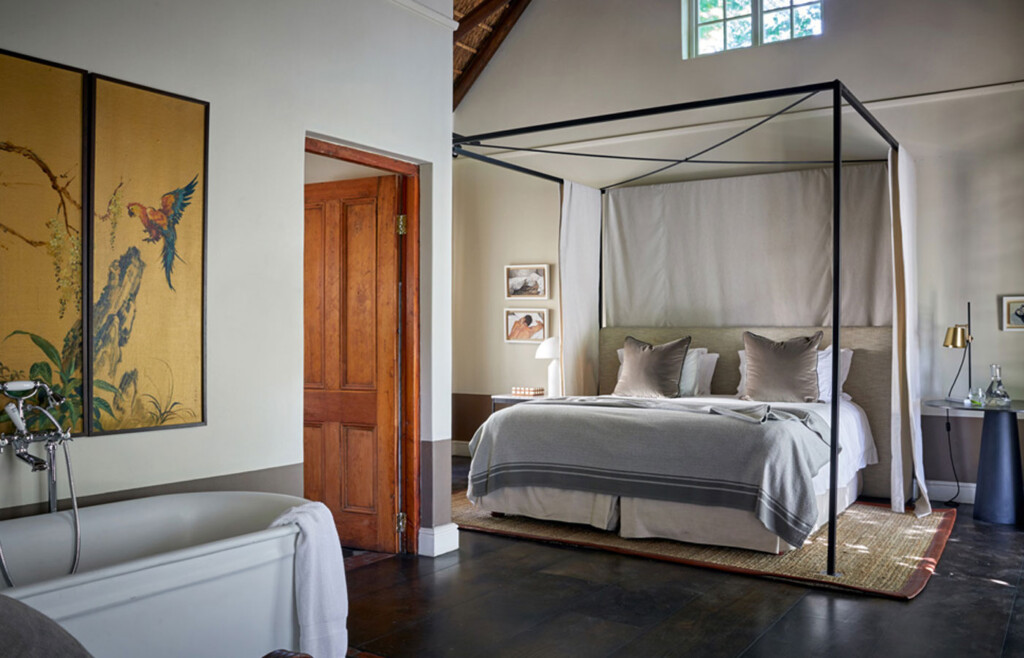 Le Clé des Montagnes – Franschhoek

La Clé des Montagnes is a French-accented retreat in Franschhoek, spread over two South African estates, including a working vineyard, orchards and lavender gardens. The property offers two styles of accommodation; the lodge which feature five exquisite en-suite bedrooms; and four distinctly different villas, ideal for families. The lodge offers expansive views, a tennis court, chip and putt lawn and helipad. A short walk from the property takes you to some of the best restaurants in Franschhoek, although you may prefer to eat at the hotel and let you butler cook a braai.