MADIKWE & THE WATERBERG
Madikwe and The Waterberg are two distinct and captivating regions in South Africa renowned for their conservation efforts and remarkable landscapes.
Madikwe Game Reserve, situated in the North West Province, is one of South Africa's hidden gems when it comes to wildlife experiences. Covering an extensive expanse of over 75,000 hectares, Madikwe boasts an impressive array of flora and fauna. What makes this reserve particularly exceptional is its successful transformation from farmland into a thriving haven for wildlife through a pioneering conservation initiative.
Visitors to Madikwe can look forward to awe-inspiring game drives and safari experiences. The reserve is home to the Big Five – lions, elephants, rhinoceros, leopards, and buffalos – as well as a wide range of other remarkable species, including cheetahs, wild dogs, and numerous bird species. Game drives are expertly guided, ensuring a safe and educational encounter with these incredible creatures in their natural habitat.
In addition to its remarkable wildlife, Madikwe offers a selection of luxurious lodges and accommodations, providing travelers with an opportunity to experience the African bush in comfort and style. The lodges are known for their top-notch service, gourmet cuisine, and splendid views of the surrounding landscape.
The Waterberg region, situated in the Limpopo Province of South Africa, is another captivating destination for nature enthusiasts. This area stands out for its dramatic sandstone cliffs, deep valleys, and lush vegetation. It's also home to several private game reserves and conservation projects, making it an ideal destination for those seeking a more intimate and secluded safari experience.
The Waterberg Biosphere Reserve, a UNESCO-designated area, encompasses a variety of ecosystems, from grassy savannahs to dense forests, which support a diverse range of wildlife. It's also a crucial breeding ground for endangered species such as the white rhinoceros. Visitors to the Waterberg can partake in guided game drives, bush walks, and birdwatching activities to observe its rich biodiversity.
In addition to wildlife, the Waterberg region has a rich cultural heritage, with opportunities to engage in the local traditions and interact with the indigenous communities. You can learn about the unique customs and practices of the San people and the heritage of various ethnic groups who call the Waterberg home.
Both Madikwe and Waterberg provide an authentic African experience, allowing travellers to connect with nature, view majestic wildlife, and appreciate the conservation efforts that safeguard these incredible environments. Whether you are a wildlife enthusiast, a nature lover, or a cultural explorer, these regions in South Africa offer a diverse and enriching array of experiences for every traveller.
WHERE TO STAY
Our favourite luxury hotels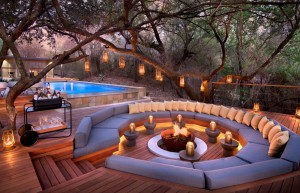 Morokuru Owners House
Morokuru Owners House is an exclusive luxury safari lodge located in the Madikwe Game Reserve. This private and intimate retreat offers a high-end wilderness experience with just two spacious, beautifully designed suites. The Relais & Chateaux lodge provides stunning views of the African bush and wildlife, and guests can enjoy personalized game drives, gourmet cuisine, and a range of amenities, including a private pool and deck. Morokuru Owners House is known for its exceptional service and immersive safari adventures in a pristine natural environment.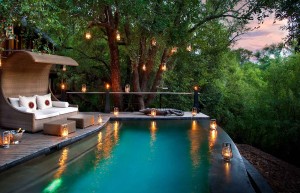 Morokuru River House

Morokuru River House is a luxurious safari lodge located in the Madikwe Game Reserve. This exclusive-use three-bedroom private bush house is on the Marico River and is perfect for a malaria-free family safari set in a pristine wilderness area. Available only on an exclusive basis, the River House can accommodate up to six adults and four children in its three en-suite bedrooms and additional family room. It also features living and dining areas, an outdoor boma, expansive shaded decks and a heated infinity pool. The lodge provides a high-end, intimate safari experience.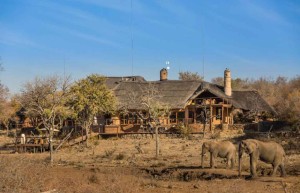 Royal Madikwe Luxury Safari Lodge
At Royal Madikwe Luxury Safari Lodge, you'll discover a realm of five-star service, opulent accommodations, and thrilling wildlife excursions that define the essence of a luxurious safari. The lodge welcomes children of all ages, providing a secure environment for them to play and learn about their natural surroundings through an engaging kiddies program, while parents unwind by the poolside or join in on the adventures. The lodge's accommodation features spacious interiors with captivating vistas that allow you to immerse yourself in the sights, sounds, and scents of the African Bush.