KENYAN COAST
Finish off your safari experience with a few days relaxing on pristine white beaches.
The Kenyan coast is dotted with some charming laidback properties as well as more luxury resorts. Enjoy some time relaxing, swimming, kite surfing or diving and snorkelling in the beautiful clear waters.
The coastline around the busy port of Mombasa offers some rustic but charming beaches. There are some delightful spots to relax on palm-lined beaches as you watch the fishing boats and dhows pass by. Two beaches in particular here are worth a mention; Diani for its kitesurfing and coral reefs and Tiwi which has a more laidback vibe.
Just under two hours from here is the charming town of Malindi. Combining Swahili and Portuguese colonial architecture with stunning beaches, it is a pretty little spot to spend a few days relaxing. Nearby is the small fishing village of Watamu located in a marine national park, known for some of the best snorkelling and diving in East Africa. There are over 600 species of fish and 100 species of coral found here. Examples include barracuda, whale sharks, manta rays and dolphins.
Without doubt the top beach destination in Kenya is the Lamu Archipelago. Situated off the coast in the waters of the Indian Ocean, it is made up of a series of idyllic islands including the four main ones Lamu, Pate, Kiwayu and Manda. Enjoy seemingly unending stretches of pristine sand, snorkelling amongst coral reefs and various water sports from deep sea fishing to sailing.
The island of Lamu offers a glimpse into the past having once been an important trading post. Today it is a UNESCO World Heritage site and its architecture a charmingly diverse mix of Swahili, Persian, Arabic, European and Indian styles.
Whether you want pure relaxation, a bit of activity or even some history and culture, the Lamu archipelago is a stunning, and authentic part of Kenya all whilst keeping you off the beaten track in this beautiful destination.
WHERE TO STAY
Our favourite luxury hotels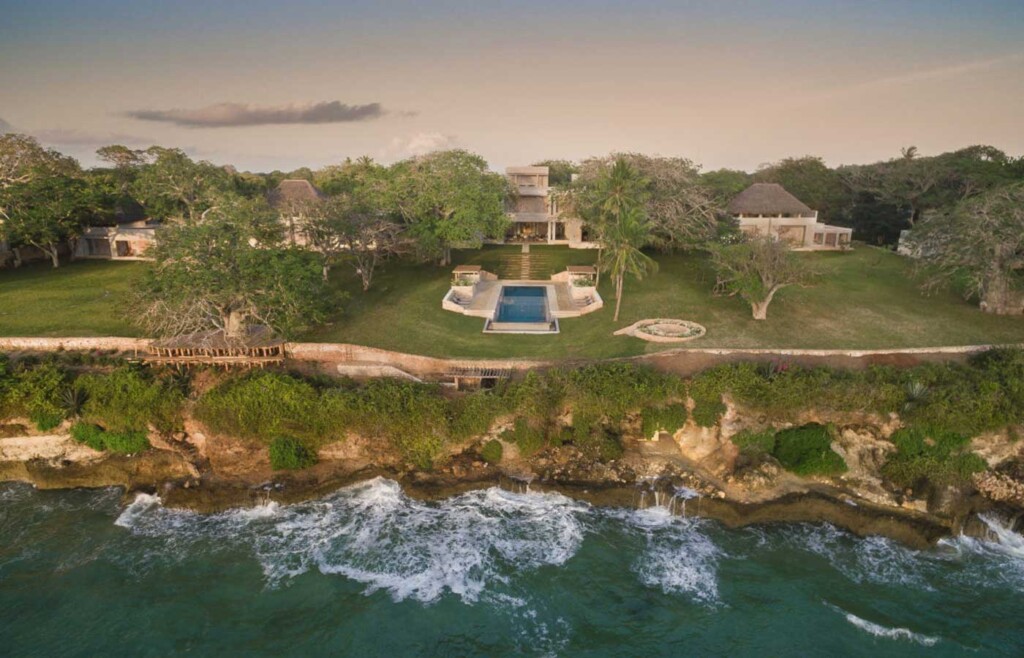 Sirai Beach House – Kmilifi
m/Picture a Moorish-style palace, perched on a clifftop and overlooking the dazzling Indian Ocean. Complete with staff who will cater to your every need, a jaw-dropping infinity pool, poolside bar, tennis court, spa and wine cellar There are six bedrooms at Sirai, available for your exclusive use. All have heavenly views out over the Indian Ocean and are furnished with bespoke design pieces. Opened up to the ocean breeze, the rooms themselves are also decorated to reflect and complement the Kenyan coastline through grey and white colour tones. A stunning property.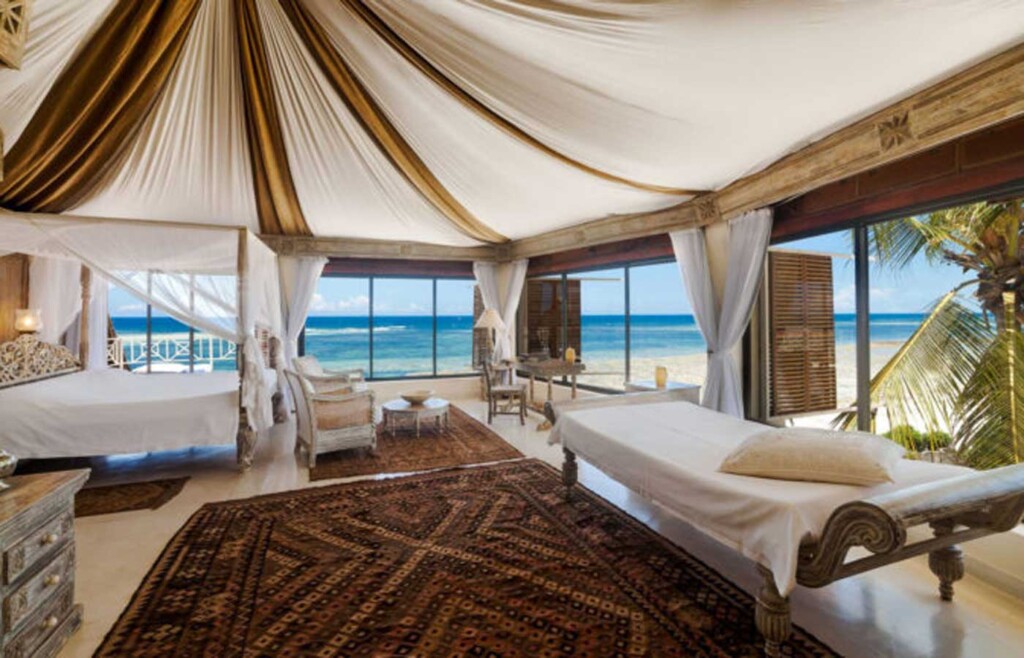 Alfajiri Villas – Diani
Considered by many as the finest villas on the east African coast, the Alfajiri Villas is situated on popular Diani Beach, an hour south of Mombasa. Perfect for small groups, guests can choose from three villa options: Cliff, Garden or Beach – each with a stunning ocean view, sublimely spacious and decorated to reflect the traditions of the region or the natural surrounds. The four-bedroomed villas include lovely ensuite bathrooms, a lounge and a large veranda with a private gazebo. Golf enthusiasts will love the 18-hole championship golf course, located just two minutes away.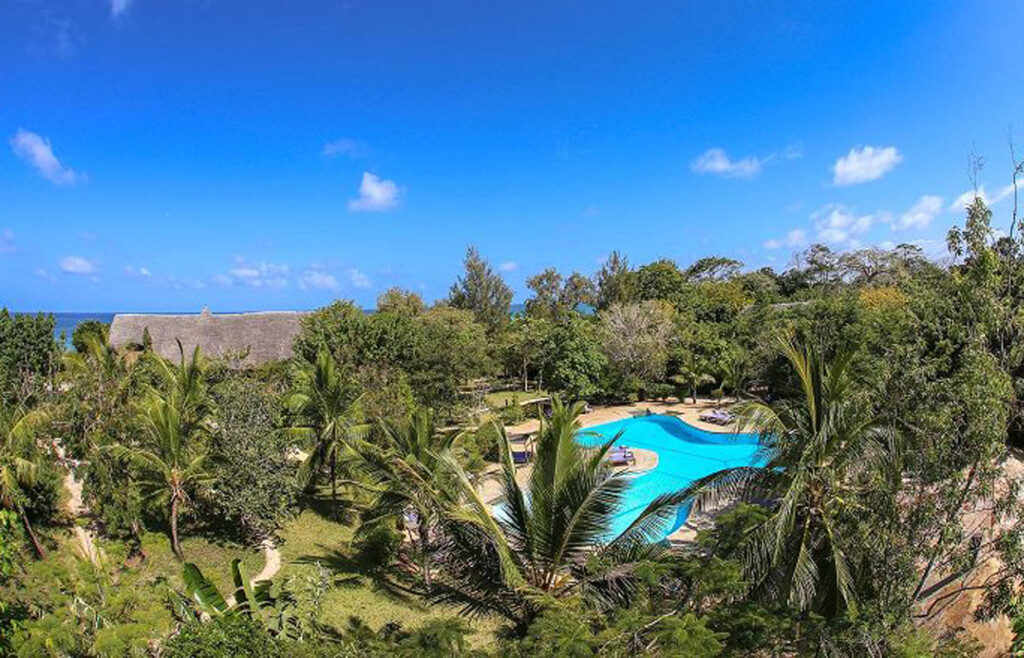 Kinondo Kwetu – Diani
Kinondo Kwetu has a tranquil beachfront location. It's cut off from the main stretch of Diani Beach thanks to a rocky cliff, meaning there are no crowds to spoil the peace. The hotel is quiet and has a home-away-from-home vibe; it's family-owned-and-run and the Swedish owners live on site, so the service is warm and personalised. Rooms are dotted around the gardens and are individually designed, all with traditional Swahili décor with cool white-washed walls and hand-carved furniture. The thatched cottages are ideal for couples, while the layout of the villas allows for flexible living.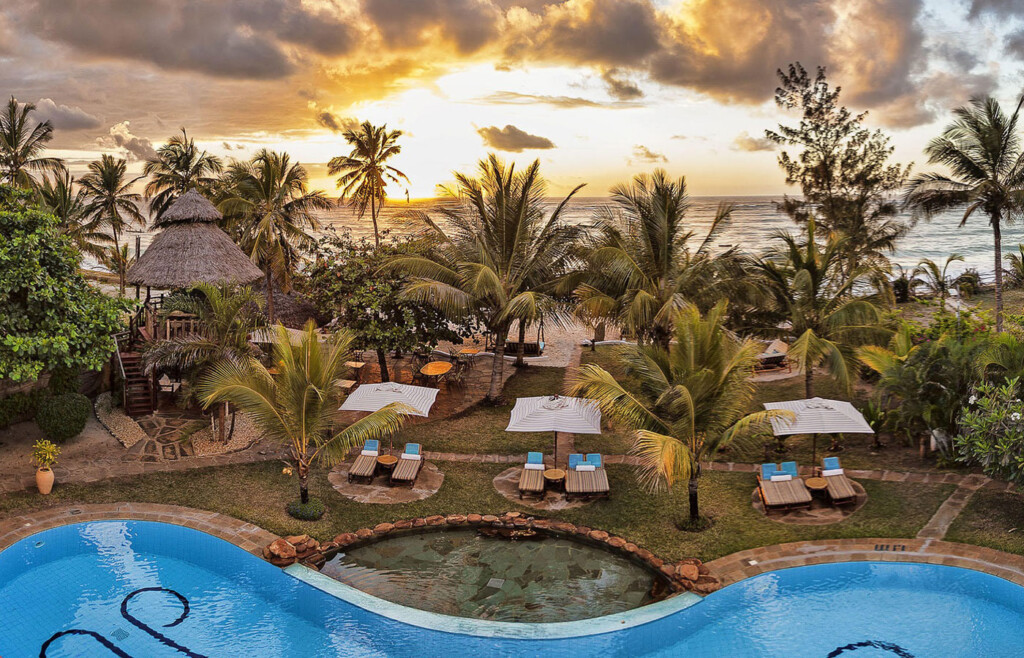 Elewana AfroChic Diani Beach
AfroChic Diani Beach is situated on the pristine white sands of Diani Beach. This exceptional villa-style hotel was once a private residence, and now offers just 10 suites that have been decorated to blend the region's African influence with the hotel's tropical surrounds. Each intimate room boasts a lovely ensuite bathroom, satellite television, DVD players, personal bars and balconies with magnificent views of the Indian Ocean. Feel free to dine in the dining room, veranda and the lush green garden, or privately on your bedroom balcony or the under the beach gazebos.