HOW TO EXPLORE THE GALAPAGOS
Our favourite luxury yachts and hotels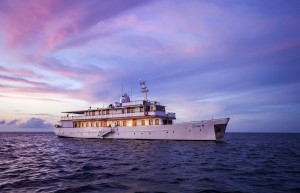 Grace

The Grace yacht Galapagos was given as a wedding gift to Prince Rainier and Princess Grace of Monaco from Aristotle Onassis, and the couple enjoyed their honeymoon aboard this very vessel.
Capacity: 16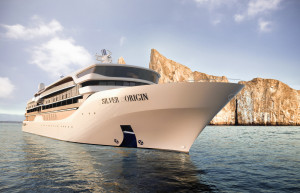 Silver Origin

The Silver Origin offers an ultra-luxury experience in the Galapagos islands, with private balconies for all cabins, personalised butler service and in-suite dining included as standard.
Capacity: 100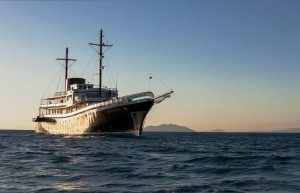 Evolution
The Evolution Galapagos Cruise Ship is tastefully designed with an intimate feel. The yacht has just 13 cabins and 3 suites, all of which features air-conditioning and private facilities.
Capacity: 32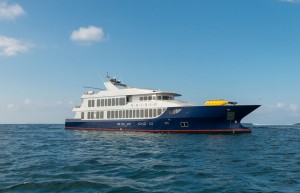 Origin, Theory & Evolve

Combining sophisticated design with world-class service and amenities, the award-winning Galapagos Origin, Theory & Evolve provide understated luxury with Relais & Chateaux style.
Capacity: 20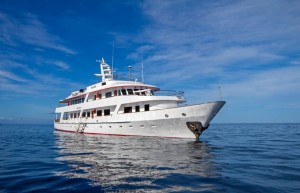 Passion

Originally built as a private luxury yacht, the Passion yacht has been completely refurbished while still retaining many of its original elegant features such as its rose coloured marble bathrooms and teak wood decks that make the vessel one of a kind.
Capacity: 12-14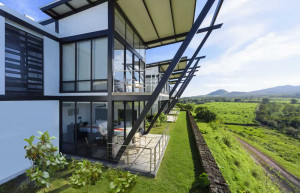 Pikaia Lodge
Beautifully perched atop volcanic craters overlooking the vastness of the Pacific Ocean in the highlands of Santa Cruz island, this stunning luxury eco-lodge is carbon neutral and a member of the prestigious Relais & Chateaux group.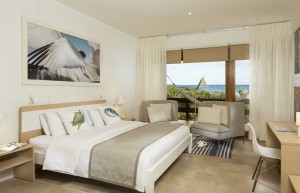 Finch Bay Hotel
Finch Bay hotel is an award-winning boutique, eco-lodge on Santa Cruz Island in the heart of the Galapagos. Named as South America's leading green hotel three years running, Finch Bay perfectly captures the essence of the Galapagos and the importance of the natural surroundings, blending it with comfort and excellent service.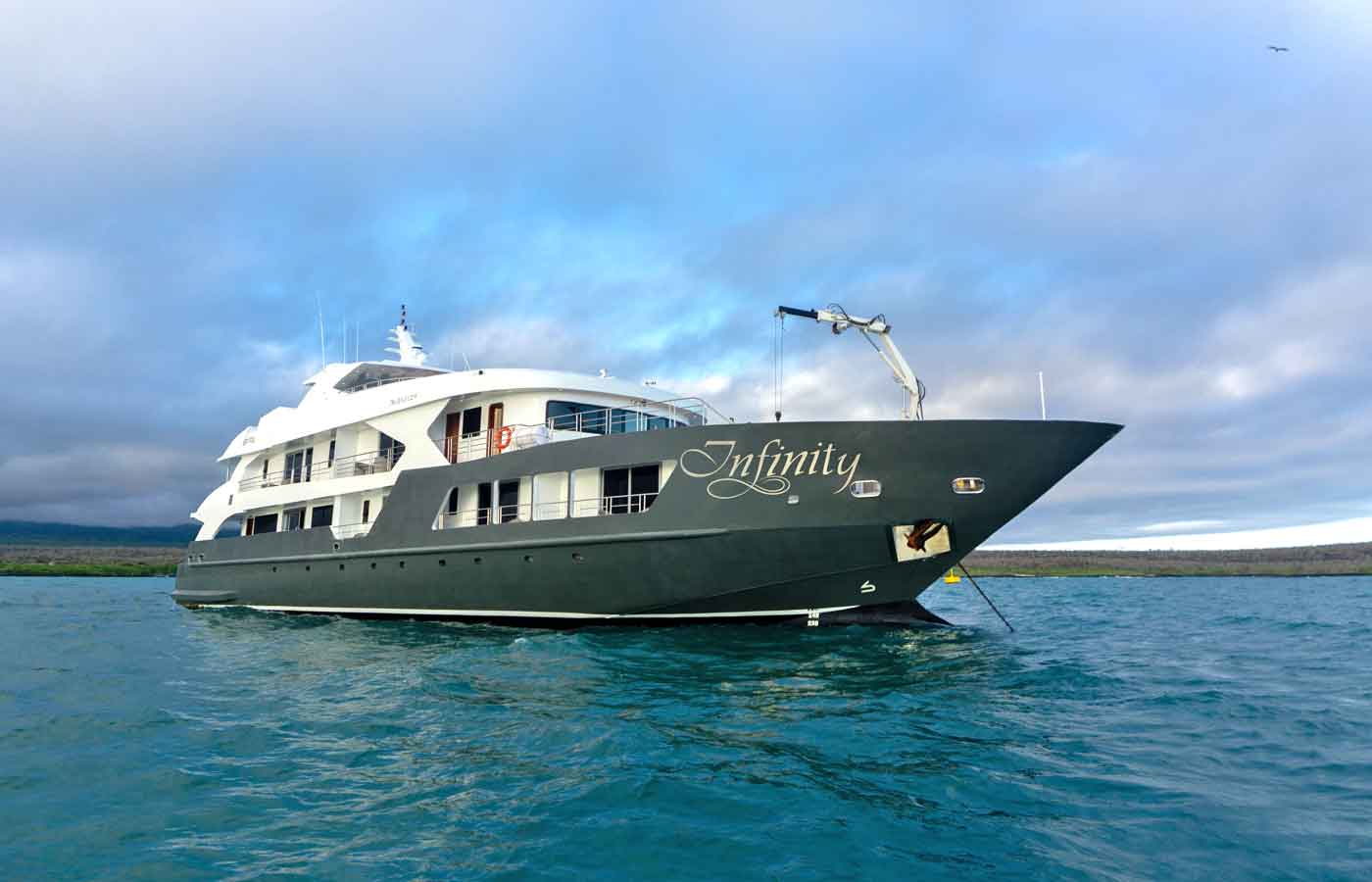 Infinity
The Infinity exceeds everything seen before in a luxury yacht. This brand new cruiser offers unrivalled comfort, excellent environmental credentials and stunning design.
Capacity: 20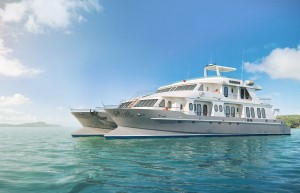 Alya

The Alya is a luxury-class, 16-passenger boat offers the travellers a choice of eight-, five-and four-day cruises through the Galapagos archipelago whilst ensuring smooth sailing thanks to its modern design.
Capacity: 16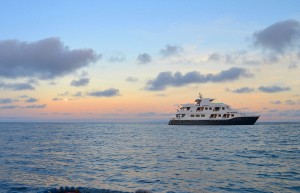 Cormorant

Incorporating the very best of modern day catamaran design, the Cormorant is a luxury boat which offers guests a top quality experience during a holiday in the Galapagos islands.
Capacity: 16
Coral I & Coral II

Coral I and Coral II are sister ships, and each offer a remarkable experience of luxury and comfort whilst cruising the Galapagos Islands. With luxurious teak interiors and superb naturalist guides, these twin boats will not disappoint.
Capacity: 36 / 20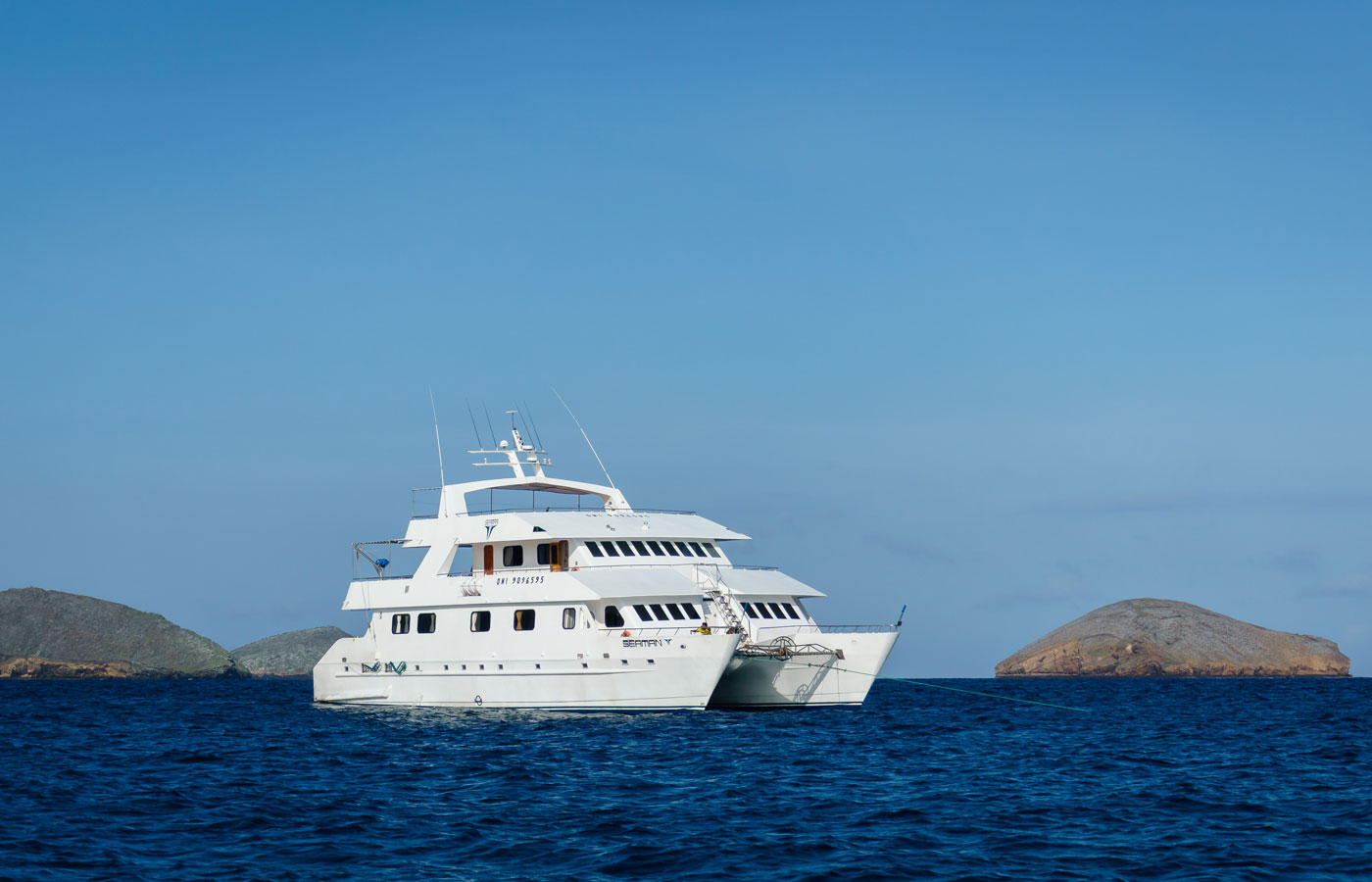 Seaman Journey

The Seaman Journey is a first class boutique style catamaran which offers guests superior comfort, size, style and stability whilst exploring the Galapagos Islands.
Capacity: 16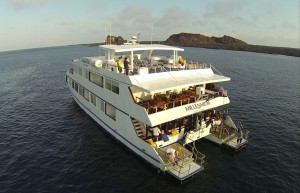 Millennium
The Millennium is an elegant and comfortable catamaran in the Galapagos, making it an ideal choice for a luxury cruise around these beautiful islands.
Capacity: 16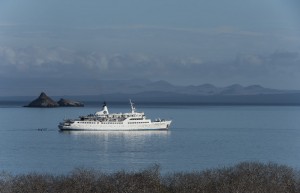 Legend

The Legend is a luxury ship which offers all the amenities of a large cruise liner without sacrificing the intimacy you'd expect on a small yacht. Due to its larger size, the ship benefits from having one of the largest groups of qualified staff in the Galapagos.
Capacity: 100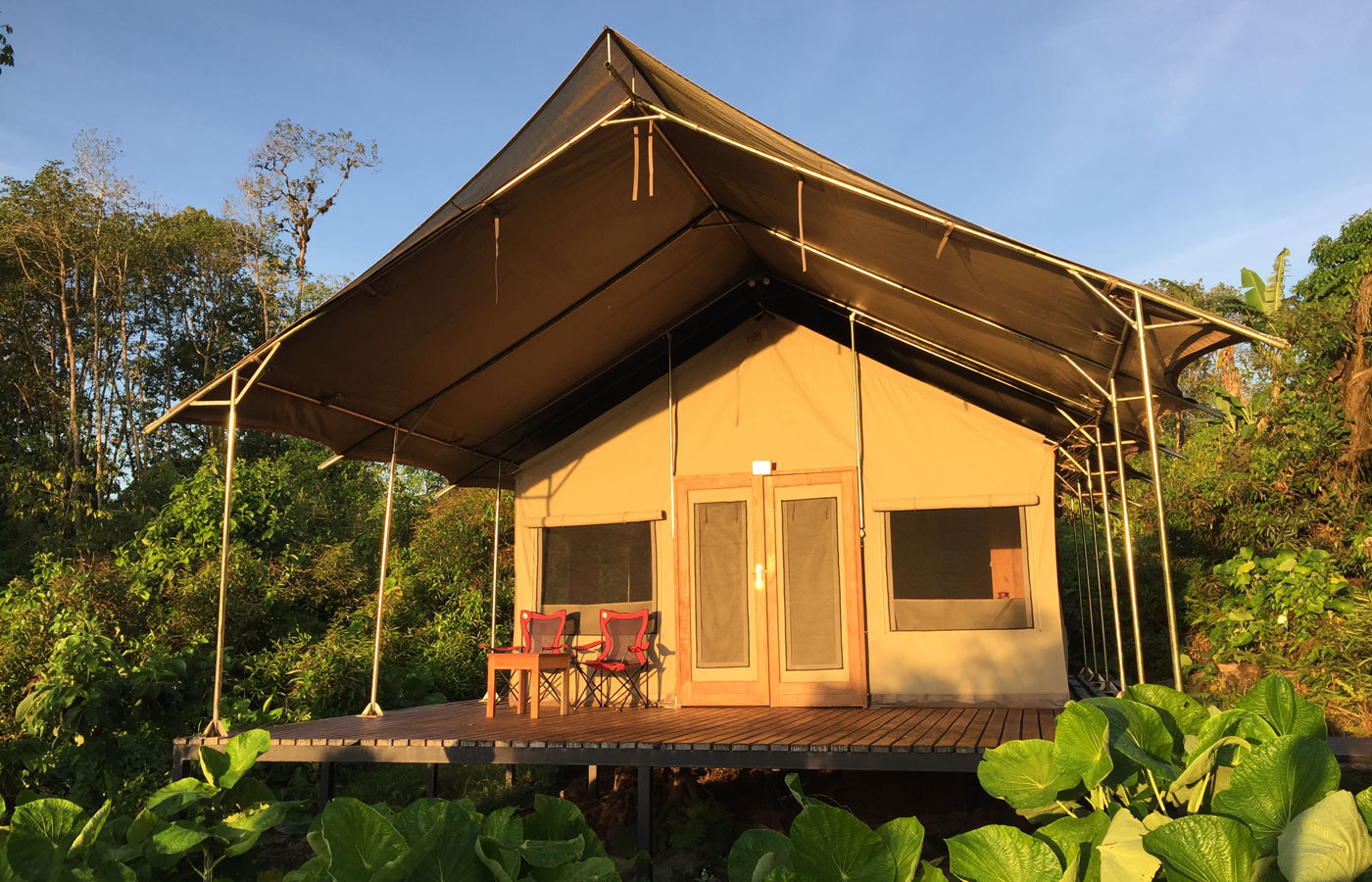 Scalesia Lodge
Stay in a luxury safari-like tented camp and experience the Galapagos in a unique way. With fabulous views over the island and a secluded location, Scalesia will allow guests to relax and enjoy these magnificent islands at their own pace.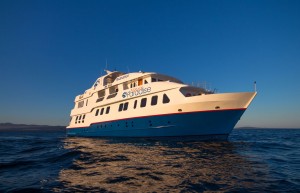 Natural Paradise

For those wishing to visit the Galapagos Islands in sheer luxury, the Natural Paradise, a brand new yacht, is a perfect choice. This intimate and highly customized vessel takes groups around the Galapagos on 4, 5 or 8 day luxury excursions.
Capacity: 16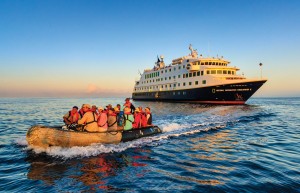 National Geographic Endeavour II

The National Geographic Endeavour II is a state of the art ship, perfectly suited for expeditions in the Galapagos archipelago. With kayaks, zodiacs and snorkelling gear on-board, this is a fantastic choice for a luxury cruise.
Capacity: 96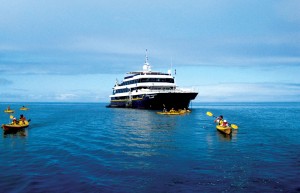 The National Geographic Islander
This versatile vessel which offers luxury cruises in the enchanting islands of the Galapagos, boasts a wide selection of equipment on board and an intimate atmosphere, making it a great way to experience the islands.
Capacity: 48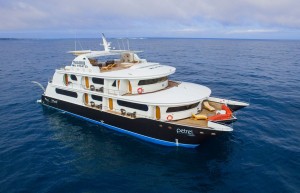 Petrel

The newly built Petrel luxury cruise ship, named after the seabird frequently seen in the Galapagos, is just like its namesake – elegant, swift and silent at sea.
Capacity: 16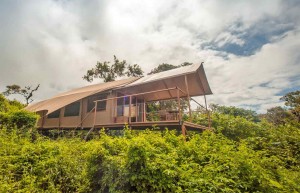 Galapagos Safari Camp

Located within a 55-hectare farm in the highlands of Santa Cruz Island, the Galapagos Safari Camp is a luxury option for land-based accommodation on the islands.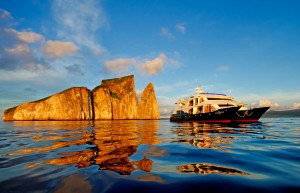 Ocean Spray

The Ocean Spray is a brand new mega-catamaran which offers the best in performance and comfort whilst cruising the fascinating Galapagos Islands.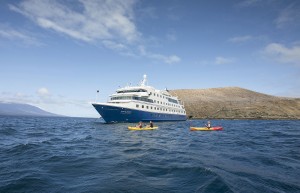 Santa Cruz II

The Santa Cruz II is a luxurious yacht with 5 decks. The spacious social areas provide a relaxing place to enjoy between expeditions onto the fascinating Galapagos Islands.
Capacity: 90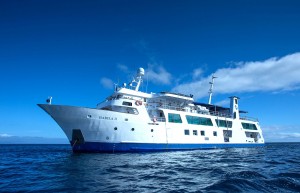 Isabela II

Intimate and well-equipped, Isabela II is a perfect yacht for cruising the Galapagos. The experienced crew and seamless attention to detail will make a voyage on this boat unforgettable.
Capacity: 40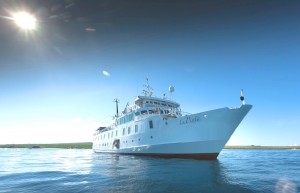 La Pinta
La Pinta is a stunning ship, built on the requests of captains, expedition leaders, hotel managers, and guests over many years. A sophisticated, upscale travel experience that combines modern design, spacious rooms, and gourmet cuisine with top adventure.
Capacity: 48