MONTEVERDE AND ARENAL
Rising dramatically from the surrounding greenery, the triangular cone of Arenal volcano is unmistakeable.
Until recently, this volcano has been popular with seismologists as it was once one of the most active volcanoes in the world. More than just a photogenic highlight, the area surrounding Arenal has a lot to offer visitors. The fertile lands at the foothills create excellent hiking opportunities and it is possible to take part in white water rafting excursions along the rivers. For a luxury holiday to Costa Rica, a visit to the hot springs and adjoining spa facilities is the perfect way to unwind and relax. Arenal and Monteverde combine perfectly. In Monteverde under the deep green canopy, 90 percent of which is virgin rainforest, an astounding variety of flora and fauna can be found. Follow the trails with a local guide and you are likely to spot miniature frogs, sleepy sloths and the shy resplendent Quetzal. There are suspension bridges among the trees which enable a birds eye view of this ecological paradise and zip lines between viewing platforms for the adventurous traveller. At the end of a long day exploring, guests can relax in luxury eco lodges that have been tastefully built around the reserve.
WHERE TO STAY
Our favourite luxury hotels
Nayara Tented Camp – Arenal

Nayara Tented Camp was one of the first luxury camps in Central America and is a member of the Leading Hotels of the World with 29 luxury tents, each made up of a master suite and en-suite bathroom plus two 2m x 80cm beds that can be also arranged as two lounge areas. Each tent sits on its own platform furnished with an outdoor living area and a plunge pool filled from nearby hot springs. Fourteen of the tents will mirror each other with the option to connect two tents, perfect for families. The Camp blends contemporary, barefoot-luxe touches and unique-to-location design.
Nayara Springs – Arenal
Nayara Springs comprises individual luxury villas overlooking the stunning Arenal Volcano. Immersed in the verdant natural beauty of the rainforest, this Relais & Chateaux, adults-only resort offers just 35 exclusive luxury villas. It offers impeccable service, luxurious rooms, outstanding cuisine and an indulgent spa, all within easy distance of the nature and adventure activities that characterise region. Each immaculate Springs-Villa features a private plunge pool, fed by natural hot springs. Interiors seamlessly blend folk elements inspired by local culture & sophisticated modern luxury.
Nayara Spa and Gardens – Arenal

Located amongst the tropical beauty of Costa Rica's Arenal region, this high-class family-friendly resort is one of the most desirable hotels in the region. Offering 25 Deluxe Casitas and 21 larger Rainforest Villas, along with two stunning 3-bedroom Arenal Villas (ideal for families), this resort's warm hospitality places personalised service and an authentic, detoxifying experience at the core of its ethos. Each room has a stunning view of the rainforest or the Arenal Volcano and all feature an outdoor terrace with a Jacuzzi, outdoor showers, large bathrooms & luxurious beds.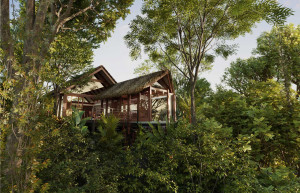 Amor Arenal

Located at the foothills of the Arenal Volcano, Amor Arenal is a 5-star rain forest lodge. Shower overlooking the rain forest, walk from your room to the jungle trails, soak in the hot spring pools, eat from an all organic menu of healthy and delicious food and enjoy the "Pura Vida" lifestyle every night at La Jaranita Restaurant. The spacious 872 sq. ft. luxury cabins are made from precious tropical hardwoods and overlook the virgin rain forest canyon with direct views to the towering volcano and a full deck overlooking the canyon and volcano.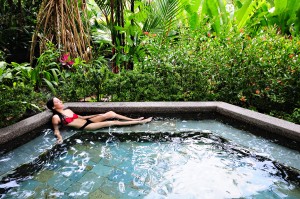 Tabacon Thermal Resort & Spa – Arenal

Tabacon Thermal Resort & Spa offers the unique combination of the energy of the Arenal Volcano, the heat of Tabacon hot springs and the purity of the surrounding rainforest. The 5-star resort is a member of The Leading Hotels and The Leading Spas of the World. There are a selection of rooms and suites, all of which are beautifully appointed with rich handicrafts and furnishings made by Costa Rican artisans. All guests have full access to the different pools, hot springs and Jacuzzis that the hotel is famous for, and what better way to end a busy day exploring then relaxing in the spa?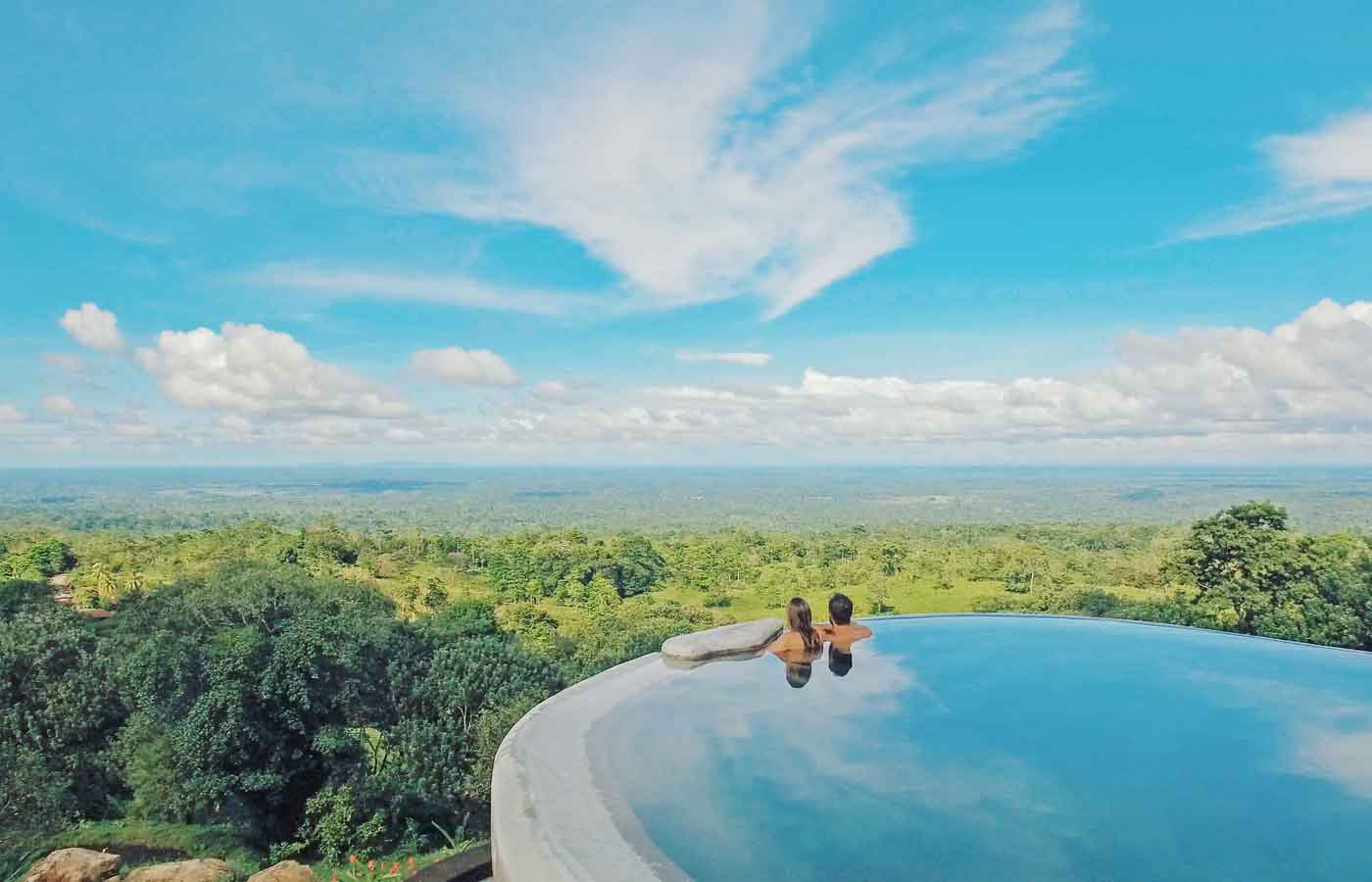 Origins Lodge – Arenal
Delve into a place where time stands still, raw luxury surrounds you and once in a lifetime experiences are an everyday occurrence. Origins Lodge is the next generation of inspiring destinations for the ultimate holiday. Located in the middle of the lush rainforest, Origins benefits from a spectacular location and unspoilt surroundings. Nestled into a mountainside with 180º views of Lake Nicaragua and the valley, this hotel is in the heart of the pristine rainforest. With incredible biodiversity, it is likely you will spot many species here, such as howler monkeys, sloths and toucans.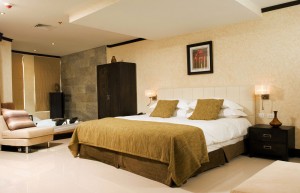 The Royal Corin Resort – Arenal
Located in La Fortuna, the Royal Corin Resort is the best answer if you are looking for a comfortable and luxurious destination in one of the most beautiful areas of Costa Rica. The huge reception area is graced with modern furniture and advanced architecture which makes you feel comfortable from the moment you arrive at the hotel.  The resort has 54 rooms with an elegant design, quiet atmosphere in harmony with natural wealth of the area of the majestic Arenal volcano. Each room boasts excellent amenities as well as fantastic view of the volcano.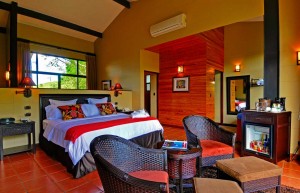 Arenal Kioro Suites and Spa

Arenal Kioro is a luxury hotel with unrivalled views of the spectacular Arenal Volcano. Set in 27 acres of verdant land and surrounded by two streams, this hotel lives and breathes the spirit of Arenal volcano. The thermal waters heat springs that run through the beautiful gardens, perfect for a relaxing and healing break. The hotel offers 53 suites each equipped with safe, minibar, coffee maker, cable TV and Wi-Fi. Additional luxurious amenities include a hydromassage tub in each room and beautiful panoramic views. The restaurant serves delicious local cuisine.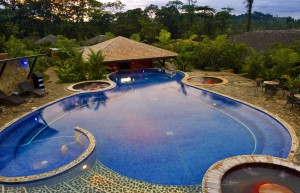 Rio Celeste Hideaway
Rio Celeste Hideaway is a small resort-style and ecologically-focused hotel that provides a truly unique rainforest experience. Located next to the Volcan Tenorio National Park – it takes its name from the Rio Celeste which glows a bright turquoise blue. Be prepared to experience a lush tropical rainforest, complete with vegetation and animal variety that makes it unique. Bring your hiking shoes and an adventurous disposition. Each of the 26 spacious casitas (bungalows) provides an exclusive retreat in which guests can relax amidst the breath-taking rainforest.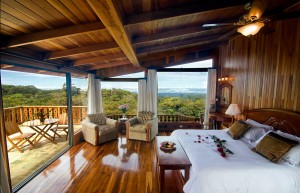 Hotel Belmar – Monteverde
Located in Costa Rica's lush cloud forest, and nestled in the mountaintops of the Monteverde reserve, the Hotel Belmar offers guests s stay full of natural wonder, elegance & friendly service. With the coveted award for 5 levels of sustainability, Hotel Belmar's commitment to the environment as well as the local community has been unyielding for over 30 years.  The rooms offer comfort maximising facilities including king size beds with orthopaedic mattresses and luxury cotton linen, minibar, bathrobes and slippers, hair dryer, safe, Wi-Fi and handmade biodegradable toiletries.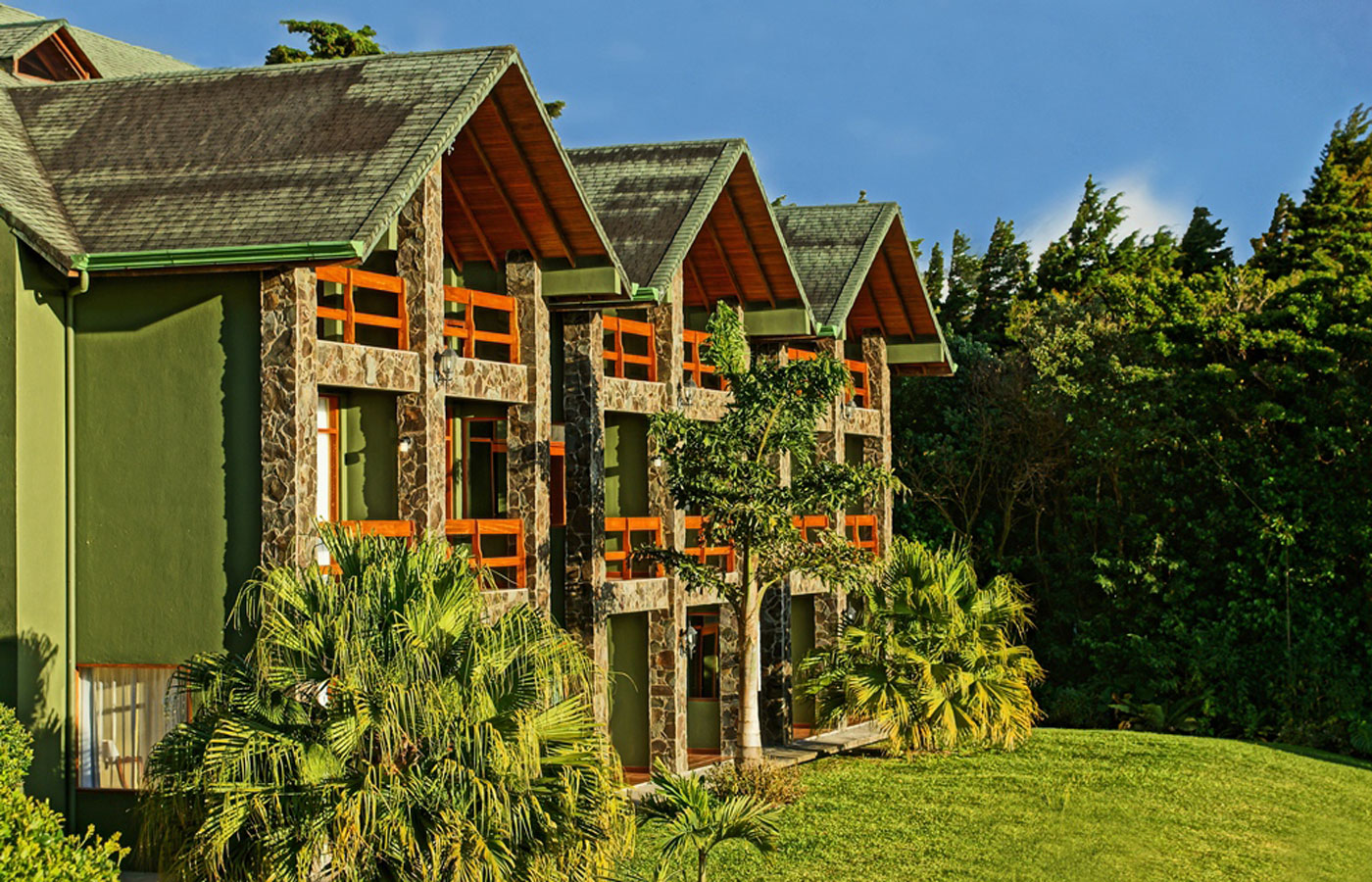 El Establo Mountain Hotel – Monteverde
El Establo Mountain Hotel is a cosy and comfortable hotel nestled within the misty cloud forest of Monteverde. Within the grounds, guests can find indoor heated pools, a spa and gym, two restaurants, a tennis court, hiking trails, a canopy tour and stunning views throughout. All this a far cry from what was once a working farm, now the hotel is a leader in promoting ecotourism and sustainability in order to protect the unique environment it resides in. The rooms at El Establo are simple, spacious and comfortable all boasting balconies with wonderful views.