BOGOTA
Flourishing on the gastronomy scene and a festival hotspot, Bogota is a captivating city.
At 2600m above sea level, Bogota is the fourth highest capital city in the world, beautifully situated in the heart of the Andes mountains. Take a stroll along the delightful cobbled streets of La Candelaria and admire the colonial buildings, some of which date back to the sixteenth century. In this maze of striking architecture you will find a vast network of restaurants that reflect Colombia's diverse culture, the capital city is fast becoming a world leader in culinary delights. Throughout the year Bogota hosts vibrant festivals, many of which focus on the arts, and these passionate displays of music and colour are an unforgettable experience. An essential experience in Bogota is a visit to the enormous 'Museo del Oro', which houses the world's most significant collection of pre-Hispanic gold. All of the pieces – from tiny earrings and golden beads to huge spears and masks – are laid out in stunning displays which allow locals and tourists alike to appreciate the intricacy and splendor of these miraculous items. Once you have finished admiring this impressive collection, take a stroll across the road from the museum and you will find a selection of market stalls selling good quality replicas of the pieces crafted into jewellery which are great for souvenirs or presents. Another must-do is taking a trip on the cable car leading up to Monserrate where excellent views of the city await. This up-and-coming capital is no disappointment either when it comes to finding good places to stay, there are plenty of luxury hotel options in the city, which is the perfect base to begin a holiday in Colombia.
WHERE TO STAY
Our favourite luxury hotels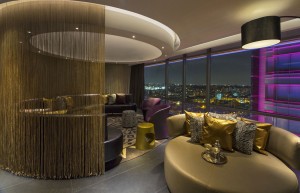 The W Hotel
Super stylish and with outstanding attention to detail, the W Hotel in Bogota is an exceptional place to stay. Contemporary and modern, arty and glamorous, this hotel boasts some of the most fabulous interior design in all of Colombia. Centrally located in the upscale Santa Barbara district, great shopping, trendy bars and fabulous restaurants are all within easy reach. After a busy day discovering what Bogota has to offer, return to the W Hotel for some serious relaxation time at its sublime spa and fitness centre. Alongside a menu of treatments, the spa also offers a steam room, hydrotherapy pool and manicure station. In line with the rest of this astonishing hotel, The W doesn't just offer guests one kind type of room, but 9 different styles ranging from 'Spectacular Rooms' to 'Cool Corner Suites' all the way up to the 'Extreme Wow Suite'.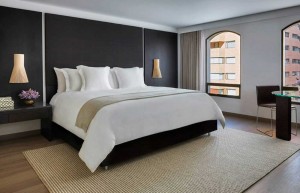 Four Seasons Bogota
The Four Seasons is a luxury 5-star hotel in Bogota's bustling Zona T. Offering everything you would expect from the Four Seasons name. Located in one of the most popular area of the city, filled with stylish bars and excellent restaurants, this hotel is the perfect mix of excellent service and contemporary luxury. The 64 rooms are decorated in an elegant style with dark polished wood and soft creams and whites. Original pieces of art add charming touches along with hand knotted carpets. All rooms are equipped with safe, minibar, complimentary Wi-Fi and Nespresso machine. The Fitness Centre is open 24 hours a day offering state of the art cardio equipment or an elliptical machine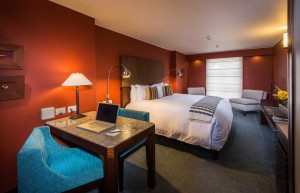 Sofitel Victoria Regia
A delicate mix of contemporary and classic design, this 5-Star hotel offers guests an exceptional stay in the heart of Bogota. The name Victoria Regia refers to an elegant Colombian water lily that floats in the Amazon and it is known for the strength of its leaves, and the hotel is named after its beauty and vigour. For those wishing to relax there is a fitness centre and spa available, plus a gourmet restaurant that awaken the culinary senses. 102 rooms, including five private suites, offer a luxurious stay. Featuring the latest trend in hotels and incorporating the use of bold colours, plus an array of contemporary furniture, guests will feel wrapped in a chic and cosy ambiance.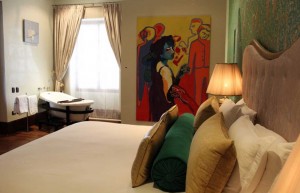 The Orchids
The Orchids is a unique and luxurious hotel situated in the heart of the Candelaria in Bogota's historic old town. Named after the national flower of Colombia this is an exotic and fascinating hotel. The building itself originates from 1892, neo-classical house it retains many original features including decorative floor tiles, gilded ceilings and cornices. The glass roof of the central part of the hotel allows natural light to flow in and perfectly complements the decoration. Each of the 8 suites is decorated in a unique style with opulence as the central theme. The suites are named after different plays and operas such as Tristan and Isolde, La Traviata or a Midsummer Night's Dream. The décor echoes that of a sixteenth century French boudoir and tall windows give way to beautiful views over the Candelaria.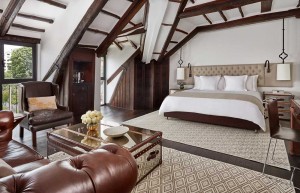 Four Seasons Casa Medina
The Four Seasons Casa Medina is a luxury 5-star hotel in the Casa Medina area of Bogota. Long established as one of the best hotels in Bogota, it is easy to see why. Housed in a traditional building of cultural interest with stone columns and an exposed brick façade, the hotel is located in Bogota's Zona G, surrounded by the city's best restaurants. The entrance opens on to a wide, sweeping staircase and the grand, stylish décor continues throughout the hotel. The 62 rooms include three types of suite and are all decorated in a stylish manner with classical Colombian elegance and authentic touches bringing a unique feel to the design.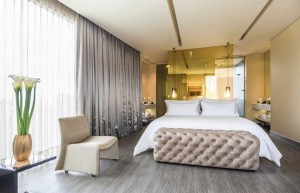 B.O.G. Hotel
B.O.G. Hotel is a luxury design hotel located in an exclusive area of Bogota. The only Colombian hotel to be part of the Design Hotels group, this is a real gem. The hotel's design is inspired by the treasures of Colombia and Bogota with gold as a strong colour used throughout, the influence of Bogota's Museo de Oro and complimented with Emerald green and black. The 55 rooms range from standard through to suites and maintain the same design theme with strong colours, complimented by shimmering gold throughout. Each room is equipped with safe, minibar, cable TV and Wi-Fi. The restaurant serves delicious cuisine with a strong Colombian influence.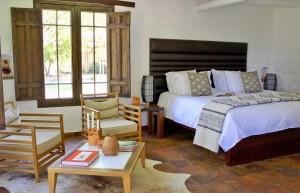 Hotel Casa Terra (Villa de Leyva)
Situated in the heart of colonial Villa de Leyva in Colombia, a four hour drive from the capital city Bogota, this pretty hotel reflects the charm and ambiance of the surrounding town and countryside. Hotel Casa Terra is a small boutique hotel which offers guests a relaxing base from which to explore this fascinating town and region. The colonial buildings and cobbled streets of Villa de Leyva are a joy to stroll around, and there are plenty of shops and restaurants nearby for guests to enjoy. The attention to detail shines through and the whole property has a home-from-home feel. Beautifully kept gardens allow guests to sit outside amid colourful plants and flowers, with the option to eat breakfast outside. Each spacious room is simple but comfortable, with large beds, complimentary WiFi, a pillow menu, flat screen TV and some also offer balconies.