SANTIAGO & VALPARAISO
Experience wonderful arts, passionate people, excellent wines and colourful buildings in these beautiful, cultural cities.
A clash of sophistication and eclectic art have made Santiago one of the most exciting cities in South America. It is not unusual to experience free outdoor exhibitions and live dramatic performances, especially around the Plaza de Armas (main square). The murals that cover the walls have been painted by world famous street artists, and injected more than colour into this vivacious capital. The people of Santiago are energetic with a passion for history, which is reflected in the many excellent museums found in the city. Taste the atmosphere for yourself in the lively Barrio Bellavista district, which is full of vibrant bars and chic restaurants. As with all major cities, Santiago is not lacking in choice of luxury hotels, and some of the best boutique hotels in Chile can be found here. Further afield, Santiago is surrounded by snowy mountains, in the foothills of which sit the highly respected vineyards of the central valley wine region. World class wineries are open for visitors to taste the full bodied reds and flavoursome whites in a tranquil and idyllic setting – indeed taking a day trip out to experience this is one of the most popular day trips from the city. Just a couple of hours further out of Santiago lies the coastal city of Valparaiso. Colourful buildings appear to be piled upon one another on the steep cliffs, and a walk through this enticing maze of cobbled alleyways will reveal a cultural explosion. There are many international street artists that call this interesting city home, and their presence doesn't go unnoticed – a large majority of the streets are decorated with highly skilled, multi-coloured murals. Nearby, there are beaches to relax on where tourists and locals alike can take advantage of the year-round warm weather. The perfect way to experience this little sea side gem is to stay in a luxury hotel on the hillside, from which you can drink in the view over the bay.
WHERE TO STAY
Our favourite luxury hotels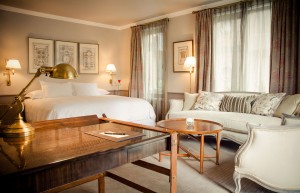 The Singular Santiago

The Singular Santiago is an alluring blend of classic and contemporary, offering modern comforts while exuding the charm of a bygone era. Although the hotel is brand new, your room will have an air of classic comfort. Tasteful touches, rich wood, supple leather, different colour schemes and soft lighting create a warm, welcoming environment within which to unwind after a day exploring the city. The hotel offers 62 rooms ranging from Classic to Suites. All are equipped with a safe, refrigerator with soft drinks, complimentary Wi-Fi, plus a full bathroom with shower and bathtub. The rooftop bar is the perfect place to relax after a day's shopping or sightseeing, enjoying a cocktail or glass of wine and taking in the view.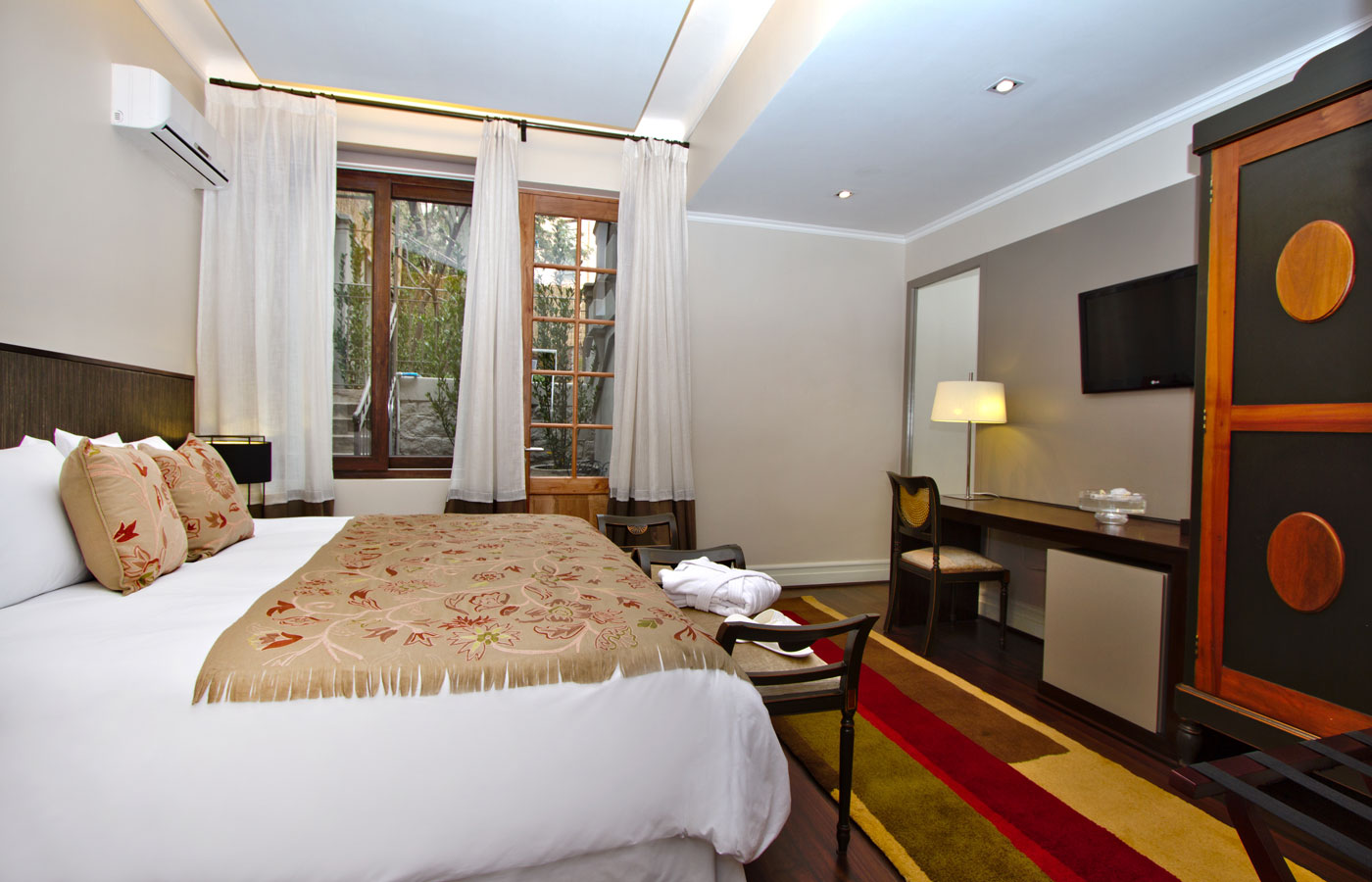 Casa Bueras Boutique Hotel

Casa Bueras is a boutique hotel in Santiago's charming bohemian Lastarria district. The hotel itself dates back to 1927 and the historic town house has been lovingly converted into an elegant and unique place to stay whilst retaining many original features. Surrounded by museums, restaurants and boutiques, it is the perfect place for exploring Chile's capital. There are 14 rooms are spacious and elegantly decorated with polished wood flowers and beautiful embroidered bed spreads. All have tall windows allowing natural light to fill the room. Each is equipped with iPod docking station, Wi-Fi, cable TV, safe and minibar.  Guests can enjoy the hotel facilities which include a gym, beauty salon, outdoor pool and lounge bar where they can enjoy a relaxing drink after a day exploring the city.
.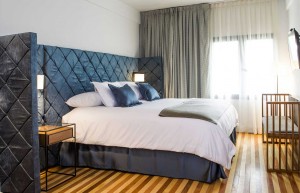 Luciano K

The Luciano K is a luxury, boutique hotel in the bohemian Lastarria neighbourhood of Santiago. Located opposite Parque Forestal and a few minutes' walk from numerous sights and restaurants, this is an elegant hotel in one of Santiago's prime areas. Boutique, art deco and modern blend The hotel is a stylish blend of the art deco and the modern, perfectly capturing the glamour of the 1920s when the hotel was built, and the modern updates that complete its classy vibe. There are 38 bedrooms decorated in crisp whites and cool slate blues. They range from Standard through to Suites and all benefit from a safe, minibar, cable TV and Wi-Fi. The restaurant serves gourmet cuisine in an elegant location and the rooftop terrace bar offers a range of drinks and tapas.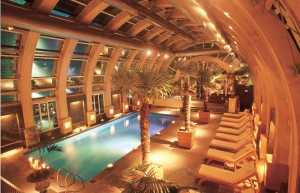 Ritz Carlton

The Ritz-Carlton is a luxury 5-star hotel in Santiago's prestigious El Golf district. With all the style associated with the Ritz-Carlton brand, this hotel is a cut above the rest. The 205 rooms and suites are decorated with classical elegance and offer marble bathrooms and fabulous city views. The hotel also offers 49 Club Level rooms for guests who desire the extra level of Ritz-Carlton service. Floor to ceiling windows throughout the hotel offer views over the city and the Andes mountains beyond. There are 4 bars and restaurants each with a different offering. Estro champions the Chilean farm-to-table concept with organic produce and fresh local ingredients while Afternoon Tea is served in the Lobby Lounge. The rooftop health and fitness centre is a highlight of the hotel with a heated indoor pool, gym, sauna, spa and stunning views.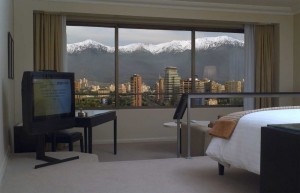 Hotel Santiago – Mandarin Oriental

The Hotel Santiago is a luxurious 5-start hotel in the upmarket Las Condes district of Santiago, offering everything you would expect from the Mandarin Oriental Hotel Group. The 310 rooms are decorated in clean whites with soft accents of greens, browns and ochres. The rooms range from standard to suites and all offer views of the city, hotel gardens or Andes mountains. This hotel is unique in that it offers the Grand Club Lounge, a 'hotel-within-a-hotel' concept of VIP service and accommodation. Offering 38 rooms and 23 suites, this is for guests who want that extra level of comfort and service. The hotel offers excellent leisure facilities including an outdoor lagoon-style pool complete with waterfall.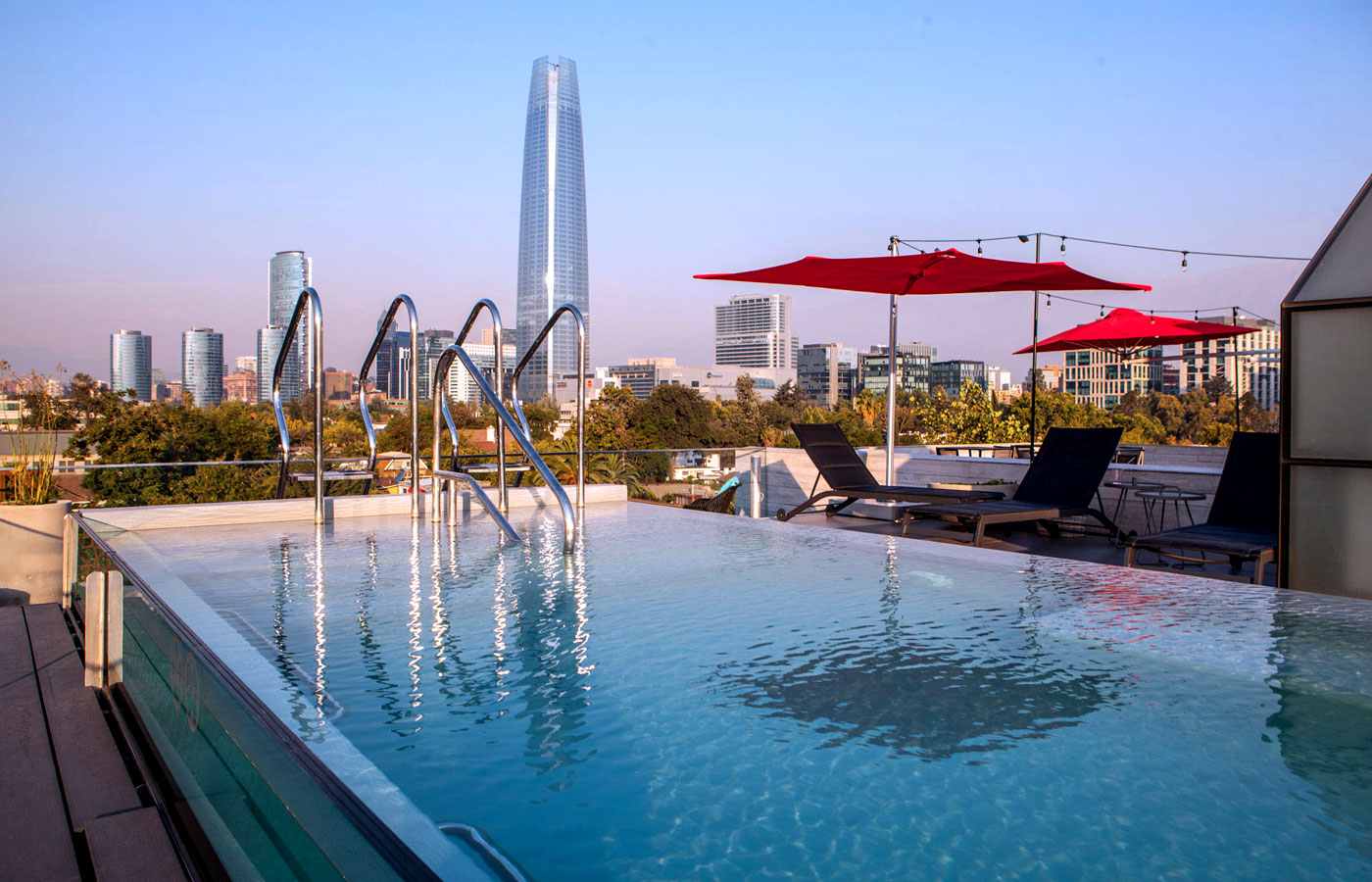 Hotel Ladera

Hotel Ladera is a modern and unique hotel offering exclusive 360° views of the city of Santiago and the surrounding Andes mountains. This brand new hotel of eye-catching design is a combination of contemporary style, first class facilities and an excellent location. A beautiful pool and terrace area grace the rooftop and guests can enjoy spectacular panoramic views over the whole city, plus the distant snow capped mountains of the Andes. The rooms at Hotel Ladera maintain the same modern feel of the rest of the building, and offer excellent amenities including complimentary L'Occitane toiletries, a coffee machine with a range of capsules included, a minibar, free-of-charge WiFi throughout, large beds, air conditioning, 40″ television and a safe.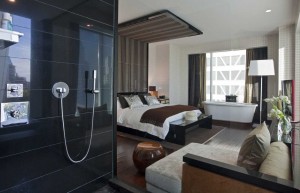 The W Santiago

The W Santiago is a luxury, 5-star hotel in the upmarket Las Condes district of Chile's capital city, Santiago. This is a modern and sophisticated hotel with a cool and luxurious vibe. The 196 rooms have categories such as Wow, Wonderful and Spectacular.  Each is equipped with a safe, minibar, cable TV and Wi-Fi. Floor to ceiling windows offer panoramic views of the city or the Andes mountains. The hotel has three restaurants offering a selection of sophisticated Latin American and international dishes. A wide range of wines and cocktails is on offer and the rooftop bar has stunning views over the city and mountains. There is a nightclub in the hotel for guests who want to party and for those hoping for relaxation there is a fitness suite, steam room and rooftop pool.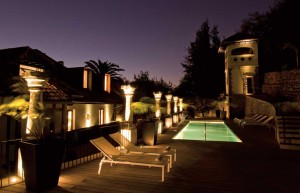 The Aubrey

The Aubrey is a luxury, boutique hotel in the quirky Santiago neighbourhood of Bellavista Providencia. The style of the hotel is of the old mansion that it inhabits, with white walls, exposed beams, arches and polished wooden floors. The 15 rooms are all decorated in a unique style. Crisp whites are complemented with warmer accents. Most rooms have their own balconies and private patios. Afternoon tea is served each day with a selection of fine cakes and delicate teas. The Piano Bar provides indoor and outdoor seating and guests can dine in an elegant and relaxed setting. The hotel is set in beautiful landscaped gardens and guests are invited to take advantage of the alfresco dining. The outdoor heated Jacuzzi and swimming pool offer the ideal relaxation.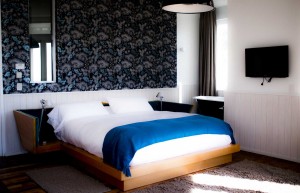 Palacio Astoreca – Valparaiso

The Palacio Astoreca Hotel was fully restored in 2012 and is located in the core of the historical city centre in Valparaiso, overlooking the Pacific Ocean. Guests can enjoy an onsite spa, restaurant, wine cellar, bar and a library, housed in two buildings: the palace, a completely restored national monument, and an older house, whose original façade has been conserved. Both buildings have recovered the style and elegance that they had lost over time. Each room has original decor, combining the comforts of modernity with old time charm. From your room, you can see the sea and the port, with its ships scattered around the bay, as well as the characteristic and spectacular hills, with colourful homes during the day and thousands of lights by night.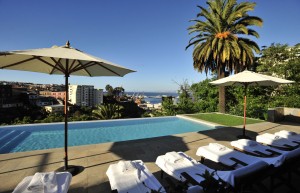 Casa Higueras – Valparaiso

In the heart of Cerro Alegre, with magnificent views of Valparaiso's bay, is Casa Higueras. A simple façade hides the inside of this sophisticated and warm boutique hotel, where you can find 20 guestrooms decorated with taste and elegance. This mansion, built in the 1920's, has been respectfully restored to create a union of modern comfort and the warmth of a historical past. On the garden level there is a pool for guests to enjoy, and a full spa allowing guests to fully relax during their stay at Casa Higueras. Comfortable, bright, and spacious, Casa Higueras 20 rooms are divided into 5 types: Traditional Rooms, Premium Rooms, Premium Superior Rooms, Superior Rooms and Deluxe Rooms, and all boast the comforts of a modern hotel.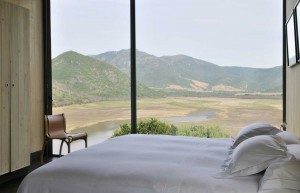 Vik Chile

Situated in the middle of the 11,000 acre VIK Vineyard, VIK Chile is a stunning avant-garde retreat. Just twenty-two suites, all boasting unique artwork, are available for guests making this an exclusive luxury resort. This striking hotel is perfectly situated on a green hilltop which overlooks the surrounding vines, valleys, forests and hills, all graced with a distant backdrop of the Andes Mountains. As of 2019, the hotel announced the completion of seven new 'Puro Vik' cabins. The contemporary architecture with three walls made entirely of glass eliminates the visual borders with the surrounding treetops and foliage ensuring privacy for guests, while simultaneously allowing them to enjoy the expansive and dramatic vistas without interruption. The facilities available to guests at VIK Chile will not disappoint – a full spa with one-of-a-kind vineyard inspired treatments is available, plus a sleek infinity pool, fitness centre, games room and solarium.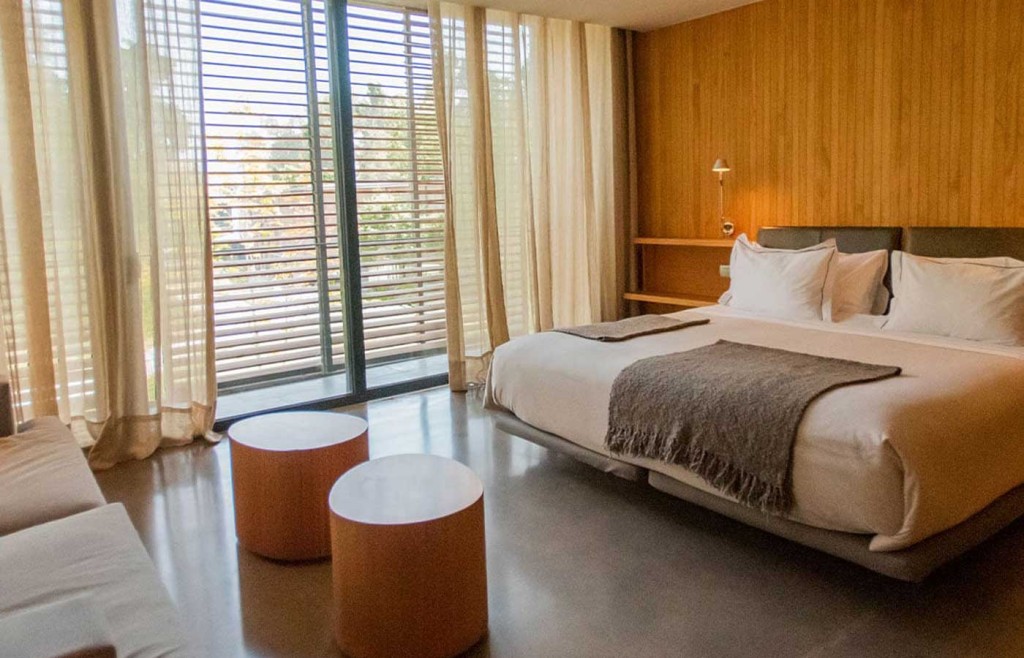 Hotel Las Majadas

Just south of Santiago, get lost in the Pirque countryside in the magic of Las Majadas. Built in 1907, the French-style palace is surrounded by a 10-hectare park, lined with century-old trees that invite peace and respite from the hustle and bustle of the capital. Las Majadas came into the hands of new owners in 2016, who helped restore it and begin a new chapter in its history, becoming a star destination hotel in Chile. Olmos and Encinas tree species give the modern architecture a touch of rustic detail, providing a deep connection to the local environment. Experience all that Chile has to offer via its programs: taste its local produce at Sequoia, the hotel's restaurant, and the Maipo Valley's best Cabernet Sauvignons at the Piano Bar and La Taberna Bars. You're just a short getaway to the region's most prolific vineyards and world-class hiking — a perfect encounter with central Chile, its gastronomy, its wines, its cultures, and the majesty of the Andes.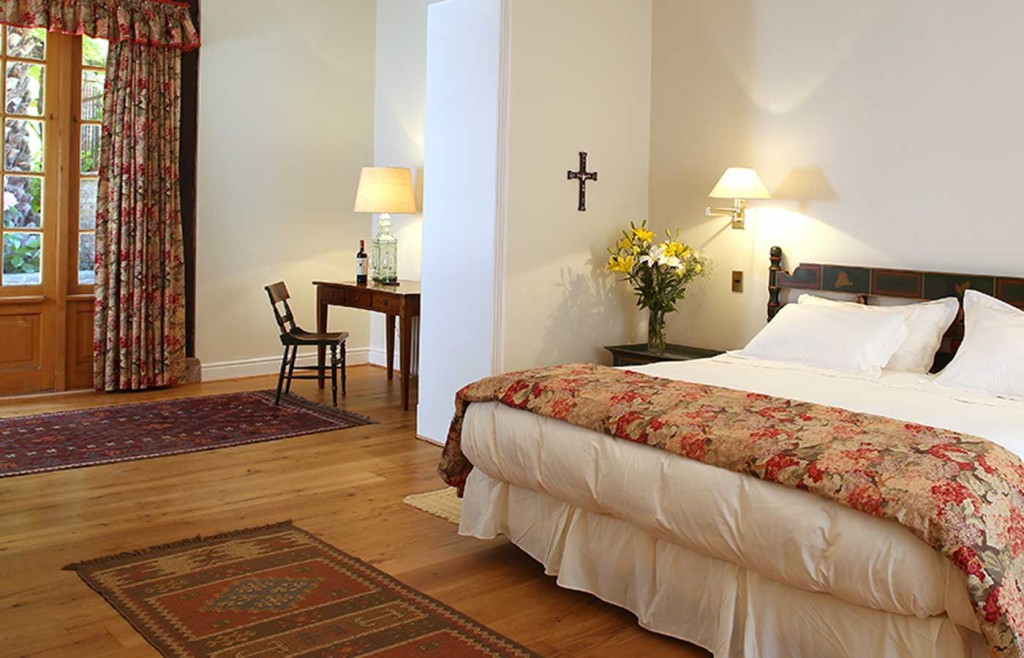 Hotel Casa Real – Vina Santa Rita

The Hotel Casa Real is located on the Santa Rita Estate, 45-minutes south of Santiago and was formerly the summerhouse of the winery's founder. Following restoration, it was converted into a hotel in the mid-1990s. Located in a 40-hectare park designed by leading French landscape gardener Guillaume Renner. Its late 19th century classical style has been preserved, making it a historic monument and the only park of its kind in the country. Hotel Casa Real offers 16 beautiful and spacious rooms, fine dining, salons, and outstanding service, in a setting of absolute privacy and exclusivity.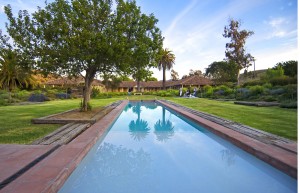 La Casona Hotel & Matetic Vineyard

La Casona Hotel & Matetic Vineyard is a boutique hotel and winery located in an estate within the Casablanca Valley, less than an hour from Santiago airport. It is the only winery in the Casablanca Valley with a high-end boutique hotel attached. The hotel, called La Casona is a traditional 1900's L-shaped building with terracotta tiles and large gardens filled with flowers and birds. There are just eight rooms, each one named after a different grape. The style is classic in fitting with the building. There is a long swimming pool, and three restaurants, one of which is just open to hotel guests. Located between Santiago and the coast, Matetic is great for combining with a visit to Valparaiso, and can be visited just for the day, and booked on both full and half-board basis.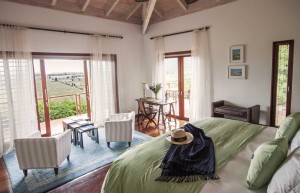 Clos Apalta Residence

Nestled in the beautiful Colchagua valley, surrounded by verdant forest and with views overlooking the vineyards, this is an intimate and elegant hotel and winery. Clos Apalta describes itself as 'French in essence, Chilean by birth' and this perfectly sums up the style and sophistication and this luxurious wine lodge. The hotel offers just four individual suites each with its own private terrace and garden. Each suite is uniquely decorated, inspired by the four different grape varieties used at the winery. Natural silks, leather and wood create a stylish, airy feel in each room. The main building, known as The Residence, houses the living room and the dining room which serves delicious cuisine, traditionally Chilean and designed to complement the wines, it uses fresh ingredients from the organic garden. Wine if of course a central feature at this hotel. The Clos Apalta winery, 650 hectares of organic and biodynamic vines, surround the property.