THE LAKE DISTRICT & NORTHERN PATAGONIA
A picturesque hub of activity, the popular Chilean lakes region is the gateway to Patagonia.
Verdant forests and crystal clear waters combined with hot summers and snowy winters create an activity paradise. Fly fishing, white water rafting, horse riding, volcano trekking, hot springs and birdwatching are just a few options for the active traveller on a tailor made holiday to this region. Close to the charming town of Pucon, the magnificent snow-capped Villarica volcano dominates the skyline. The valleys below house other lovely lakeside towns which have an atmosphere similar to the villages of the European Alps. Here you can swim in the lake in the summer, ski in the winter, and relax at the end of a busy day with a stein of locally brewed, German-inspired beer. As you travel south, the villages become smaller and less frequent, and the scenery explodes with beauty. There are more volcano peaks on the horizon, wide stretches of untouched forest which hummingbirds call home and huge azure blue lakes. The close proximity to the lakes region of Argentina means this area is ideal for a road trip – hire a car either side of the border and spend a week or two exploring the waterfalls and mountains whilst staying in luxurious lodges. This is the perfect introduction to the glaciers, fjords and rugged peaks which can be found in the more southerly areas of Patagonia.
WHERE TO STAY
Our favourite luxury hotels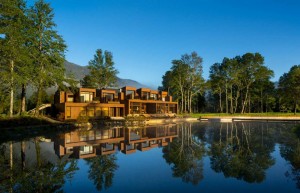 & Beyond Vira Vira
& Beyond Vira Vira is a luxury hotel located near to the laid back town of Pucon. Part of the &Beyond group, the hotel operates a fully-fledged farm and its principal aim is to provide fresh, healthy and delicious food to its guests and to provide an interesting insight into the operations of a modern farm and cheese dairy. The Hotel has been designed by the owners to offer spacious, luxurious and above all very cosy and comfortable suites. All guests live in beautifully crafted rooms at either the main house (together with the owners of the Hotel) or in nicely decorated and spacious junior suites at the main Vira Vira building or in carefully designed and decorated senior suites in separate apartments – most of them located directly at the shores of the Liucura river.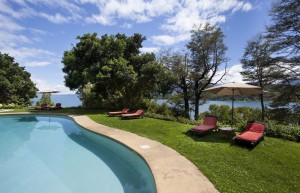 Hotel Antumalal

Beautifully located within private gardens and with its own pebble beach, Hotel Antumalal sits of the edge of the pretty Lake Villarica. The hotel delivers a quality, relaxing and luxurious experience. The unique setting merges natural beauty with style and personalized service. It is the attention to detail, tranquillity charming design that make this an experience, not just an overnight stay. The hotel was built in the late 1940's and has been host to notable guests including Queen Elizabeth II and Prince Phillip, Neil Armstrong, James Stewart and Emma Thompson to name a few. Contemporary, modern design is mixed with the original 50's style furniture to create an elegant and clean ambiance. The walls of glass allow views of the lake and surrounding area, whilst wood panelled walls and open fireplaces maintain a warm and cosy atmosphere.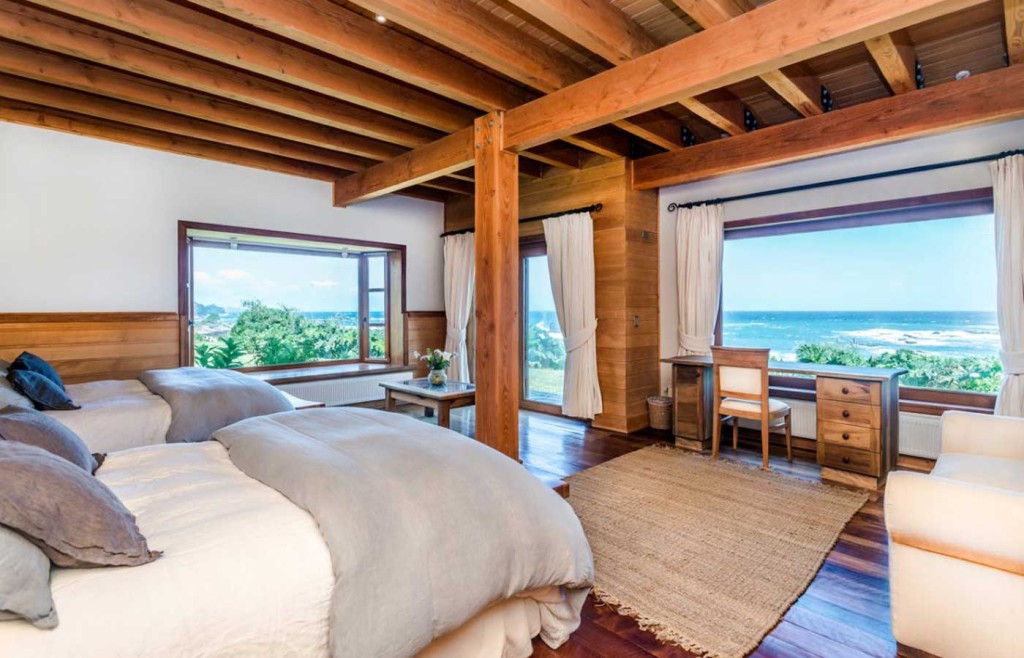 Mari Mari Natural Reserve Experience
Elegance and exploration meet at Mari Mari Natural Reserve, an idyllic refuge sprawled across 13 miles on Chile's Pacific coast. The six airy oceanfront villas here are perched on bluffs, furnished with patios, wood-fired hot tubs, and fireplaces; an outdoor pool encourages serene, under-the-stars swimming. Onsite adventures abound at the property's horse stables, greenhouses, marina, and look-out tower (the perfect perch to spy whales and dolphins from). Further afield, embark on bespoke land and water expeditions, led by the resort's many seasoned guides, which include visits to penguin colonies and sea lion isles, customized hikes through tropical terrains, and kayaking journeys, plus a series of cultural exchanges with members of the local Mapuche community.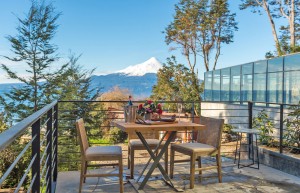 Hotel AWA
Set amid forest on the shoreline of the stunning Lake Llanquihue, Hotel AWA is an architectural masterpiece offering guests a private beach, first class service and much more within it's 20 hectare estate. The surrounding area is well known for it's outstanding beauty, which visitors can enjoy through a variety of activities on offer such as fishing, kayaking, zip lining, volcano trekking, white water rafting and birdwatching. There are few places better to relax after a busy day than Hotel AWA. Floor to ceiling windows showcase the vistas on every side, including great views of volcano peaks, and every room is spacious and exceptionally modern. The interiors throughout are based on a natural design, featuring local arts and crafts, yet also come with a long list of amenities such as TV, complimentary Wi-Fi, king size beds, fire place, air conditioning, jacuzzi baths and luxury toiletries.