SOUTHERN BRAZIL
The south of Brazil essentially incorporates the states of Rio Grande do Sul, Santa Catarina and Paraná. It's an area of strong European immigration which is still very much in evidence today. It's a hugely diverse area but one which is often overlooked by many tourists. These are fabulous areas to visit in the Brazilian summer and during the Brazilian winter.
Paraná is best known for Iguassu Falls but the state has much more to offer, primarily located around the state capital of Curitiba which is the envy of urban planners the world over and Brazil's most efficient city with an excellent transport network. The city is the starting point for the most famous train journey in Brazil, the Serra Verde Express, which runs from Curitiba to the historic town of Morretes. A further journey on from Morretes brings you to the coastal town of Paranaguá which is the jumping off point for Ilha do Mel, a favourite with backpackers and surfers. As you head south you will cross into Santa Catarina, a state which Brazilians flock to in the summer for the beach and a party. Inland Santa Catarina offers vineyards, canyons and beer. The town of Blumenau is a home of Germanic brewing where its German-style half-timbered buildings line the main street and it's the site of an annual Oktoberfest parade, the largest in the world behind Munich. Santa Catarina is best known for its beaches. The state capital of Florianopolis, also known as Floripa, is a hugely popular party town in the summer, the Ibiza of Brazil. There are hundreds of miles of superb beaches stretching north and south of Floripa. 90 minutes south of Floripa is the town of Praia do Rosa which has one of the most beautiful bays in the world. It's also the best place in Brazil to see whales. Between June and November, the area is home to migrating Southern Right Whales which can easily be seen from the shore.
On the border with Uruguay is the most southerly of the Brazilian states, Rio Grande do Sul. The state capital of Porto Alegre is close to Brazil's best wine growing region. Due to the Italian immigrants from the 19th century, the area around Bento Gonçalves and Garibaldi, are home to some of Brazil's best vineyards and the country now produces a number of excellent sparkling whites which are now exported overseas. Close by in the spa town of Gramado with it's German influence and chocolate shops which many Brazilians visit for the cooler air, whilst the nearby Aparados da Serra and the Serra Geral offer spectacular trekking through deep canyons and some wonderful self-drive routes through snaking high passes. It's a hugely diverse region and far from the general stereotyped opinion of Brazil and certain one not to overlook.
WHERE TO STAY
Our favourite luxury hotels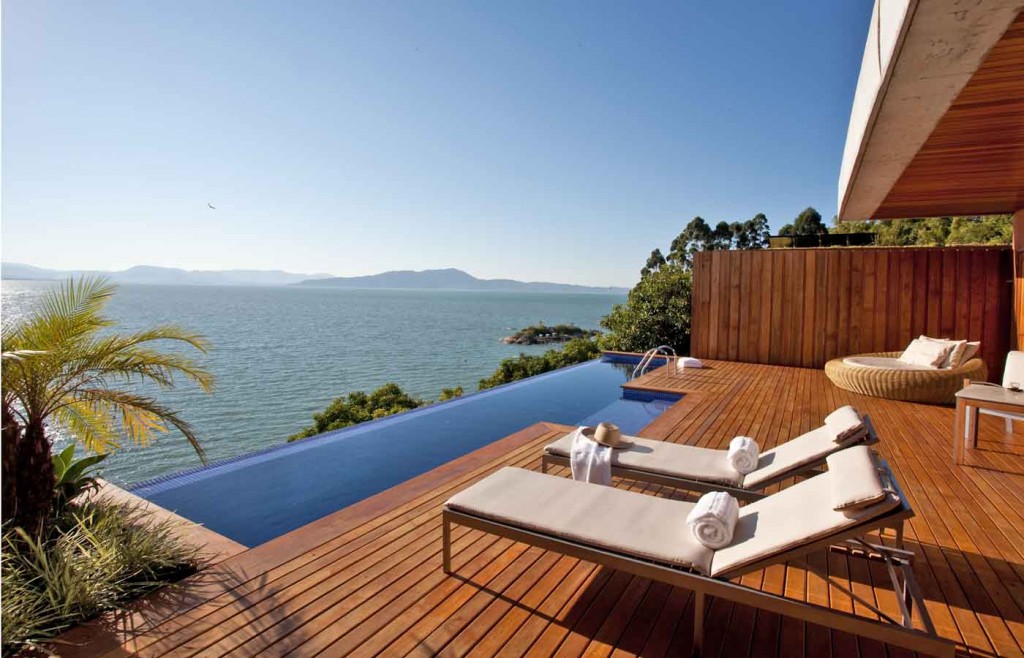 Ponta dos Ganchos – Florianopolis
The small hotel of Ponta dos Ganchos is in a stunning location close to a traditional fishing village along the Emerald Coast of Brazil. The property is situated on a privately owned peninsula within a state park, with spectacular views over the forested coastline and blue sea. It is widely regarded as one of the most exclusive resorts in Brazil, and has a number of awards under its belt to support this. Each of the 25 individual bungalows are styled in a sophisticated way, and offer guests total privacy within a harmonious setting. If you are looking for rest and relaxation, there are few places better, particularly as this resort is only for those over the age 18. The Leading Hotels of the World seal is a testament to the impeccable facilities, the exquisite cuisine and the quality of the services. Ponta dos Ganchos boasts a heated swimming pool, massage gazebos, Spa, state of the art fitness centre, ocean front tennis court, cinema, restaurant, bar and nature walks through the surrounding nature. Not far from the resort, guests can experience Arvoredo Island, one of the best sites in Brazil for scuba diving, plus on nearby islands dolphins are regularly spotted. This unique part of the world where the waters of the Emerald coast meet the lush rainforest vegetation is simply idyllic.
Felissimo Exclusive Hotel – Balneário Camboriú
Felissimo Exclusive Hotel is a luxurious property surrounded by Atlantic rainforest and next to stunning beaches, making it perfect for an unforgettable holiday to Brazil. There are 11 specious rooms which are elegant and exceptionally comfortable. All four categories feature modern amenities including Apple TV, iPod stereos, remote controlled air conditioning, a mini bar, 400 thread count linen, Egyptian cotton bath towels, pillow menu, a whirlpool bathtub and complimentary toiletries by BVLGARI and L'Occitane. Inside the hotel grounds guests can enjoy a hot tub, heated swimming pool, massage room, bistro, dry sauna and well manicured gardens. There are bicycles free for use, which allows easy access to the many shops, bars and restaurants that are nearby. A short 500m away guests can find the beach of Praia dos Amores , and the hotels wonderful hilltop location provides panoramic views of the area. With a huge amount of style and glamour, the Felissimo is a wonderful choice for a luxury holiday to Brazil.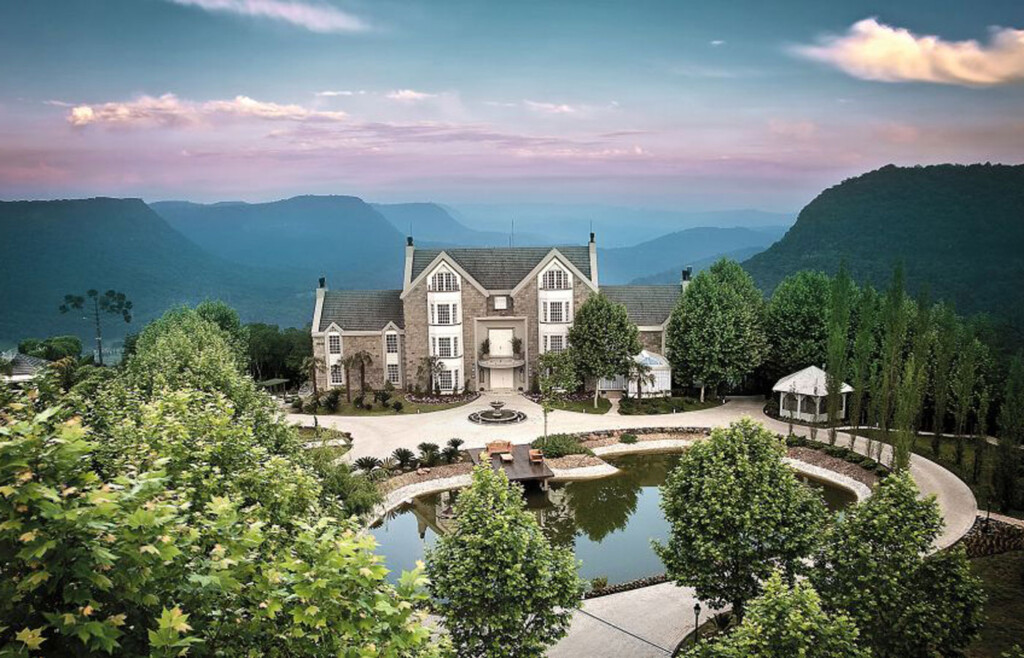 Hotel Saint Andrews – Gramado

Inspired by the magnificent Scottish lodge that bears its name, guests can expect a slice of old world hospitality in the Brazilian countryside at Saint Andrews Gramado.  The astonishing hotel (a member of Relais & Châteaux) is located in the heart of this distinctly European enclave facing the misty Quilombo Valley. This is Serra Gaúcha (the Gaucho Highlands), a wondrous natural landmark on the "Romantic Route" scenic drive. And Saint Andrews brings a little taste of Scotland to its viridescent hills. A boutique lodge in size and in attention to service, Saint Andrews Gramado offers just 19 different accommodations. Each is named for the precious stone that lent its colour to the individual décor found within. Peaceful tranquility is paramount here (children are not permitted) and guests are invited to partake in biking, wine seminars, cooking classes or a round at the local 9-hole golf course, which is a short drive away, no pun intended. A well-stocked wine cellar awaits oenophiles at Saint Andrews Gramado, while the hotel restaurant serves up sophisticated international cuisine to suit the finest palate.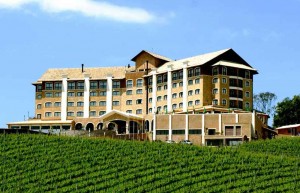 Hotel & Spa do Vinho – Vale dos Vinhedos

Surrounded by vineyards, Hotel & Spa do Vinho is the ideal choice for those who enjoy fine wine and elegant luxury. Located a short distance from Miolo Winery, the hotel near Caxias do Sul is located in the heart of Vale dos Vinhedos, one of Brazil's best wine regions. This large and comfortable hotel offers guests a wonderful place to stay where all their needs will be catered for. Each room has views of the surrounding vineyards, plus air conditioning, cable TV, a minibar and lounge area. The hotel itself has a wide range of facilities including an outstanding Spa, large swimming pool, library, tennis court and 3 restaurants. Guests can easily spend a day enjoying each of these options, before indulging in the excellent gastronomy on offer, including some which is French inspired. Aside from the many amenities this hotel offers, it is home to the largest wine cellar in Brazil, housing over 700 international and national labels. It's a perfect location to base yourself and explore the vineyards of southern Brazil.