SAO PAULO
Stylish, innovative, and boasting an incomparable urban 'cool' factor: whilst São Paulo will never win the prize for being Brazil's most photogenic tourist destination, this sprawling concrete megalopolis is a treasure trove of historical and cultural delights, offering some of Brazil's most excellent gastronomy, nightlife and art.
One of Brazil's most culturally explosive and diverse urban centres, São Paulo is a melting pot of truly global influences. Home to the largest Japanese population outside of Japan, and also the host of a similarly sizeable population of Italian descent, São Paulo's gastronomic greatest hits include world-class Italian cuisine and some of the continent's most stylish and experimental sushi restaurants alongside world-renowned establishments serving traditional Brazilian flavours in utterly original ways. For food and drink lovers, São Paulo presents a dazzling array of glamorous restaurants and boutique eateries, complete with an abundance of chic bars and clubs in which you can dance the night away after dessert.
São Paulo is a feast for all the senses and for culture lovers the city boasts an impressive spread of art museums, concerts, arthouse cinemas and experimental theatre. MASP, the iconic city museum on stilts hosts a fabulous collection of boundary-pushing contemporary work, whilst the Museu de Arte Sacra contains an exquisite collection of traditional religious artefacts. Brilliant art and originality of expression spills over from the museums to the streets in this dynamic creative hub. Neighbourhoods such as the trendy Vila Madalena and the Japanese-influenced Liberdade are an eclectic collage of some of South America's most daring, skilful and politically-charged street art. A particular highlight are the works of globally celebrated muralist Eduardo Kobra, a São Paulo native, whose technicolour portraits of Brazilian architect Oscar Niemeyer and Formula One legend Ayrton Senna adorn the faces of two of the city's towering skyscrapers.
A mind-blowing 20 million people live in the greater São Paulo area; it is a hive of human activity on par with great cities like New York and Tokyo; yet for those looking for a short break from the buzz of the city centre, São Paulo is also home to several beautiful parks where the cushion of the tropical vegetation provides an oasis of tranquillity in the heart of the metropolitan frenzy. Parque Ibirapuera is Sampa's answer to Central Park and the perfect spot to drink fresh coconut water on a park bench overlooking the spectacular fountains. Just off Avenida Paulista itself, the city's central avenue, you could spend hours hidden away reading a book in Parque Trianon, amongst palms and elegant orchids, forgetting that you were ever in a city at all. Spend an evening sampling the culinary delights of the street food vendors on Rua Augusta, go shopping in the upmarket Jardins district, cycle under the shade of palm trees in Parque Ibirapuera, wander round avant-garde art museums or sip a classy cocktail in Vila Madalena. Take some time to get to know São Paulo – this boundless concrete jungle might just surprise you.
WHERE TO STAY
Our favourite luxury hotels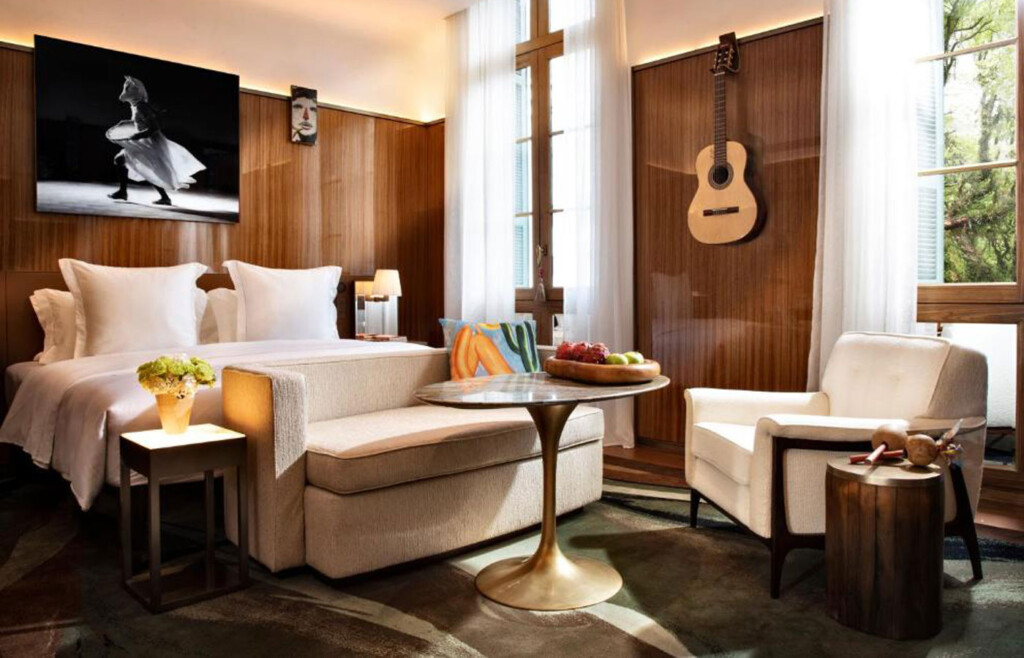 Hotel Rosewood Sao Paulo
Rosewood's first property in South America had been in the works for over a decade. Modern haven meets central city elegance at Rosewood São Paulo, a contemporary hotel surrounded by shopping, restaurants, lush parks, and tree-lined avenues. The lobby restaurant and bar are buzzing every night of the week with Brazilian models and athletes and well-heeled entrepreneurs? The striking Philippe Starck-designed interiors, tree-shrouded Jean Nouvel-designed tower, and the touch of nearly one hundred artists make this hotel a landmark first in the city. Housed in a transformed century-old property, the hotel preserves historical attributes while introducing the delights of modern luxury. Rooms and suites boast a sophisticated, cozy atmosphere with modern amenities. Exquisitely designed living spaces feature stylish furnishings, fine linens, and plenty of natural light. Amenities include plush robes, heated towel rack, shoeshine service, and more. Rosewood São Paulo offers six different dining venues, with a variety of moods and specialties. Retreat and relax at Rosewood's Asaya wellness spa, a six-treatment-room spa, which includes a fitness centre. Experience one of the two pools—enjoy a swim on the hotel's rooftop or soak amid the tranquil and lush gardens. Its arrival in Sao Paulo has brought a new standard for all hoteliers to aspire to.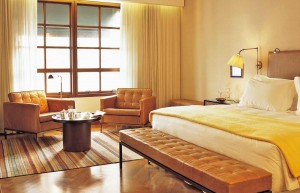 Hotel Fasano Sao Paulo
The Hotel Fasano Sao Paulo boasts prime position at the heart of São Paulo's exclusive Jardins neighbourhood. This neo Art-Deco masterpiece by Rogerio Fasano has been the city's most luxurious and sought after hotel since its opening and lives up to its reputation as one of the most exclusive destinations in the city.  Sitting of one of the most desirable shopping streets and restaurant areas in South America, you are only a throw stones away from double Michelin starred D.O.M, international designers names and flagship boutiques. The interior keeps to the theme of the Fasano Art-Deco style with strong Italian influences. Warm polished wood and contemporary pieces gives this luxurious hotel a chic edge and follows the Fasano design pattern.  Large windows, light linens, minimalist marble bathrooms and king-sized beds ensure that all the rooms are spacious, relaxing and offering a sanctuary from this bustling city.  For those looking for an opportunity to unwind after a busy day then the Fasano offers one of the best Spas in Brazil. A well-equipped gym, pool and personal trainer ensure those who feel more energetic can make the most of the facilities on offer. To further separate the Fasano from the competition the hotel is home to one of the few Michelin star restaurants in South America.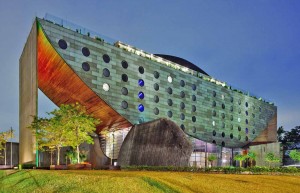 Hotel Unique Sao Paulo
Hotel Unique lives up to its name as one of the most iconic and desirable hotels in Sao Paulo.  Located on a spacious spot in the green Jardins district you are a short walk from Ibirapuera park and the Museum of Modern Art. This extraordinary hotel, designed in the shape of a ship, by famed Paulistano architect Ruy Ohtake ensures an experience like nothing else. The use of light is key to the design, guests move through lifts and corridors embraced with darkness to rooms that are alive with light and enormous windows to views of this fabulous city. Coloured lighting, contemporary furniture and curved walls create an atmospheric and sophisticated environment to further enhance your experience. The hotels rooftop is exceptional and legendary within Sao Paulo. The Skye Top boasts a crimson red pool with an underwater sound system and views across the city.  In the evenings the roof top establishes itself as one of the most exclusive and desirable hot spots in Sao Paulo. This is the best place for designer cocktails, famous DJs and views of the city. For those looking for a more relaxing experience then the hotel offers a Caudalie Spa, sauna and pillow menu to ensure the perfect night's sleep. The gym is spectacular with a vast array of equipment and a slide that takes swimmers in a luridly coloured green, blue and yellow pool. For one of the most sought-after dining experiences in Sao Paulo then head to Skye Restaurant.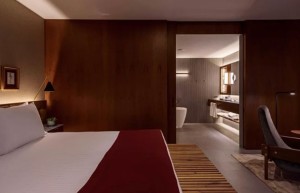 Fasano Itaim
Fasano Itaim is located in the upscale neighbourhood of Itaim Bibi in Sao Paulo, an area is known for its vibrant dining and nightlife scene. The hotel's striking architecture was designed by the renowned office Aflalo/Gasperini in partnership with Marcio Kogan for the interiors. The Fasano´s tradition in excellence for more than 100 years of gastronomy will be one of the most distinguishing features of the hotel and to celebrate the 30th anniversary of Gero restaurant, Gero Fasano has opened a second location within Fasano São Paulo Itaim. The 100-seat venue also features a terrace for a stylized indoor-outdoor dining experience. Towering over 20 floors, the 107 residential-style accommodations at Fasano São Paulo Itaim range from 30 to 190 m² and are divided into six categories. Five Spa treatment rooms, two saunas, a beauty salon, and a state-of-the-art gym compose the leisure space.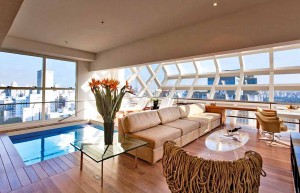 Hotel Emiliano Sao Paulo 
Located in the Jardins neighbourhood of the city, the Hotel Emiliano Sao Paulo is ideally situated on the Rua Oscar Freire, the Rodeo drive of São Paulo. The hotel is within walking distance of designer shops and world-renowned restaurants, including the double-Michelin starred D.O.M, it's hard to find a more desirable location.  This chic and luxurious hotel is designed around classic minimalist Brazilian style. Smooth warm wood, soft furnishings, open spaces and neutral shades dominate this hotel and create a sense of peace and comfort. An impressive vertical living wall and suspended orchid garden bring the tropical world. A strong link to Brazilian art and design is witnessed throughout hotel from the beautiful rope chairs by Brazilian Campana brothers to the Siron Franco 'Cocoon' hanging in the bar. Each bedroom is designed around privacy, light and luxury. Eames armchairs and desk, Italian soft leather and Egyptian cotton sheets and Hungarian goose-down pillows ensure you have a relaxing and stylish stay. The hotels Santapele toiletries, spacious marble bathrooms and Japanese toilets add an extra level of luxury. The service at the hotel is exceptional. Guests are offered a free massage, complimentary bottle of wine, and daily fruit basket. For those looking for a gastronomical treat then the Emiliano Restaurant does not disappoint.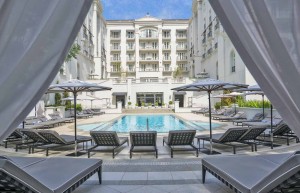 Palacio Tangara

Nestled in the Burle Marx Park, a 27 acre stretch of Atlantic rainforest on the outskirts of São Paulo, the Palacio Tangara is a renovated mansion opened in 2017 and can justly claim to be the most luxurious hotel in São Paulo, possibly even Brazil. Ideally located in a green haven surrounded by countless tropical birds and within easy reach of the business, leisure and culture district, this is the perfect place to experience all that São Paulo has to offer.  This impressive European style hotel reflects its location by bringing the inside out, spacious green terraces and large open plan spaces ensure your appreciation of the tropical environment. Design is key to the impressive nature of this hotel, local artist have created magnificent installations in the lobby and breath taking photographs of the Amazon are displayed throughout. All bedrooms have views of the park, some from balconies or terraces. The hotel also offers 59 suites.  Brazilian designer Bick Simonato uses Italian design with calming shades of blue, beige and grey to ensure tranquillity and maximum luxury for your stay. Large beds, luxurious bathrooms and open space ensure that each bedroom offers a chic but comforting stay. The hotel boasts two 25-metre swimming pools, both indoor and out. For those looking for further relaxation then the beautiful Flora Spa is ideal, offering numerous Sisley-Paris treatments.  There is also a state-of-the-art fitness centre.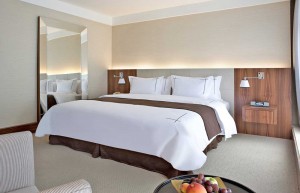 Tivoli Hotel Sao Paulo

This contemporary tower hotel is located on a leafy back street in the safest district in the city. Ideally located close to the bustling business centre and Museu de Art de São Paulo and within walking distance of the exclusive Jardins district with it's designer shops and some of the best restaurants in South America. Designed by Paulistana society architect Patricia Anastassiadis, the hotel is based on urban luxury. Large spaces, large glass windows, dark wooden floors and contemporary luxurious furniture create a unique and exceptional hotel. Rooms offer spectacular views of the city. Egyptian cotton sheets, large windows and black marble bathrooms with separate shower cubicles ensure a comfortable and relaxing stay. All rooms have Nespresso Machines and the hotel boasts the largest penthouse suite in Latin America. The hotel has the only Anantara Spa in the Americas, this luxury Thai brand offers holistic treatments to ensure complete relaxation and rejuvenation combining both Thai traditions and Brazilian techniques. The hotel also has a pretty, secluded little garden with waterfall, swimming pool and well-equipped gym and sauna. For those wanting to experience exquisite cuisine then the Seen restaurant will not disappoint, creating some of the best Japanese food in the city with an accompanying sake menu and 360 degree views of the skyline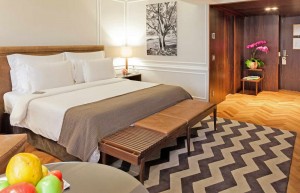 L'Hotel Porto Bay 
This European style boutique hotel is ideally located in Alameda Campinas, a tranquil and tree lined street. The fast paced and cosmopolitan Consolação and exclusive Jardins district, with luxury shopping and restaurants, are only a short journey away. The L'Hotel Porto Bay is influenced by European grandeur with contemporary design and antique furniture creating a chic and elegant environment. Low lighting and soft neutral furnishings allowing for a relaxing and comfortable experience.  The hotel offers a well-equipped gym and pool for those looking for an opportunity to take some time out from the hustle and bustle of the city. The spa provides a wide range of treatments including a Japanese bath, body exfoliation and reflexology allowing you to revitalise, detox or simply relax. Bedrooms are elegantly designed with large beds with 400-thread count Egyptian, work desks and a bathroom complete with luxury toiletries from Malin + Goetz.  Complimentary Havaianas flip-flops are essential to your Brazilian experience and a welcome basket of French pastries and iPod docking stations are waiting for you on arrival. The Piazza is home to the Trebbiano Restaurant, based on European and Moroccan cuisine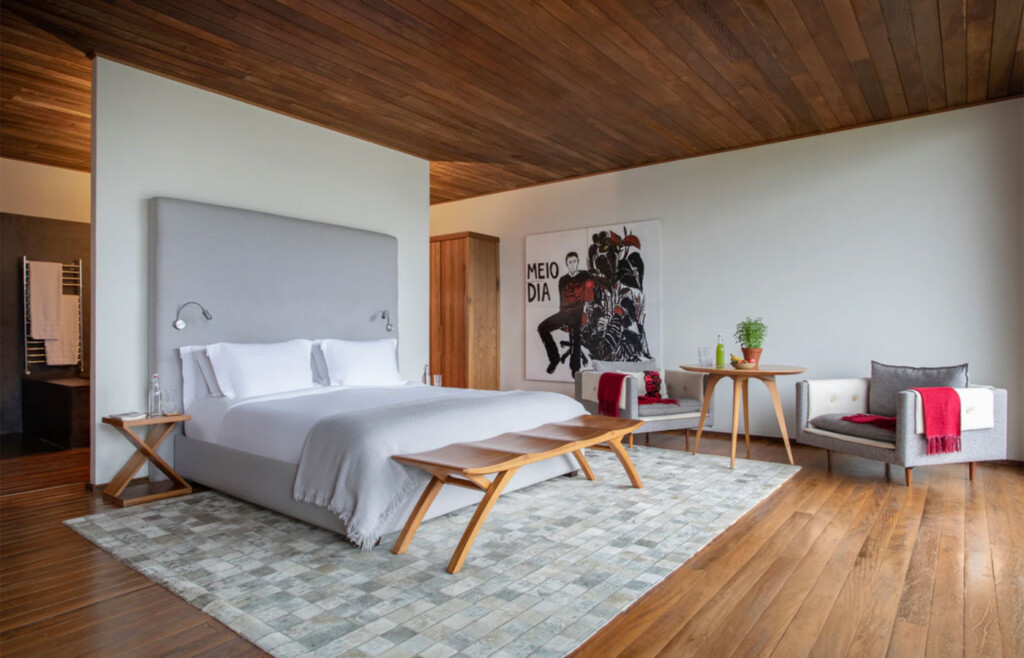 Six Senses Botanique – Campos do Jordão
Six Senses Botanique is a sensual and modern resort perched where three river valleys meet in Brazil's Mantiqueira Mountains. Featuring world class gastronomy, a Six Senses Spa and a dedication to sustainability, this is a resort where nature and luxury co-exist in beautiful harmony. Thanks to an abundance of springs and rivers, Brazil's Mantiqueira Mountains are known locally as the "mountains that weep." They're also home to the jaw-dropping Six Senses Botanique, where the only tears one is likely to shed accompany the sadness of leaving this truly special place. The resort is blessed with seven natural water springs dotted around an undulating estate. These springs are put to great use, featuring heavily in the Six Senses Spa (more on that later), an outdoor mineral water pool, and complimentary in-house mineral water for guests. In keeping with their commitment to sustainability, Six Senses Botanique also features its own water treatment station, where mineral waters are returned clean back to nature to sustain the delicate local eco-system. At the Six Senses Spa, the stresses of modern life melt away when faced with the healing powers of the forest, thermal and mineral waters. Nature is once again to the fore at Six Senses Botanique's gourmet dining destination, Mina Restaurant, home to modern, contemporary Brazilian dishes, a restaurant where the ingredients are grown in, and not flown in.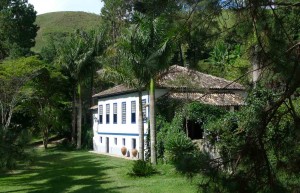 Fazenda Catuçaba – São Luiz do Paraitinga
Nestled amongst rolling hills between São Paulo and Rio de Janeiro, Fazenda Catuçaba is the perfect rural hideaway. The historical town of São Luiz do Paraitinga is just 30 minutes away, it makes the perfect 'getaway from it all' property and fits in perfectly on a holiday in Brazil mixing cities and beach. Catuçaba functions today as an organic farm and 450 hectare coffee plantation (fazenda means farm in Portuguese). Situated close to the Mata Atlantica rainforest, a UNESCO world heritage site and a beautiful ecosystem, this farm has an idyllic area surrounding it. The local area has been incorporated into the design and décor of the fazenda at every opportunity. The house was originally built in 1850, but today's design dates back to the 1940's and uses local, precious wood. The property has 10 double ensuite rooms or 5 villas that can be hired. The focus is very much on simple elegance and total peace and harmony and as such there is no internet access, no mobile signal and no TV's to be found in any room. However, the finishing touches are what make this hotel so special. There are many works of art, produced by the various artists in residence who regularly come to stay at the fazenda for peace and inspiration. The 10 ensuite classic rooms are equipped with king size beds, Egyptian cotton bed linen, black stone baths and fireplaces. If more privacy is required, there are various options of villas ranging from the 'master', through rustic to 'designer'. Many are original buildings from the 1800s, some facing the lake which is suitable for swimming in, or with waterfalls nearby.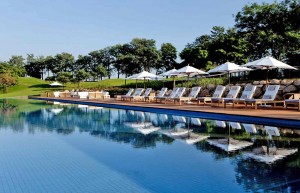 Hotel Fasano Boa Vista – Porto Feliz
Built on the outskirts of the town of Porto Feliz, São Paulo state, 100 km from São Paulo city, this property is the first Fasano hotel to be in the countryside in Brazil, and is located at the charming Boa Vista Farm. Designed by the highly respected Brazilian architect, Isay Weinfeld, simplicity and nature are key aspects. The hotel supports a country way of life alongside the refinement of a luxury hotel, being excellence in service and representing the sophistication of the brand. Located on Fazenda Boa Vista, just a short drive from the city of Sao Paulo, the hotel combines the excellence in service and refinement of the Fasano brand with the relaxed environment of the countryside—a mixture of tradition and sophistication. In Fazenda Boa Vista, nature is the main focus. With over 100 acres of preserved and private native forest, fifteen lakes, groves and carefully integrated gardens, the farm is an unforgettable experience for outdoor enthusiasts. Instead of streets, the farm is criss-crossed by boulevards lined with century-old trees, encouraging guests to enjoy the great outdoors. Plus, the hotel offers two 18-hole golf courses, a polo field, riding lessons, tennis and soccer courts and a kids activity centre. The rooms themselves, with their clean and modern lines, offer panoramic countryside views, combining the charm of a country retreat with the comfort of a Fasano hotel.