THE COSTA VERDE
The Costa Verde, translated as the Green Coast, is essentially the coastal areas of Sao Paulo and Rio de Janeiro states. This loosely runs from Santos in the south of Sao Paulo state to Buzios as you travel further north to the edge of Rio de Janeiro state. It's an area of beaches, mountains, lush rainforests, wildlife and the sparkling Atlantic Ocean.  
The 3 most popular areas in this region are Paraty, Ilha Grande and Buzios, all of which are similar but very different. Roughly 4 hours equidistant from both Rio de Janeiro and Sao Paulo is the colonial town of Paraty. It's a UNESCO heritage site and one of Brazil's best preserved and most loved towns. The historical centre, where most people stay is a grid of cobbled streets, pastel coloured buildings and churches which are wedged between the ocean and the rainforest. The bay of Paraty is the perfect location where to hire a boat for the day and head out to a secluded bay for a picnic lunch. There are lots of activities on offer in the town from whitewater rafting and trails leading to cachaça distilleries through to stand up paddle and diving in the bays. There are some lovely boutique hotels or for something more exclusive, Paraty is a great location to hire a villa, especially if you're travelling in a family. The town is also home to the largest literary festival in Latin America, called FLIP, which is a brings numerous international authors to the town annually. Ilha Grande (the big island) is a short drive followed by a short boat ride and is another exceptional location to hire a villa. It's more of a backpacker destination in terms of infrastructure but there are some fabulous beaches and deserted bays for you to explore. Just south of Paraty, towards Sao Sebastiao and Ilhabela, and also just north of Paraty, towards Angra dos Reis, are some excellent boutique luxury hotels. These are also superb areas for private villa rentals which become hugely popular for a Christmas or New Year family getaway to Brazil.
In the opposite direction from Rio de Janeiro, you will find the town of Armação dos Búzios (or Búzios for short) which is set on a peninsula east of Rio de Janeiro. It's very different to Paraty and has much more of a Mediterranean beach town feel to it with numerous beaches. These include Ferradura, on a calm horseshoe bay with water sports, and Geribá, a popular surfing site. The town centre of Buzios consists of a few cobbled streets including the Rua das Pedras which is full of numerous boutique shops, restaurants and bars. During the summer months, this is where the livelier nightlife can be found. Often clients want to decide between Buzios and Paraty as a way to finish a holiday to Brazil before flying home from Rio de Janeiro. The choice is personal but if you are looking for a more lively finish then Buzios offers the better options, whereas for a quieter stay, try Paraty. Either way, you won't be disappointed.
WHERE TO STAY
Our favourite luxury hotels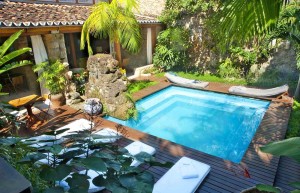 Casa Turquesa – Paraty
Casa Turquesa is perfectly placed in Paraty's historic centre. Set on a quiet street and overlooking the docks, this iconic guest house perfectly reflects the charm and history of the town. This 17th mansion has been restored by Renato Tavolaro, who specialises in colonial architecture, to ensure a building which reflects its colourful and vibrant history combined with luxury and comfort of a bespoke guest house. The large atrium offers a relaxing communal space and the numerous wide windows and open balconies offer the perfect spot to appreciate the Bay, its beautiful islands and the mountains surrounding Santa Rita Church, this really is an ideal location. Each room is individually colour themed and decorated with natural materials, local textiles and regional art. Rooms are light and airy with windows overlooking pretty views of the town. Bathrooms are spacious with powerful showers and king-sized beds are made up with Egyptian cotton and surrounded by dreamy mosquito nets. The guest house has created a beautiful tropical garden with a plunge pool and decking areas. There is also a mini spa which offers manicures and massage treatments. For those wishing to explore, the guest house can organise trips to explore the historic city or beautiful sea.
.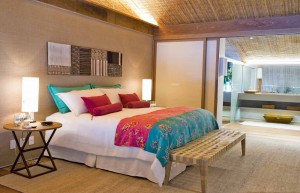 Pousada Literaria de Paraty
Nested in the centre of historic Paraty, This restored colonial house is the perfect luxury stay to explore this UNESCO town. Located in walking distance from the beach and some of the best waterfalls in the region. This restored colonial house perfectly displays the art and culture of the region with contemporary and luxurious design. Pousada Literaria is also the official host for FLIP's international literary event. For those wanting to kick back and read the Library holds over 1500 books and movies. The 23 rooms are all large and airy with polished wood furnishings, bold fabrics covered in bright colours and geometric design. The rooms have king sized beds, LCD TV, DVD, air conditioning, minibar and 600 threads count linen to ensure a comfortable stay. The Paraty Suite is laid out over two floors with two TVs and 2 fireplaces, one in the bedroom and the other in the living room. There is also a Coffee Nespresso machine, minibar and private eating area. The Master Suite also has a private Jacuzzi. For families or larger groups there are two additional colonial houses which have access to all the facilities provided by the guest house. After a long day exploring the beautiful Paraty then head to the central area of Pousada Literaria. A beautiful swimming pool is surrounded by tropical trees and foliage with a decking area, bar, sauna, shower and massage room.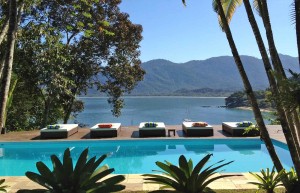 Pousada Picinguaba – Paraty
Set within a protected national park in the idyllic Emerald coast near to the historic town of Paraty, Pousada Picinguaba offers the best location to appreciate the natural beauty of the area and its history. Pousada Picinguaba is a traditional colonial house located in a small fishing village surrounded by mountains and overlooking the beautiful coast. The nine guest rooms at the Fazenda all have private balconies with views over the coast or gardens with a hammock to star gaze. Rooms are large, open spaces with luxurious soft furnishes and comfortable homely furniture. To ensure that you are completely relaxed and appreciative of these exceptional surroundings there are no TVs, telephones or internet.  For larger groups Villa Casa Verde is ideal. Located next to the resort, the villa has three bedrooms, one of which has a private patio, there is also a private patio, large terrace and private dining. The large freshwater pool fed by a natural spring is surrounded by tropical rainforest and a sun deck to enjoy the sun.  There is also a sauna and pool side bar.  The pousada also have a 40ft schooner yacht anchored at the beach to take guests on tours round the Island, fishing, scuba diving and snorkelling. There are also hiking tours and horseback riding.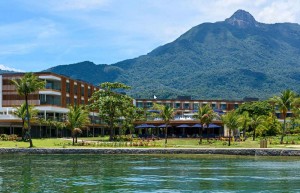 Hotel Fasano – Angra dos Reis
Fasano Agra dos Reis is exceptionally located on Brazil's Emerald Coast, overlooking turquoise waters and surrounded by the rolling hills of the majestic Atlantic Forest. Perfectly located as a beach retreat from Rio de Janeiro or as a trip away from the UNESCO historical town of Paraty or a boat ride to Ilha Grande. This most recent of the Fasano family has exceeded in creating yet another sleek, luxurious and exclusive resort. The signature open spaces, cladding and classic Brazilian and Italian furniture are evident throughout. Reflecting the exceptional natural beauty of the region is witnesses throughout with palm-lined swimming pools and green and blue soft furnishings.  All the bedrooms are large with amazing views of the rainforest or sea vies. The rooms have Wi-Fi, Nespresso coffee machines and spacious bathrooms in white marble. All the rooms have spacious balconies for you to enjoy a romantic dinner (as the restaurant is closed during the week).Guests are offered jungle treks, boat cruises, fishes, snorkelling, well equipped gym, tennis courts, golf course and numerous other activities. For those looking to unwind then head to the two ocean front swimming pools or deluxe spa. Extended over the Angra dos Reis marina with 8 treatment and therapy rooms. Guests can choose between sports or relaxation packages, yoga classes and a mediation retreat under a waterfall. The Curdo restaurant is perfectly located to overlook the harbour. As to be expected with the Fasano brand, the food is of the highest standard and simply exquisite.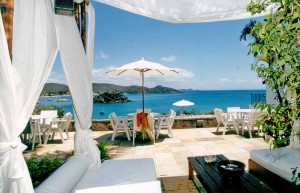 Casas Brancas – Buzios
Nestled in the hillside overlooking the Bay of Armação, this boutique is one of the oldest and most desirable hotels in the area. The hotel is a 10-minute walk from the 23 beautiful beaches and excellent restaurants that Buzios has to offer. The hotel is heavily based on European design and offers a high level of comfort and charm. Originally a 4 bedroom house, the hotel has been designed to ensure maximum privacy, with rooms arranged on different levels along the hillside. Rooms can be reached via secluded tropical plant filed courtyards and staircases. Each of the 32 rooms and suites are individually decorated. White walls, paintings of fishing boats and open spaces fill you with the Mediterranean vibe, with unique wall hangings, soft furnishings and art from all over the world give an insight into the owner adventurous travel and lifestyle. The suites all offer a beautiful ocean view and a balcony with hammocks or tables to overlook the bay. There is a small pool surrounded by a beautiful terrace filled with white sun loungers and parasols offering a spectacular view of the bay. For full relaxation try the hotels spa which offers a white range of treatments from aromatherapy massages to body scrubs. There are also free Tai-chi and yoga classes available. The hotel boasts two restaurants. 74 Restaurant is on the terrace overlooking the beautiful bay, offering a mixture of Italian and local cuisines.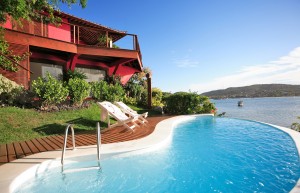 Insolito Boutique Hotel – Buzios
This former multi-level private villa is situated on the cliff tops overlooking the beautiful beaches of Buzios. This tranquil and incredibly chic hotel is a true gem on the hillside and a popular destination for the trendy Buzios crowd. A short drive into Buzios this is the perfect spot to appreciate the beach and the town. Insolitos has two speed boats to explore the 23 neighbouring beaches and excellent restaurants, which are all in walking distance. The interior is chic and contemporary with high levels of comfort and luxury. Large open spaces, white walls and large windows create a light and airy space. Bright coloured textiles, locally sourced art work and furniture bring a touch of the tropical and beach vibe.  Every room and suite are individually designed, with its own unique charm. Most rooms have a veranda with a relaxing whirlpool and beautiful views of the ocean. The suites come with a lounge to ensure you appreciate the spectacular views. This multi layered hotel is a treat for the eye, a roof top restaurant rests on top offering an ideal view of the sea and the turquoise pool wrapped around the bottom. There are two pools, one of which is wrapped around the building surrounded by white parasols and daybeds on beautiful wooden decking surrounded for privacy by draped gauze. For those looking to treat yourself Insolitos has a beautiful spa beside the water which offers a range of treatments, including massages and alternative therapies.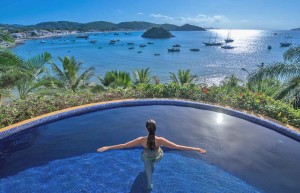 Vila D'Este – Buzios
This small boutique hotel is nestled in the hills, a short distance from the numerous beautiful beaches and restaurants that Buzios has to offer. The hotel is one of the oldest in the area and has been designed around Mediterranean and Greek influences. Open spaces, mixed with tropical foliage and international artwork create a chic and exclusive environment.  The owner has spent many years travelling and living around the world and has collected a fantastic selection of art and furniture to decorate Vila d'Este. There are 15 individually decorated rooms and suites which are decorated with beautiful sort furnishings and furniture. The rooms have breath-taking views of the ocean. All are equipped with air conditioning, TV, mini bar and other amenities to ensure you have a comfortable stay. Standard rooms are placed around a beautiful courtyard. Standard sea front rooms have a balcony giving views of the garden and the bay. The master suite has a private jacuzzi and a large balcony over looking the bay. The hotel has two swimming pools set on a beautiful terrace with tropical plants and loungers to appreciate the beautiful views of the bay. One of the pools is heated and connected directly to a steam room, the perfect spot to watch the sunset. There is also a Spa which offers a wide range of massages including Shiatsu and Deep Tissue. The Alto Ristorante and Sunset Bar offer a diverse menu of Mediterranean food with a Buzian twist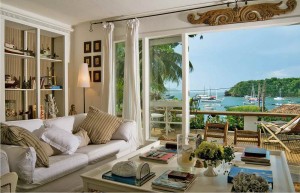 Vila da Santa – Búzios
Vila da Santa Hotel Boutique and spa is in the historic heart of the beautiful seaside town of Búzios, right next to the beautiful Ossos beach. Surrounded by Ossos park and next to the perfectly preserved 1743 Sant'Ana church, this is an ideal location to explore Buzios. The hotel brings back the 1960's golden era of Buzios and its colourful Mediterranean architecture.  The house is decorated with artwork and pieces from the hotel owner travel around the world and create and to the intimate and bespoke feel of the house. Its 19 suites and Secret House provide luxurious and comfortable setting for you time in Buzios. All the rooms have air conditioning, HD satellite TV, minibar, safe, Wifi, and Portuguese 300 bed linen and hypoallergenic pillows. Designer toiletries and high quality bathrobes in spacious bathrooms add further relaxation to the experience.  Larger suites offer access to a courtyard and 'Well of Happiness' with a fantastic view of the sea and the Ossos Beach or private internal gardens nest to the Blinesian stone pool.   The Master Suite is the perfect location for weddings or other special events. The Vila da Santa is the perfect place to stay in Buzios for family or a group of friends.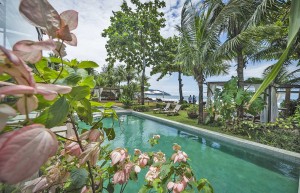 Nau Royal Hotel Boutique and Spa – Cambury
Nestled between Atlantic rainforest and the vast Atlantic Ocean, Nau Royal Hotel Boutique and Spa is a brand new hotel eager to welcome guests to this beautiful part of the world. The whole property has been sensitively designed to have minimal impact on the surrounding environment, and therefore has some impressive eco credentials and sustainability practices. Rooms at Nau Royal are romantic is design and all individually decorated in gorgeous neutral tones and organic materials. They feature a balcony or terrace, with beach, garden or forest views plus modern amenities such as air conditioning and a flat screen TV. Elsewhere in the property, guests can enjoy a large swimming pool, spa, sauna, sun terrace and of course the fantastic beach which the hotel resides next to. The onsite restaurant is gaining an enviable reputation for its fresh seafood and tasty Brazilian dishes, all of which can be enjoyed whilst looking out over the sea. For a wonderful stay in a unique area of Brazil, look no further than the Nau Royal.