BAHIA
The state of Bahia is situated half way up the coast of Brazil and is renowned for having some of the best and most fashionable beach destinations in the country. The state capital of Salvador is steeped in colonial history, in particular the Pelourinho, which was the centre of the slave trade and it's due to this history that has created a city today full of West African cultures, religions and traditions.  
Salvador is one of our favourite cities in Brazil because of this diversity. A wander through the historic Pelourinho is a must on any visit, taking in the many churches and art shops that are housed in the pastel coloured buildings which adorn the cobbled streets. As you wander through the city you will be bound to encounter drumming and music, often in preparation for carnival, while capoeira is practiced in the streets and black women in their big white dresses sell freshly fried Acarajé, a famous prawn street snack and pose for tourist photos. The city has a raucous carnival, very different to Rio de Janeiro's, which is a lot of fun. If you are keen on trekking then a 60 minute flight can take you to the small former historic mining town of Lençois which is located in the heart of the Chapada Diamantina National Park. The park is one of the most beautiful in Brazil with some exceptional day treks plus the chance of multi-day hikes around the park. The park is also home to the highest waterfall in Brazil plus some fabulous caves.
Apart from a couple of nights in Salvador, most visitors to Bahia come for the beaches of which there are many superb options. To the immediate north of Salvador you will find Praia do Forte, a popular weekend getaway for Salvadoreans, and famous for its fort and turtle conversation centre. There are some big resorts including Brazil's first eco-resort, the Tivoli. A boat trip from Salvador will take you to Tinharé Island where you can find the areas of Morro de Sao Paulo and Boipeba. These are very popular with backpackers but have some good hotel options too. Just be wary of the often-rough sea crossing! South of Salvador is where the better beach properties tend to be found. A drive or light aircraft flight will take you down to the Marau Peninsula. This is a relatively isolated strip of land with deserted beaches with a fabulous resort hotel plus a number of excellent small pousadas. Heading south of Marau will bring you to Itacaré , a popular area for surfers, served by Ilheus airport and home to the excellent Txai Resort. Further south of Itacaré you will encounter Porto Seguro which is the airport servicing many of Brazil's best beach hotels. To the south of Porto Seguro, a 70-minute drive will bring you to Trancoso, perhaps the coolest beach town in Brazil and hugely popular with celebrities.
WHERE TO STAY
Our favourite luxury hotels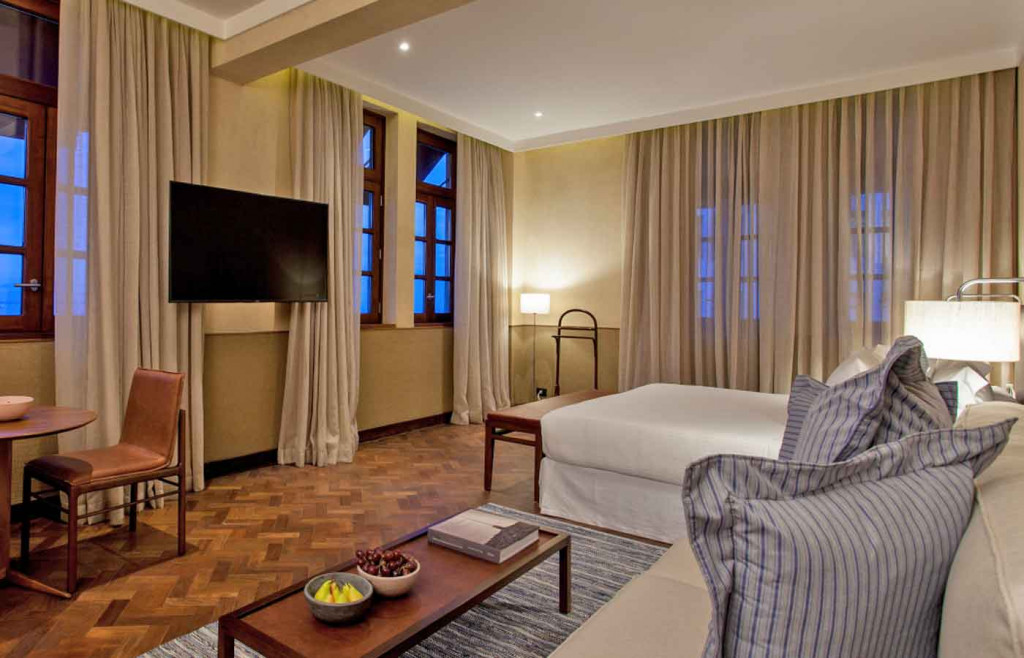 Hotel Fasano – Salvador
With a privileged location in Castro Alves Square, the historical centre of Salvador, and a stunning view over the Bay of All Saints the Fasano will appeal to all guests. The hotel itself is also housed in a historic building which has been listed by the IPAC (Institute of Cultural and Artistic Heritgae). The driving force behind the Fasano brand is sophistication, first-class customer service and providing an unforgettable experience and the Salvador property is no different. Inside, a full spa is an attraction in itself with revitalizing experiences for the mind and body. The renowned holistic therapist Fabrícia Nogueira has put her name to the spa, and each of the treatments has been carefully designed by her to offer maximum relaxation. In addition, the hotel also has a wooden deck on the roof from which to enjoy the views and a large swimming pool. For those who are keen foodies, the gastronomic wonders of the Fasano restaurant will not disappoint. Serving a variety of Italian inspired dishes including pasta, seafood, veal, antipasti and risottos, diners will be delighted at the quality of the cuisine.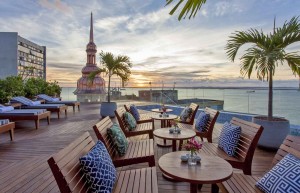 Fera Palace Hotel – Salvador

A mainstay of Salvador's luxury hotel scene since its opening in 1934, the Fera Palace Hotel has played host to many a famous face over the years, welcoming the likes of Orson Welles, Pablo Neruda and Carmen Miranda through the doors of its illustrious restored art-deco façade. The hotel offers 7 room categories ranging from Standard rooms to the top-floor Tower Suite, all finished with fresh modern décor with quirky art-deco flourishes. Each room has free Wi-Fi access, a flat screen TV, a mini-bar, a safe, large comfortable beds, a Bluetooth speaker and has access to 24hr room service. Suite categories add spacious living areas and/or large soaking bathtubs. Guests of the Fera Palace Hotel will be able to enjoy the hotel's excellent facilities including a chic lobby bar, a cosy restaurant, a sauna with massage rooms, a fitness centre and an exquisitely furnished rooftop terrace featuring a pool and a stylish bar for the perfect evening relaxation experience.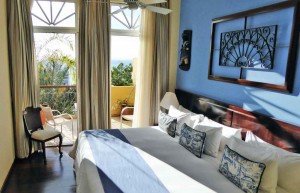 Casa do Amarelindo – Salvador
This small boutique hotel is housed in a beautifully restored 19th century town house in the heart of historic Pelourinho, which overlooks the spectacular All Saint's Bay. Casa do Amarelindo benefits from easy access to the heart of Salvador, famous for its pastel coloured buildings, winding cobbled streets and baroque churches; Pelourinho is the ideal place to experience the real side of this Brazilian city. There are 10 rooms of three different standards available for guests. Each contains a comfortable king-size bed, air-conditioning and double glazed French windows creating a fresh breeze during the day and allowing a peaceful night's sleep. All rooms are ensuite providing either tropical rain showers or hydro-massage tubs. Complimentary WiFi, a flat screen TV, a safe and a mini bar feature in all room types. The view of Baia de Todos os Santos (All Saint's Bay) can be enjoyed from the rooftop pool, and the panoramic terrace provides unforgettable views over the ocean, the perfect place to start your day with a freshly prepared breakfast which includes an impressive spread of local and international options.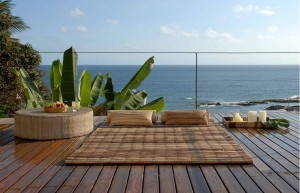 Zank Boutique Hotel – Salvador
This stylish and eclectic hotel, situated in the historic Rio Vermelho neighbourhood of Salvador, is based on Judith Pottecher's innovative design concept, fusing the classic and the modern in an effort to create an intimate atmosphere that immerses guests in the legendary Brazilian joie de vivre. Located within a 3-minute walk from the nearest beach, the rooms at Zank Boutique Hotel enjoy privileged sea views. The décor style mixes elements of colonial Brazilian history with concepts extracted from key 20th century cultural movements – this unique blend giving this hotel an original and timeless character. The 16 apartments have access to free Wi-Fi, flat-screen TVs, mini-fridges, king-size beds, laptop compatible safes and room service.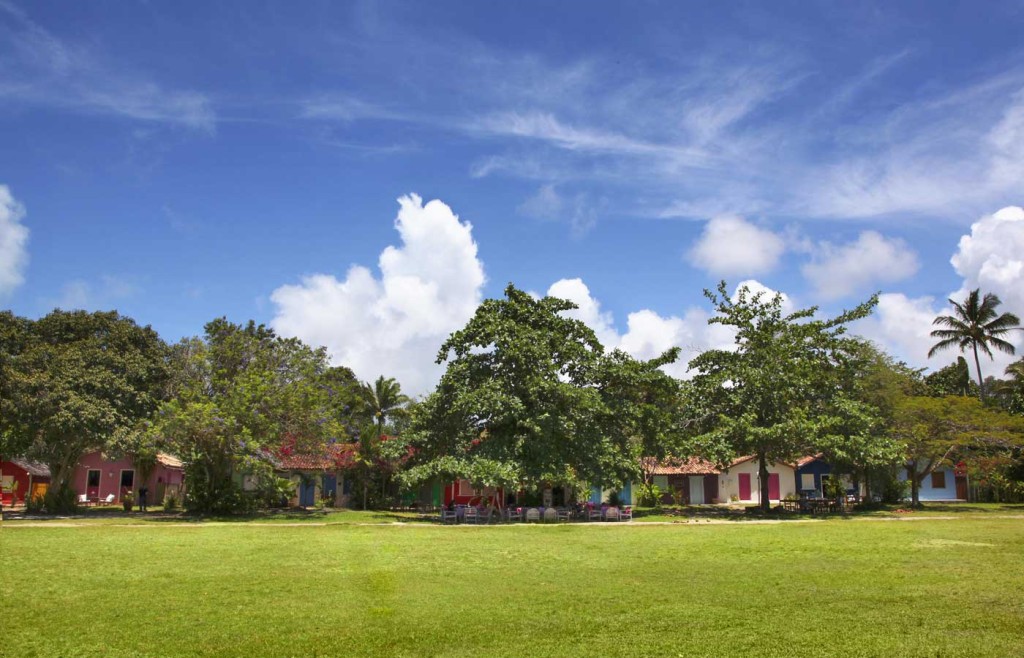 UXUA Casa – Trancoso
For those seeking excellent service, 5-star luxury and bundles of Bahian character, you can do no better than Uxua Casa. This boutique hotel offering a stunning collection of 1-3-bedroom bohemian, 'shabby chic' cottages scattered around Trancoso's UNESCO protected Quadrado, is a 1-minute walk from São João Batista church and an 8-minute walk from some of the most picturesque beaches in Brazil. Style and storytelling are combined effortlessly in the design of the casas in this unique collection. Half of the Uxua casas date back 500 years to the founding of the village – each offering its guests a distinct personality that captures the echoes of the lives of previous inhabitants. The restoration work, carried out by designer Wilbert Das in collaboration with local artisans using reclaimed materials has created exquisite luxury spaces with an unmistakably Bahian, tropical vibe where guests can feel completely at home in this coastal paradise. Each casa boasts a unique design concept and different features such as gardens, indoor and outdoor kitchens, plunge pools, terraces and thatched roofing. Guests of Uxua Casa also enjoy access to the charming beach bar fashioned from an old fishing boat, a restaurant serving gourmet cuisine, a fitness room, an outdoor pool lined with green aventurine quartz, and the Uxua Vida Spa where guests can enjoy a variety of luxurious treatments inspired by the indigenous, African and hippy communities that have shaped the colourful history of Trancoso.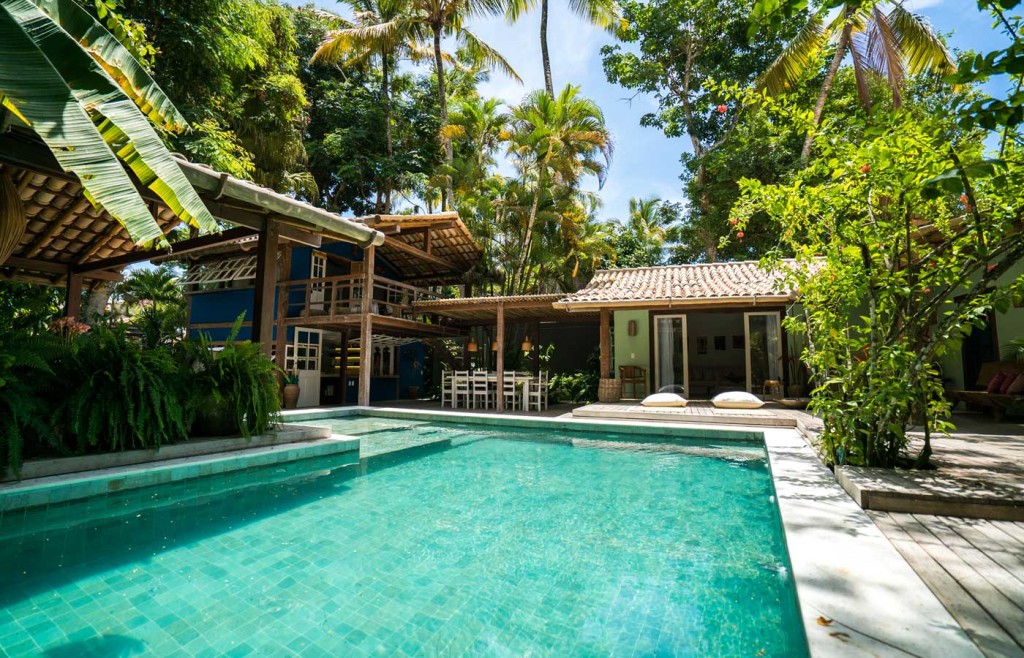 UXUA Alma – Trancoso
With seven villas situated throughout Trancoso's historic Quadrado and along the remote Espelho Beach, Uxua Alma has become the latest treat for those heading to the Brazilian coast, from the same people that brought you Uxua Casa. Merging Bahia's natural beauty and the region's rustic traditions, each property has been carefully curated by local artisans, with a focus on nature and sustainability. The result includes furniture built from reclaimed fishing boats and sails, handmade ceramics, Pataxó Indian crafts and fruit tree gardens, among others. Most memorable of the properties is without doubt Casa Anderson. The 400sq m villa with a tetraptych design and pièce de résistance treehouse is considered one of South America's most acclaimed residences and an homage to the Trancoso of today and yesteryear. It's a perfect destination for groups of friends or families looking for exclusivity.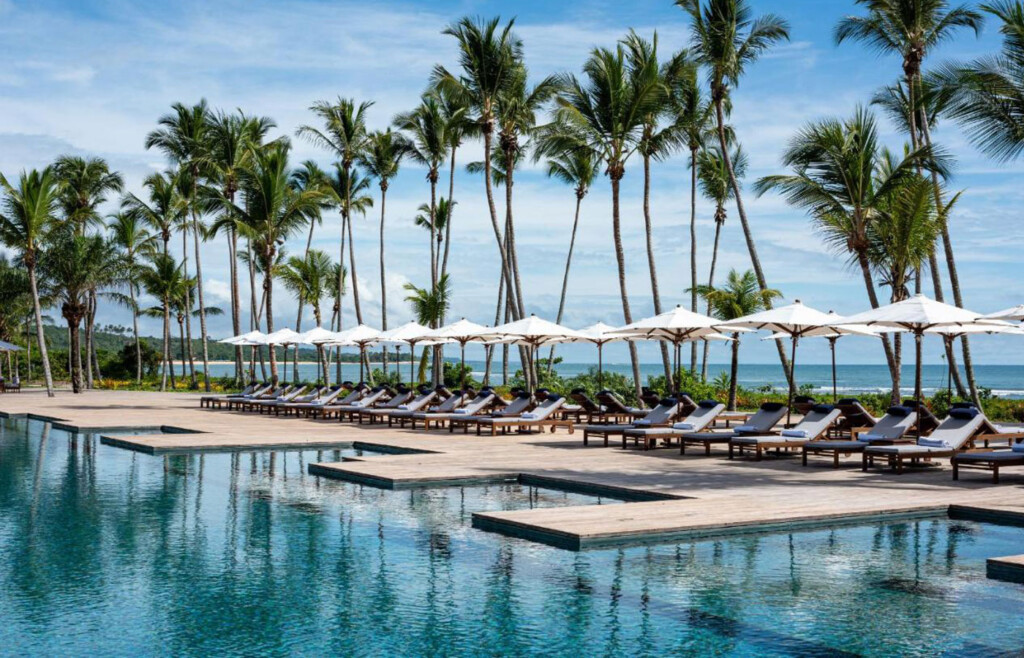 Hotel Fasano – Trancoso
The Hotel Fasano Trancoso's stark and geometric white bungalows and villas designed by the Brazilian celeb-architect Isay Weinfeld dot the vast palm- and shrub-covered property that sits at the the Southernmost tip of Itaporoca, a stretch of unspoiled beach. Sandy trails and wooden decking connect the resort's villas and bungalow suites (most with private rooftop lounging decks) to the breezy public areas, tastefully decorated with Brazilian-designed armchairs, vintage artefacts, and artisanal decorative pieces in various shades of white and brown. The village's historic pedestrian downtown, also known as Quadrado is a 20-minute car ride away through a narrow dirt road. Children—a rare sight at Trancoso's small, intimate pousadas but welcome here—are kept busy by a discreet army of private nannies and hotel monitors. There's even a kids-only pool. Although all 40 bungalows face the beach, only some have an unobstructed view of the sea from their rooftop decks. Interiors are signature minimalist Isay Weinfeld— mixing lots of white with wood accents—and come equipped with urban five-star comforts, from the turbo-charged AC to minibars, large flat-screen TVs, double sinks, and separate bathtub and shower.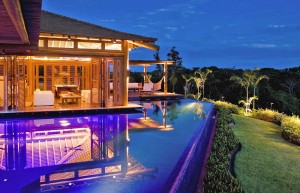 Villas de Trancoso 
This stunning beach hotel, a coastal paradise surrounded by forest and carefully curated tropical gardens, provides the perfect beach getaway for those seeking to unwind by the sea. Villas de Trancoso offers a selection of romantic and secluded suites and individual villas, where guests can relax in a private and luxurious environment a stone's throw away from the charming, historic village of Trancoso. Each of the 10 elegant villas features a spacious living area, free Wi-Fi, a flat screen TV, a mini-bar and a deck or veranda complete with hammocks for taking a nap as the locals do. Upgraded villa categories can also offer access to a kitchen, additional bedrooms and even a private Jacuzzi. In addition to the amenities available in the rooms, the hotel boasts excellent facilities and during their stay guests will be able to take advantage of the airy restaurant, the beach bar, a private beach area, a white marble swimming pool, a spa & wellness centre, a games room, a fitness area and extensive tropical gardens designed with attracting the exotic local fauna in mind.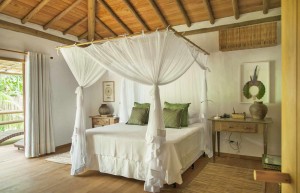 Etnia Pousada and Boutique – Trancoso

At the end of a leafy track, set back from the town centre and situated 1.3km from the paradisiacal beaches of Trancoso, this colonial-chic hotel offers 8 exquisitely decorated bungalows and 4 stunning private villas, shrouded by lush tropical forest. Etnia Pousada and Boutique offers its guests high-end sophistication with an abundance of personality, each accommodation exquisitely finished with unique decoration, giving every guestroom an original concept and identity. 'Gypsy' celebrates the kitsch and the bohemian heritage of Trancoso, whilst 'Goa' and 'Tribal' offer a sensual tribute to the history of Portuguese maritime exploration, with Indian textures, raw wood, African sculptures and exotic decorative touches that evoke the cultures whose aesthetic and cultural traditions have influenced modern Bahia. The rooms are serviced by free Wi-Fi access, cable television and all have mini-bars. Some rooms even boast access to private gardens and sun-soaked terraces. For relaxation, guests will be able to enjoy the use of Etnia's fabulous facilities including a fully furnished terrace, a gorgeous pool with comfortable sun loungers and a concierge service. To refresh the mind and body, take one of the fitness or dance classes offered by the hotel, or alternatively arrange massages and beauty treatments in this stunning oasis of tropical tranquillity.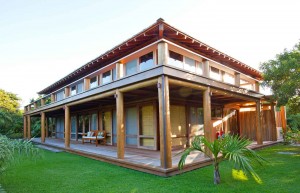 Pousada Tutabel – Trancoso

Pousada Tutabel is a chic boutique hotel, perched on the Atlantic coast of southern Bahia, surrounded by lush tropical forest amidst a protected natural reserve. Close to the laid-back beachy paradise of Trancoso, this intimate pousada offers the same stylish bohemian vibes as the historic town and features exclusive suites carefully finished with local artisanal crafts and raw Bahian materials. Each light and airy suite features a luxury king-size bed with Trousseau linens, complimentary luxury toiletries, air conditioning, a mini-bar, and a private patio with sumptuous views over the Atlantic forest or the ocean. Communal facilities at the hotel include an ocean front pool, a games room, a kid's club and a modern spa with a hot tub, sauna and massage suite. The nearby nature reserve adds plenty of activities for those guests interested in the flora and fauna of the region and guided walks through the reserve can be arranged through the hotel, complete with ice cold water and cool towels to refresh you throughout the day.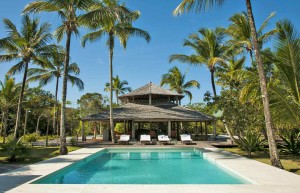 Vila Naiá – Corumbau
Situated near the quaint, traditional fishing village of Corumbau, meaning 'away from all concerns' in the language of the region's native Pataxó Indians – Vila Naiá is nestled away on a secluded beach in amongst the Monte Pascoal National Park's 50,000 sqm of unspoiled, protected land and offers its guests what have been described as the 'modern' luxuries: peace, silence and plenty of time for self-care. This intimate beach getaway, built in a rustic-chic style that mirrors the unique indigenous architecture of the region, has only 4 suites and 4 cottages, each designed in such a way so that the refreshing sea breeze and natural light of the energising Bahian sun can flood into the rooms. Decorated with fresh and vivid colours, the interior design is finished with elegant touches using local materials, such as reclaimed wood. Every room has access to free Wi-Fi, a mini-bar, air conditioning and private decks with hammocks for relaxing in like a local. The hotel offers an exquisite outdoor pool, a beach bar, an open-air snack area and bountiful tropical gardens where guests can do yoga or pilates classes to unwind in harmony with nature. At Vila Naiá, meals are served all day at the guest's convenience, wherever and whenever you wish.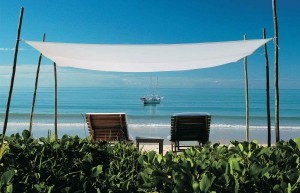 Fazenda São Francisco – Corumbau
Hidden away in palm groves between the white sand beaches of Corumbau and the lush vegetation of the Monte Pascoal National Park, this upscale eco-lodge offers its guests their own little slice of paradise. Guests can relax amongst the spectacular natural spectacles of Corumbau including 15km of pristine coastline, colourful coral reefs and the tropical forests of the Pataxó reserve across the Corumbau River. Made up of 10 stylish lodges and bungalows, this comfortable hotel offers accommodation featuring fresh, airy décor, balconies, terraces, free Wi-Fi, flat screen TVs, iPod docking stations and designer amenities. For those seeking extra peace and privacy, the upgraded bungalow categories also include access to a delightful private garden where guests can enjoy relaxing in complete tranquillity. Boasting an outdoor pool and a lovely fire pit for evening gatherings, this hotel also offers excellent cuisine. A delicious buffet breakfast is served every morning in the contemporary restaurant and bar area and Head Chef Teco's menu offers the best of local flavours combined with the best of international culinary art, using fresh seafood caught by local fishermen and organically grown vegetables from the hotel's own garden.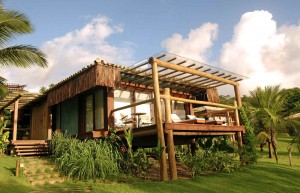 Txai Resort – Itacaré 
This chic beach resort is set on a coconut and cacao farm, surrounded by 100 hectares of lush tropical forest, 18km from the idyllic fishing town of Itacaré on the white sand of Itacarezinho beach. Txai places exclusivity, sustainability and wellness at the centre of its conceptual design. The stylish bungalows and apartments are fashioned from natural materials such as bamboo and palm, boasting gorgeous private decks and the upgraded accommodations having access to private pools, outdoor showers and sublime ocean views. Txai is a world within itself, a secluded getaway where guests want for nothing. During their stay guests will be able to enjoy any of the 5 outdoor pools, 3 gourmet restaurants, 4 elegant bars, a peaceful reading room and the luxurious spa. For the active guests seeking to refresh their body and soul in this tranquil Bahian hideaway, the resort offers an ocean-view fitness room, tennis courts, excellent surf and classes in tai chi and capoeira. In between relaxing on the beach and treating themselves to a treatment in the spa, guests will be able to follow the various beach trails on the property, learn about the production of chocolate on the cacao farm, visit the stunning Tremembé waterfall, which flows into the sea, or embark on a speedboat tour of the deserted islands in the sparkling Camamu Bay.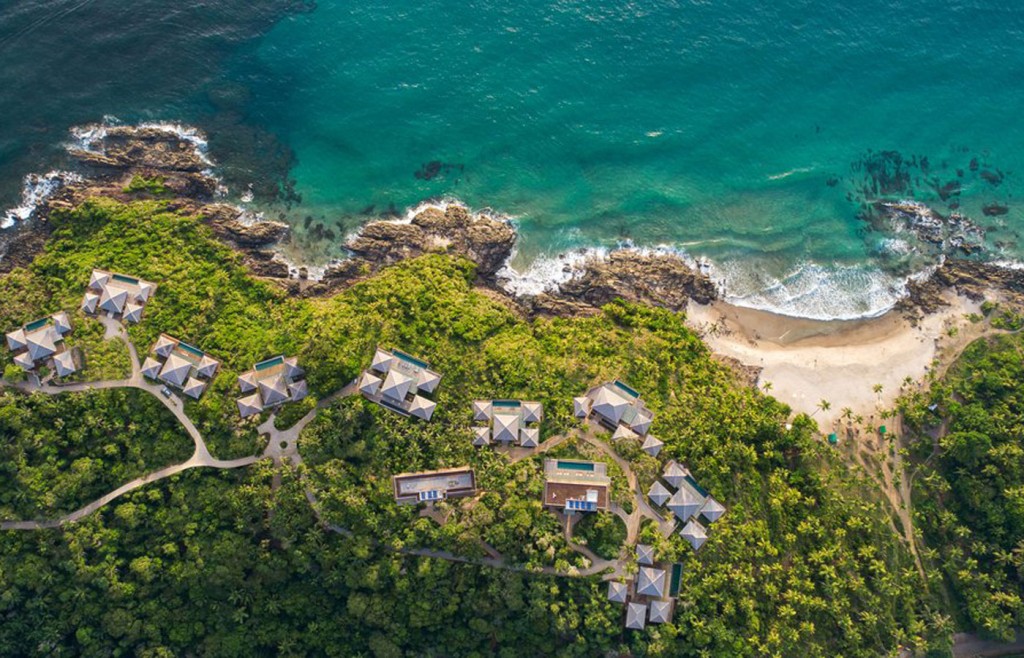 Barracuda Boutique Hotel & Villas – Itacaré 
Tucked away in Itacaré, Bahia is a tiny cove part-circled by the deep green Atlantic Forest. And in this cove is Barracuda Hotel & Villas. This secluded all-suite retreat is a get-away-from-it-all destination in its truest sense, effortlessly blending its Bahian roots with the owners' Swedish heritage. With sustainability in its soul, it introduces guests to the raw beauty of Itacaré.  In this serene setting, time moves at a more leisurely pace. Look out across the azure sea or forest from your suite or villa, with windows for walls that frame breath-catching views. Each has been thoughtfully designed in authentic Bahian style and in harmony with the landscape – with plenty of luxury touches. The hotel's centrepiece is its sleek infinity pool, with chic loungers on the ocean-facing deck. Stretch out here, or head to the wooden yoga pavilion for sun salutations in the midst of the forest. Bliss.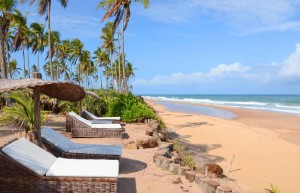 Butterfly House Bahia – Maraú Peninsula
Butterfly House Bahia is a charming Eco-Boutique on the Maraú Peninsula in Bahia, 250km south from the state capital of Salvador. With locally-inspired architecture that melts into the surrounding forest, this charming hotel combines rustic chic style with Brazilian simplicity, featuring fresh décor finished with touches of French hospitality and Moroccan objets d'art. Enveloped in tropical gardens, the bungalows and suites that make up this pleasant complex are joined by an elegant beach bar, a restaurant serving fresh, healthy cuisine inspired by the bounty of Bahian nature, and a calming yoga deck. Situated on the Maraú Peninsula, the hotel's surrounding area offers plenty of activities to delight any visitor to the region. Guests can experience the magic of free-diving in the crystal-clear seas, biking along the white sands, surfing, hiking trails into the Atlantic forest, paddle boarding, or even island hopping in the picturesque Camamu Bay. For Butterfly House Bahia, the luxury we seek in our busy modern lives is the chance to disconnect from our quotidian routines and fall back into harmony with nature. This gorgeous Eco-Boutique is the perfect refuge for travellers seeking comfort and adventure.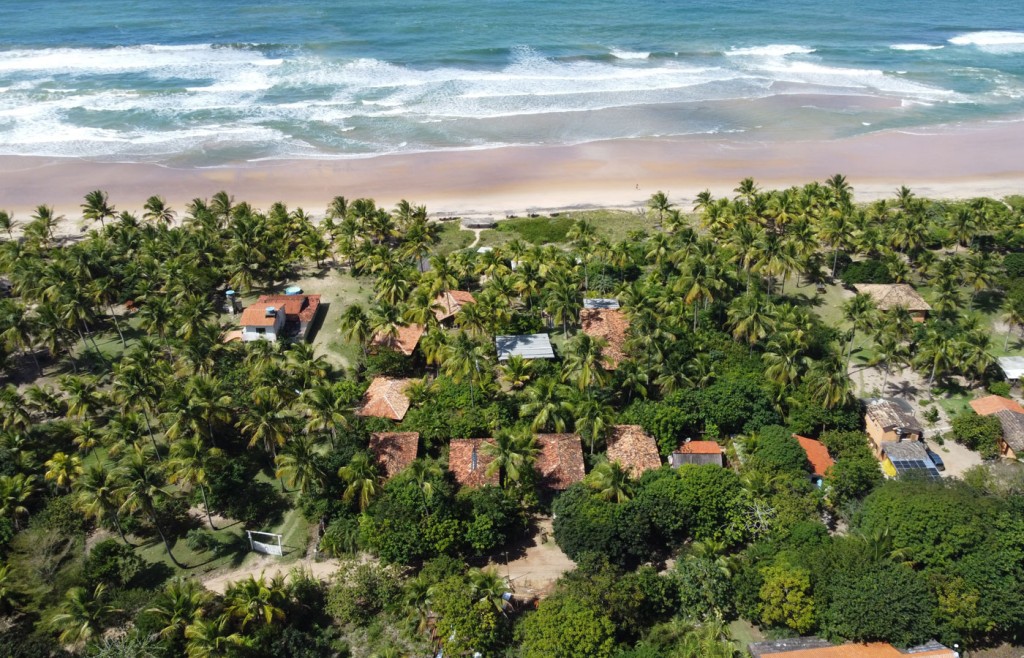 Casa dos Arandis – Maraú Peninsula
Promising everything a coastal escape should be – peaceful, natural and downright blissful – this out-of-the-way stretch of north-east Brazil's Maraú Peninsula is an honest-to-goodness tropical getaway. Lazy beach days, yoga sessions in the newly expanded yoga room, and watery adventures such as surfing and whale watching fill the time here, which is an environmentally protected area teeming with rare vegetation and exotic creatures. Stunning natural coral pools are just 10 minutes' away and the adjacent golden sand is flanked by a thriving rain forest. The ViewPoint deck allows you to soak up these scenes, watch the sunrise, moonrise, sea life, whales, and sunset in all their glory. All the while, Casa dos Arandis' six sustainably-built bungalows and Caju Suite (with private pool and deck) provide the luxuriating comfort. Each one is rustic-luxe perfection complete with king-size feather beds, baths crafted from volcanic rock and/or open-air showers. Casa dos Arandis' restaurant is where guests gather to socialise while kicking back in big soft sofas and hammocks. It's also where the happy hour of sparkling wine and canapés takes place, and the homemade buffets of Bahian comfort food are served. There's a whirlpool, optic fibre fast speed WiFi throughout the hotel, and the private airstrip for small and medium aircrafts.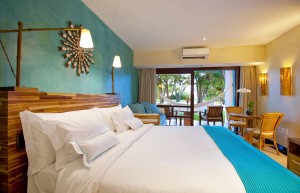 Tivoli Eco-Resort – Praia do Forte
Located amongst 30,000 hectares of vibrant Atlantic forest, Tivoli Eco-Resort offers the best of Bahian nature, combining lush tropical vegetation with 12km of pristine golden beachfront. Offering guests the choice of 7 outdoor pools, including a stunning ocean-view infinity pool, the resort excels at giving guests an enormous variety of leisure options. Each of the resort's spacious rooms enjoy an exclusive sea-facing balcony with comfy lounge furniture and an airy décor inspired by the Bahian soul. Peaceful, calming colours inspired by the beauty of the region's nature are accented by crisp Brazilian wood features. Dining options are abundant in this stylish beachfront resort. Guests can enjoy the very best of Bahian and international cuisine at the A Sombra do Coqueiral restaurant, followed by cocktails on the beach from the Ice Bar, serving exquisitely prepared beverages straight to your sun-lounger if you wish. The Tabareú restaurant offers a delicious selection of light snacks and salads whilst the Goa Restaurant offers the exotic flavours and textures of Afro-Brazilian and international cuisine. For those willing to lose themselves in Brazilian joie de vivre, the Dendê bar is a lively, informal space where guests can experience a delicious hallmark feijoada and dance the night away to live, local music.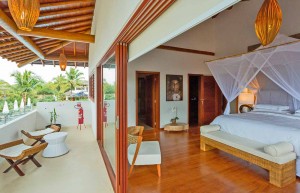 Hotel Campo Bahia – Santo André

Hotel Campo Bahia is an exquisite luxury getaway on the peaceful Bahian coastline offering 14 decadent 4-6-bedroom villas alongside wonderful facilities, attentive service, and excellent, fresh and innovative cuisine. This chic Bahian paradise is 13km from the famous Mutá beach and a mere 11-minute walk from the sleepy fishing village of Santo André. With little over 800 inhabitants, Santo André is a village frozen in time and the perfect setting for a coastal retreat in Brazil. Tucked away amidst the exuberant nature, the villas all feature original and luxurious décor with spacious living areas, private bathrooms and sea or garden views. Certain villa categories boast extra features such as secluded outdoor showers where guests can treat their skin with complimentary toiletries surrounded by the sensual sounds and smells of the forest vegetation. During leisure time, guests can swim in the spacious outdoor pool or take advantage of the many sports and leisure activities on offer. The hotel has tennis courts and offers dance and yoga classes. Hotel Campo Bahia also features a luxurious pool side bar, excellent beach access and a luxury private yacht that guests can use during their stay at additional cost. With a strong focus on wellness, Hotel Campo Bahia offers a gorgeous spa by L'Occitane and a special 'detox' menu at the restaurant with dishes inspired by the raw goodness and freshness of local produce.